A Winter Garden complex that once offered housing options for senior citizens and low-income families who relied on Section 8 Housing Vouchers now is being marketed as luxury apartment living. 
The community, at 584 W. Bay St., was known as Osprey Landings but was renamed Slate Luxury Apartments when Massachusetts-based Aspen Square Management Inc. bought the complex. 
Aspen now is offering units in the complex starting at $1,050 per month, according to its website— the same units that just months before had been home to struggling families for years. 
Without their leases renewed, some of those former residents now live on the streets, with their families scattered in the homes of friends and relatives. Others still residing in the community have watched as their longtime neighbors pack up their possessions and live in fear they soon might be next. 
EMPTY APARTMENTS 
"Look at all the empty apartments," said Evelyn Acevedo, a current resident and retired teacher for Orange County Public Schools. "Everybody got kicked out. Everybody. Even after they said we could stay one more year." 
According to current and previous tenants, when the new company took over in May, company representatives gathered the tenants for a meeting and said they would allow everyone paying with vouchers to stay one more year. After that, they would no longer accept the vouchers.
Kathy Cabrera, 22, who lived at Osprey Landings for five years with her elderly parents, was one of several who reasoned a year was enough time to find a new place. But her situation changed when she was informed just days later that she had to move out by July 31. 
"We had a big meeting, and they said they would accept the voucher for a year until we find a house or another apartment," said Cabrera, who now lives with her parents in her sister's two-bedroom apartment in Winter Garden. "And then, after that, we had another meeting where they called each of us to the office privately. And they told us we had to leave because our apartment was selected to be renovated and our lease was ending soon."
Other residents whose leases were coming up for renewal also were notified they would be prohibited from renewing. Cabrera said she does not understand why the company did not offer the chance to be moved to another unit. 
"I thought if your apartment was selected to be renovated, they would just put you in another apartment," Cabrera said. "But...I think they just changed their mind and then told us to leave. So we asked why they told everyone in the big meeting that they would give us a year so we can find another place to go, but then they said that they don't remember. Some new people in the office said, 'Well, I'm sorry, but I wasn't there, so I didn't hear that.' And I was like, seriously? But they lied to us, to everybody. And there's a lot of people they've hurt." 
Acevedo, the retired teacher, lived in her apartment for 10 years before she was told to leave by Aug. 30. She, too, remains confused why she can't be placed in another unit. 
"They didn't give me a reason; they didn't give any of us a reason," she said. "They just said they need to fix the apartments inside. But I don't understand why they don't just put us in another apartment." 
Aspen Square Management did not return repeated calls seeking comment. 
NOWHERE TO GO 
Current residents estimate about 15 people have left since Aspen, which owns seven other communities in Central Florida, took over. In addition to leaving their homes unwillingly, former tenants have found it impossible to find affordable apartment communities nearby that accept vouchers and also have available units. 
According to Orange County's Housing Department, there are currently 97 apartment complexes/landlords, including municipalities, that accept Section 8 Vouchers. 
"I've been trying to find a place, but all the places either don't accept my voucher, or they're full or say I don't qualify," Acevedo said. "All I get is Social Security income. That's all I got. I'm frustrated. We're all frustrated. And now my family will be separated." 
Suzette Ramos, who's resided there since 1999, was living with her 24-year-old son in one of the units until she was told to leave by July 31 so the company could renovate her unit. Ramos was unable to find a place and will now need to move to Georgia to live with her aunt. 
"We looked and looked, but there's nothing," said Ramos, whose son had been saving up for an apartment of his own but now lives in the street. "The waiting lists are very long. And even if we are given priority, it doesn't matter, because there's no vacancy in those apartments. And the places that do have vacancy are very far." 
As Ramos shared her story, she pointed to five units where her neighbors once resided — neighbors who had left in tears, she said. 
Jessica Carbona, a mother of four, was told to go because too many people resided in her two-bedroom apartment. She said she told them her 18-year-old just graduated high school and was leaving but Aspen insisted she had to go. 
She was unable to find an available apartment in time and had no choice but to separate her family. 
"I had to separate all my kids, so two of them are in Clermont with my cousin, and my youngest, my 4-year-old, is living with their dad," Carbona said. " We lived there for 10 years. All of a sudden, these people come, and in two months, I had to split my family. And they didn't care. Now, I'm basically living on the streets with nowhere to go. It's horrible."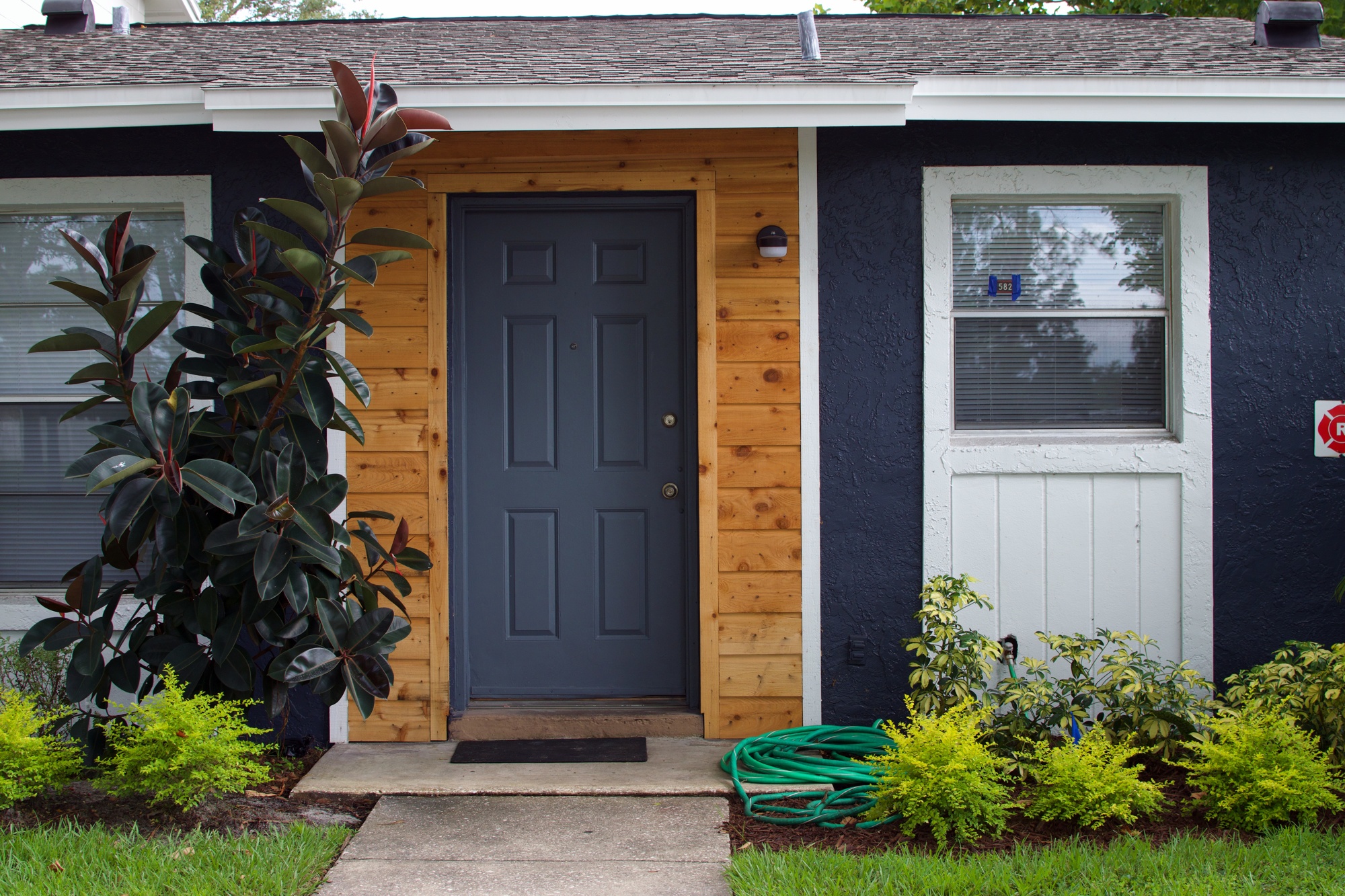 THEY SEE US LIKE TRASH' 
Since Aspen Square management bought the apartment community, it has spruced up the community's appearance and invested in landscaping. But current renters, angered by how they've been treated, feel it is a ploy to attract a certain demographic — one that does not include them. 
"They just slapped on some paint, added these palms and this wood here and called it luxury apartments," Acevedo said. "But this is not luxury. These apartments are full of cockroaches. And they have no remorse for the people they're kicking out. They didn't have any remorse for the family with autistic children that had to leave or this girl whose parents were about 80 years old." 
Tenants also suspect they were deliberately deceived to be lured into a false sense of security. 
"In Winter Garden, a lot of people are rich, but we are poor, and they want to get rid of the poor people," Ramos said. "They treat us like trash. They look at us as if we are trashy people — just because we are poor. It's discrimination. But we're not trash. We matter."