When you think about gyms and workout facilities, the first thing that probably pops into your head is the rows of weights.
At The Exercise Coach — Windermere, there isn't a barbell or weight to be found. Instead, TEC relies on something else — technology.
TEC relies on Exerbotics machines that utilize — as the name describes —  both exercise and robotics to help fashion workouts for each individual.
"What's super cool about us is we use this AI technology — this robotic equipment — that is run off of hydraulics, and there is a computer system inside this Exerbotics equipment," said Garret Harder, one of the three trainers at the facility. "When clients come in, they get a unique pin code that is unique to them — we punch that into the computer, get them all set up with their range of motions and their max and minimum tests.
"We can set different parameters for the machines based on their goals, and it gives them the right stimulus for their body and their muscles, so it's super safe," he said. 
TEC opened Wednesday, Aug. 19, and Harder said he already has seen new clients come in and be confused by the lack of equipment. That's where things can be deceiving with this new equipment, Harder said, because each does a variety of exercises.
In the small facility — located at 6735 Conroy Road, Suite No. 102 — there are only three different Exerbotics machines: a leg-press machine, chest press and row machine. Along with the Exerbotics machines, there are also more traditional machines, such as a recumbent bike, a multi-trainer, a hip abduction-adduction machine and a Surge 360 machine — which is similar to the Exerbotics machines.
"(It) runs off hydraulics — like our other machines, but there is no computer," Harder said. "You're mainly moving these hydraulic handles and you're standing up and you can do punching motions, rotational motions and it works cardiac and core."
But what really sets the Exerbotics machines apart is that each offers 20 different protocols that allow a user to focus on different aspects of the body. It helps get the facility's clients — most of whom are 40 and over — the help they specifically need.
Along with the generally older clientele, Harder also has seen multiple individuals who came into the facility looking for a place to work out following an injury. It's the safer, more comfortable aspects of the Exerbotics machines that really draws in this type of client, Harder said.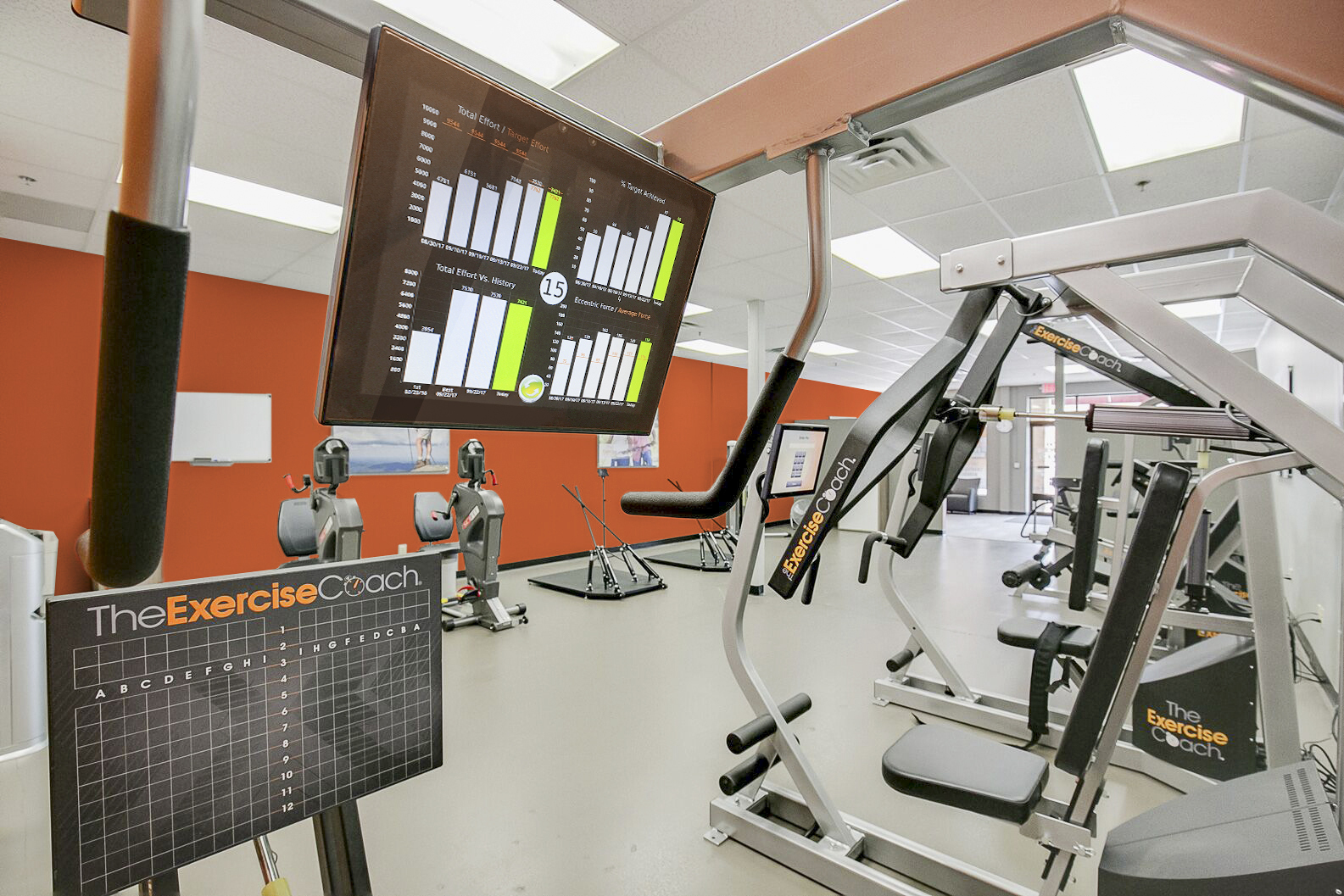 "You don't have to worry about any weights crashing down on you, which is super good for people (who) have been cleared by their physician or physical therapist for exercise," Harder said. "It's based off their ability, so the machine calculates everything through the computer that is built into the machine. … It gives them real-time feedback.
"It's based off what they put into it," he said. "They put into it what they are capable of doing right now — even in their recovered-injury state — and it's not going to give them any stimulus they cannot handle. If the machine does sense something — that they're pushing too hard or resisting weight too hard — then the machine will take that as, 'This is too hard of a stimulus for them,' and it'll stop."
Although getting people used to the machine is easy enough, getting certified was much more of a challenge, Harder said. Not only did he have to do a 30-hour online certification program, but Harder also was required to fly to the business' base in Illinois for two to three days to learn how to use it. Then, Harder had to submit video of himself working with clients on the machines.
But all that hard work put into learning the machines was worth it. Now, he is prepared to help his clients improve their health and fitness.
"It's hearing out their life story — because some people do spill their life story out — and how exercise has helped them feel better," Harder said. "I just like that positive impact when people come in, and after they're finished they're like, 'Wow, I feel really good about myself right now.' Hearing that and helping people that normally don't want to go to the gym but start to like the gym, and changing their lives is why I got into training."