Theatre South Playhouse, known as the little theater that could, is reminding the community that, "Even if you're little, you can do a lot," with its 2023 mainstage professional return of Roald Dahl's "Matilda the Musical," running Nov. 2 to 19.
Based on the classic children's book, Matilda is the story of an extraordinary little girl who, armed with a vivid imagination and a sharp mind, dares to take a stand and challenge those above her, changing her own destiny. 
The show is directed by Hillary Brook, with choreography by Sterling Lovett and musical direction by Dragomir Page. 
"Matilda" features an expansive cast of professional performers, including Jason Blackwater and Sarah Lee Dobbs as The Wormwoods, Jonny Jones as The Trunchbull, Saadya Byrd as Mrs. Phelps, and newcomers Margaret Place as Miss Honey and Miya Montague as Matilda.
After a sold-out Orlando premiere in 2019, Brook knew she had to bring the wonderful experience back to the community with a fresh take on the popular story told in a new light in the theater's immersive space.
"With so much devastation going on in the world, I look to the theater to not help us escape the reality of what's going on in the world, but rather to remind us that there still remains a glimmer of light and hope," Brook said. "This is truly a labor of love."
'WE MAY BE SMALL, BUT WE'RE QUITE TOUGH'
Brook said many people were introduced to the "Matilda" story for the first time when the movie released last year. However, fans of the movie or the Broadway version will notice differences in the theater's version.
"We've really studied the script and made it our own storytelling of 'Matilda,'" Brook said. 
The show includes surprises such as swings that come down from the ceiling and aerial silks.
Brook loves experiencing the audiences' reaction when they are in the unique space.
"You get enveloped in the story, because our space is so tiny," she said. "You become part of the cast, because the cast is actually in your face. I love watching the audience experience shows we do in a different light. We take the shows that everyone has seen before on big, huge, grand schemes, and we kind of get rid of a lot of the extra bells and whistles."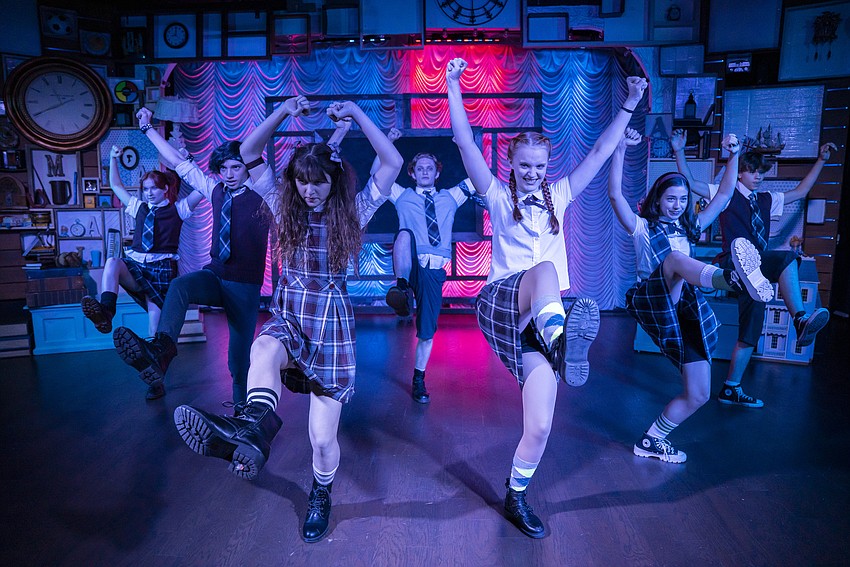 'MAKE SURE EVERYTHING YOU DO IS COMPLETELY UNBELIEVABLE'
The cast has 26 actors in total and about 15 on the creative team and office staff.
The team has been rehearsing four nights a week for about four hours since September.
"I love to work, obviously, with talented people, but more so, I love to just work with great humans," Brook said. "We really worked hard casting this show to cast it with really kind people that I want to work with and that work so well with (one another). We have a super special group. As a small, nonprofit theater, I love that as a community, we can also not just work with professional actors but also with local artists and be able to give them work (such as) our choreographer, director or production manager."
Brook's son, Jake Gatsby, plays Bruce in the show, and her daughter, Lilly Scarlett, plays a teen. 
Lilly was in the original production as the matinee Matilda and the full-time Lavender. The original Matilda also is now one of the teens in the new show.
Rhyse Silvestro, who plays Michael, saw the original production of "Matilda," which inspired him to want to participate. 
"I just want to go out on stage and perform for people and give them an inspiring show," he said. "It was a little challenging to put together this role because of how simple a character like Michael is. He's sort of like a caricature. It's a character that's a little hard to grasp, because there's not a lot of information regarding him in the script."
Dobbs, who plays Mrs. Wormwood, was in the original production of "Matilda" in the same role.
"The challenge in a character like Mrs. Wormwood is that she's really mean and really unkind," she said. "She's written very, very funny, and you have to be very thoughtful with a character like that, because she is mean — but also everyone has to love her."
Dobbs hopes the audience leaves with their stomachs hurting from laughing so hard.
"I love Matilda's imagination, because we all have an imagination, every single one of us, and I think it takes adults back to their childhood of when we imagined things," she said. "I hope the people that come to the show have an amazing time and leave with their heart filled with how beautiful and genuine the show is."