Horizon football senior Bo Kenney — a 6-foot, 215-pound linebacker and fullback — finished his final season for the Hawks with a phenomenal statistical showing that earned him a spot on the All-Metro West Conference first team. 
He made 103 total tackles — 20 of which were for a loss — sacked the quarterback five times, forced three fumbles, recovered two fumbles and blocked two field goals. Kenney recorded all these stats while also serving as the lead blocker on offense for star running back Jamarie Pierre, who finished the season with 1,468 rushing yards and 17 rushing touchdowns.  
THE BASICS 
Sport: Football
Grade: Senior
School: Horizon
Positions: Linebacker and fullback
How does it feel to be named Athlete of the Week?
I am honored to be named the Athlete of the Week. I have worked hard through the season, and it feels great to be recognized.
What do you like the most about football?
My favorite part about playing football is the team nature. Getting to play with teammates that have common goals and having that familial bond.
What is the biggest lesson you have learned from playing football?
No matter how many times you get knocked down, it's about how you get back up and overcome adversity. 
What is your favorite non-football hobby?
One of my main hobbies besides football is cooking. I like eating, so I like being able to cook good food myself.
What is your favorite subject in school?
English. I enjoy writing, and I have had good teachers throughout my high school years. 
What are three things you would take with you to a deserted island?
Three things I would take on a deserted island are my phone, food and/or water, and a solar panel to charge my phone.
What is your favorite movie?
My favorite movie would have to be "Remember the Titans." It is a great inspirational football movie. 
If you could have dinner with one person — dead or alive — who would it be?
I would like to have dinner with T.J. Watt because he is an amazing football player and I am a Steelers fan.
If you could go back in time to a specific period in history, when and where would you go?
I would want to go back and be in high school in the 1980s. It seems like an iconic and memorable era. I like the music and the different things you could do back then.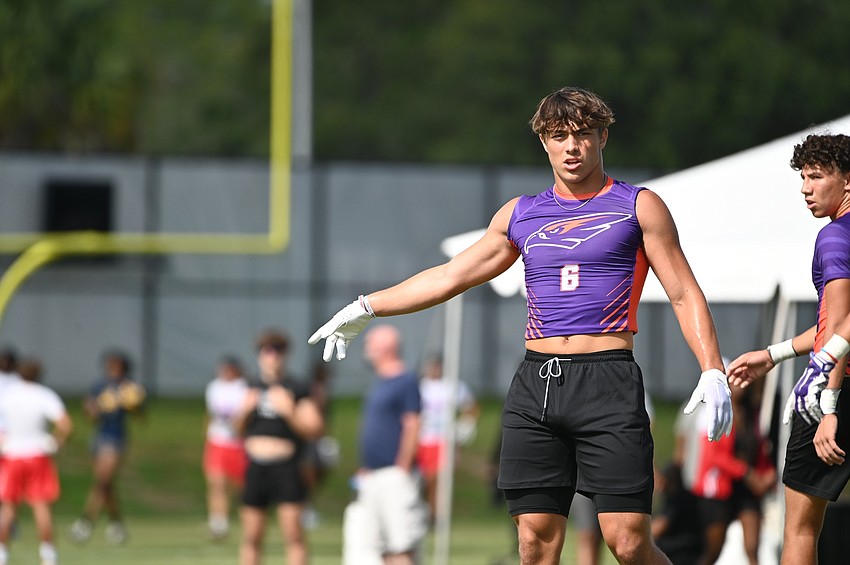 Looking back, what piece of advice would you give your 10-year-old self?
I would tell my 10-year-old self to keep working hard and not give up. Don't be discouraged, and if you work hard enough you can get there. 
If you could ask your future self a question, what would it be?
I would ask my future self what career path we chose and how it is going.
Who is your favorite superhero?
My favorite superhero is Batman, because I like the way he does things, and the movies are very good.
Who is your favorite supervillain?
My favorite supervillain is the Joker. He is a very good villain and has very good quotes coming from his character. I also admire his determination and how he will stop at nothing to get what he wants.
If you could have any superpower, what would it be?
If I could have any superpower, I would want to fly. It is a basic one, but I think it would be cool to be able to fly wherever I want.
What are three places you would like to visit?
I would like to visit Hawaii, Fiji and Italy. They seem very pretty and are iconic landmarks in the world.
If you could be an animal for a day, which would you be? Why?
I would like to be a bird. I think it would be cool to see the world from a different perspective and be able to fly around for a day.
Does pineapple belong on pizza?
Pineapple absolutely does not belong on pizza, and anyone that thinks it does is crazy.