With Dr. Phillips High falling to Plant High in the second round of the FHSAA football playoffs, the 2023 football season is now over for West Orange and Southwest Orange teams. 
However, although none of the local teams will be hoisting a state championship trophy this year, the area proved again to be one of the most talent-rich pockets in not only the state but also the entire country. 
With multiple running backs rushing for 1,000-plus yards, linebackers recording 100-plus tackles and quarterbacks finding their lethal weapons on the outside against some of the best defensive back groups you'll see anywhere, this season had a little of everything. 
To recognize the immense talent this area has to offer, we've selected — with the help of the area's coaches sending in nominations — the best of the best to be a part of the 2023 All-Orange Observer Football Teams, as well as the Orange Observer Player of the Year.
---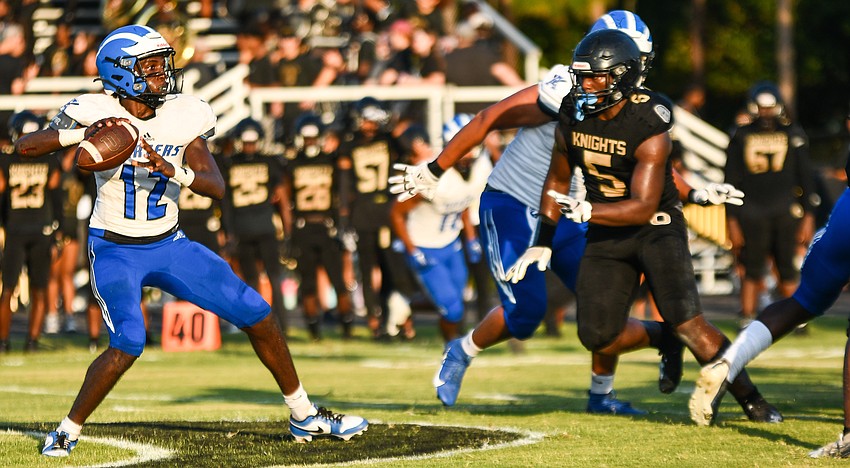 ORANGE OBSERVER PLAYER OF THE YEAR
Michael McClenton, sophomore, Ocoee
To put this as clear as possible, McClenton is a destructive force on the Knights' defensive front. 
He is the physical embodiment of the concept, "See ball, get ball."
The 202 total tackles, 45 of which were for a loss, 31 sacks —all school records — three forced fumbles and one blocked field goal show exactly why the sophomore with NFL bloodlines is the 2023 player of the year. 
His combination of size, 6-foot-1 and 225 pounds, speed, power and relentless pursuit are the reasons he's able to be a versatile weapon across the Ocoee defensive front. 
Although listed as a linebacker, McClenton can be seen lining up as an edge rusher, interior defensive lineman and a traditional off-ball mike. 
The kid is special, and soon enough, the offers will come pouring in.
---
ALL-OBSERVER FIRST TEAM
OFFENSE
Quarterback
Juan Gainous, Olympia Sr. 
The 6-foot-3, 215-pound quarterback led Olympia to an 8-3 record and the Class 4M, District 5 title by totaling 2,202 yards through the air and the ground, scoring 28 total touchdowns with just five interceptions.
---
Running backs
J.T. Bronaugh, Foundation Sr.
Bronaugh's combination of track speed and solid power has helped him finish his high school career with an incredible display on both sides of the ball. As a running back, he gained 1,950 total yards on 110 touches with 25 total touchdowns. While on defense, he recorded 43 tackles, two for a loss, caught two interceptions and forced two fumbles. It's no wonder he's garnering the attention of Division I programs across the country. 
Romelo Ware, Olympia Sr.
Next to Gainous in the Titans' backfield was its workhorse back, who gave the Olympia offense the balance it needed to have such a successful season. Ware's 1,562 total yards and 21 total touchdowns on 180 touches show exactly why he has been able to pick up loads of D-I offers.
---
Wide receivers
Joshua Evans, Olympia Sr.
A three-star recruit with offers from the likes of Indiana, UConn and Liberty, Evans led Olympia with 605 receiving yards on 32 catches with six receiving touchdowns. He also got it done with his arm, throwing for two TDs and 79 yards on 2-of-5 passing. 
Xavier Tucker, Olympia Jr. 
Alongside Evans, Tucker's a two-way athlete who caught 36 passes for 555 receiving yards with six touchdowns, along with an interception he returned for another touchdown.
---
RELATED ARTICLES
---
Athlete/Tight end
Micah Winslow, Lake Buena Vista Jr.
You can't really put Winslow into a positional box; he was the definition of an athlete for the Vipers this season. He had 977 total yards — 395 receiving, 309 rushing and 273 passing yards — with 18 total touchdowns — one passing, seven rushing, nine receiving and one on defense. He also added 15 total tackles, three interceptions, three pass breakups and a fumble recovery on defense. 
---
Offensive linemen
Kamal Harris, Olympia Sr.

At 6-foot-3 and 315 pounds, Harris was a certified people-mover on the interior of the Titans' offensive line — especially when he got to the second level of the defense as Ware's lead blocker. 
Onix Irizarry, Ocoee Sr.
With a blocking grade of 83% this season to go along with 21 pancakes and only two sacks allowed, it's no wonder Irizarry is on this list. But what's most impressive about the interior lineman's game is the edge he plays with and how aggressively he finished his blocks. 
Usain Mitchell, Lake Buena Vista Sr.
What stands out about Mitchell's game is his athletic ability. He's quick off the line and has the ability to use his size to obliterate defenders in the run game.
Parker Moss, Olympia Jr.
At 6-foot-3 and 285 pounds, Moss is a dominant tackle for one of the best offenses in the area. The All-Metro selection was key in both the Titans' running and passing game. 
Noah Wright, Windermere Sr.
With zero sacks allowed and 56 pancakes this season, Wright showed just how dominant he was on the bookend of the Wolverines line. With his production along with a 6-foot-4, 275-pound frame, Wright looks like a college-level lineman. 
---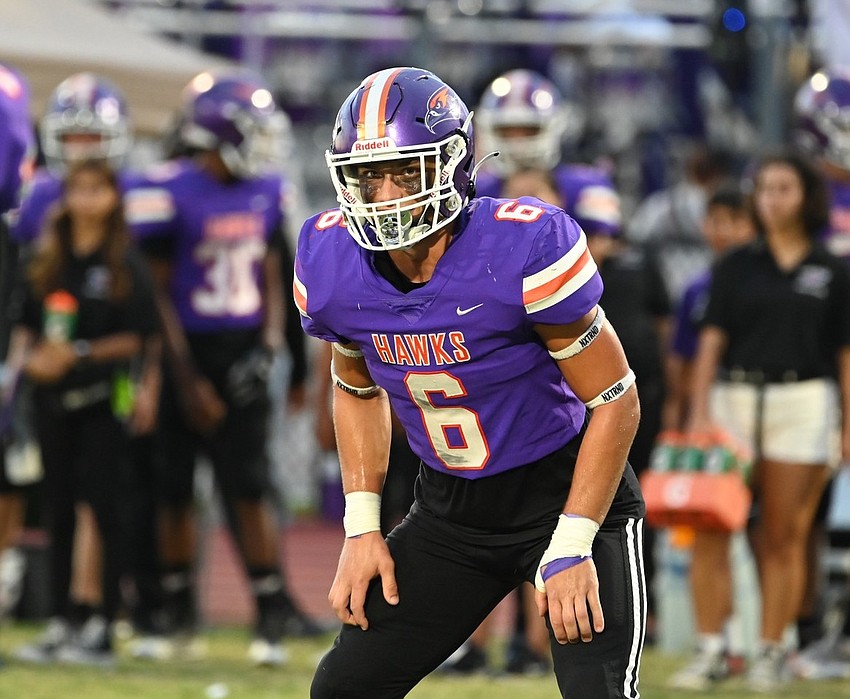 DEFENSE
Defensive linemen
Zack Boujidi, Lake Buena Vista Sr.
Boujidi was a menace to opposing offensive linemen this season for the Vipers, his 42 tackles (13 for a loss), five sacks and six fumble recoveries all show just how disruptive he was. 
Tyler Cross, Olympia Sr.
Cross, a two-way star for the Titans with plenty of D-I offers, finished his high-school career with 29 tackles (nine for a loss) and six sacks. On offense, he caught five passes for 73 yards with two touchdowns and was a solid blocker from the tight end spot.
Damien Jackson, Dr. Phillips Sr.
The hybrid outside linebacker/defensive end was a ball magnet this season for the Panthers. He caught three interceptions and picked up fumbles left and right. He also recorded 40 tackles (six for a loss) and four sacks.
---
Linebackers
Ameer Elghazaly, West Orange Jr.
Elghazaly led West Orange in tackles with 93 (eight for a loss) in his first season as a Warrior. The 6-foot, 195-pound transfer also caught one interception and had a recovered fumble.
Bo Kenney, Horizon Sr.
Kenney was the heart and soul of the Hawks team this season on both sides of the ball. He was a heat-seeking missile at linebacker and lead blocker at fullback on offense. He made 103 tackles (20 for a loss), had five sacks, forced three fumbles and had two fumble recoveries.
Jerard Smith Jr., Dr. Phillips Sr.
With 123 total tackles (six for a loss) and two sacks, Smith showed how vital he was to the middle of this dynamic Panthers defense. 
Rowan Wassilyn, Windermere Sr. 
Wassilyn's an instinctive linebacker who constantly found himself in the opposition backfield. He finished his senior season with 64 tackles (19 for a loss), two sacks, three interceptions, two forced fumbles and one fumble recovery.
---
Defensive backs
Artavius Riley Jr., West Orange So. 
A hybrid safety/linebacker, it didn't really matter where Riley played, because he found the ball at the end of the play. He made 62 tackles (17 for a loss), sacked the quarterback three times, forced four fumbles and caught two interceptions.
Ivan Taylor, West Orange Jr. 
Taylor, a four-star recruit with offers from the likes of Alabama, Notre Dame and Miami, continued to show why he's such a coveted prospect this season. He made 50 tackles (six for a loss), forced three fumbles and caught an interception.
Jalon Thompson, Olympia Sr. 
A North Carolina commit and three-star prospect, Thompson was a ball-hawk safety for the Titans this season, catching four interceptions and breaking up nine passes. He also added 27 tackles. 
Maliki Wright, Dr. Phillips Jr.
Wright, a USF commit and three-star prospect, was one of the standouts from a loaded Panthers defense this season. He finished the year with 74 tackles (five for a loss), two sacks, two interceptions and a fumble recovery.
---
UTILITY
Julian Anderson, The First Academy Sr.
As a defensive lineman, Anderson made 40 tackles (17 for a loss), caught an interception, sacked the QB three times and forced six fumbles. At the receiver spot, he caught 51 passes for 788 yards with 13 touchdowns.
Joshua Guerrier, Ocoee Jr.
A three-star prospect with plenty of Power 5 offers, Guerrier did it all for the Knights this season. As a defensive back, he made 34 tackles, caught four interceptions (two of which he returned for touchdowns) and broke up 13 passes. As a returner and running back, he totaled 744 yards and four more touchdowns. 
Larry Miles, West Orange So.
As a sophomore, Miles already has established himself as a certified weapon with the ball in his hands. As a receiver, he caught 40 passes for 531 receiving yards with three touchdowns. And as a returner, he added another 494 yards with five more touchdowns. 
---
ALL-OBSERVER SECOND TEAM
OFFENSE
QB Michael Dove, Foundation Jr.
RB Isaiah Nell, Windermere Sr. 
RB Jamarie Pierre, Horizon Jr.
WR Jordyn Bridgewater, West Orange Sr. 
WR Mykel Calixte, Dr. Phillips Jr.
ATH/TE Tavion Greaves, Ocoee Jr.
OL Omoruyi Aliu-Otokiti, Windermere Prep Sr.
OL Andy Jolette, Lake Buena Vista Sr. 
OL Drew Flournoy, Foundation Sr. 
OL Nicolas Marti, West Orange Jr.
OL RJ Stamm, Dr. Phillips Jr.
---
DEFENSE
DL Brandon Dumezil, Olympia Sr. 
DL Johnny Fudge III, Dr. Phillips Sr. 
DL Tyler Simmons, Windermere Prep Sr. 
LB Sean Adekunle, Lake Buena Vista Jr. 
LB Cole West, Foundation Sr. 
LB Alfred Thomas, Dr. Phillips Sr. 
LB Jake Threadgill, Legacy Jr. 
DB Acetron Ealey, Ocoee Sr. 
DB Devin Jackson, West Orange So.
DB Jashad Presley, Dr. Phillips Sr. 
DB Zephy Rogers, Foundation Sr.
---
UTILITY
QB/DB/KR/PR Bryce Speed, Windermere Jr.
QB/ATH/DB Tyson Tran, Lake Buena Vista Sr. 
WR/DB Romelo Walker, Olympia Sr.