What started out two years ago as a bicycle and pedestrian mobility plan in the town of Oakland has become an entire network plan that now includes vehicular traffic and an illustrated outline of scenarios for creating a more connected community.
The Oakland Town Commission approved the Mobility Master Plan at its March 27 meeting. The plan was created and presented by Kittelson & Associates, the transportation planning firm hired through a MetroPlan Orlando grant to develop the framework for expanding the current street network into the surrounding areas with new connections.
This standard of urban design is intended to aid in putting an upgraded transportation system in place ahead of the anticipated growth.
J.P. Weesner, urban planner and landscape architect with Kittelson, has worked closely with the town, holding charrettes and discovering what the town and its residents want and merging existing conditions with those desires whenever possible.
The Mobility Master Plan includes alternatives for a better sidewalk system throughout the town, a standard for maintaining unpaved and paved streets, a street network hierarchy that lays out street-design guidance and maps of areas of opportunity for development and connections.
A complete-streets plan proposes details for the main arteries, West Colonial Drive, Oakland Avenue and Tubb Street; as well as for the local paved streets and unpaved streets.
For Colonial, one design proposes six-foot sidewalks, five-foot bike lanes, five-foot landscape buffers, 12-foot bus lanes and two 11-foot travel lanes on either side of the road's center line. The center would include a 12-foot landscape buffer with curbs, gutters and space for left-turn lanes.
Overall, the estimated right-of-way is 125 feet from sidewalk to sidewalk.
The other two main streets in the town, Tubb and Oakland, would have eight feet of landscape, six feet of sidewalk, another six feet of landscape, a seven-foot buffered bike lane and 11-foot travel lanes on either side of the center of the street in a total of about 80 feet of right-of-way.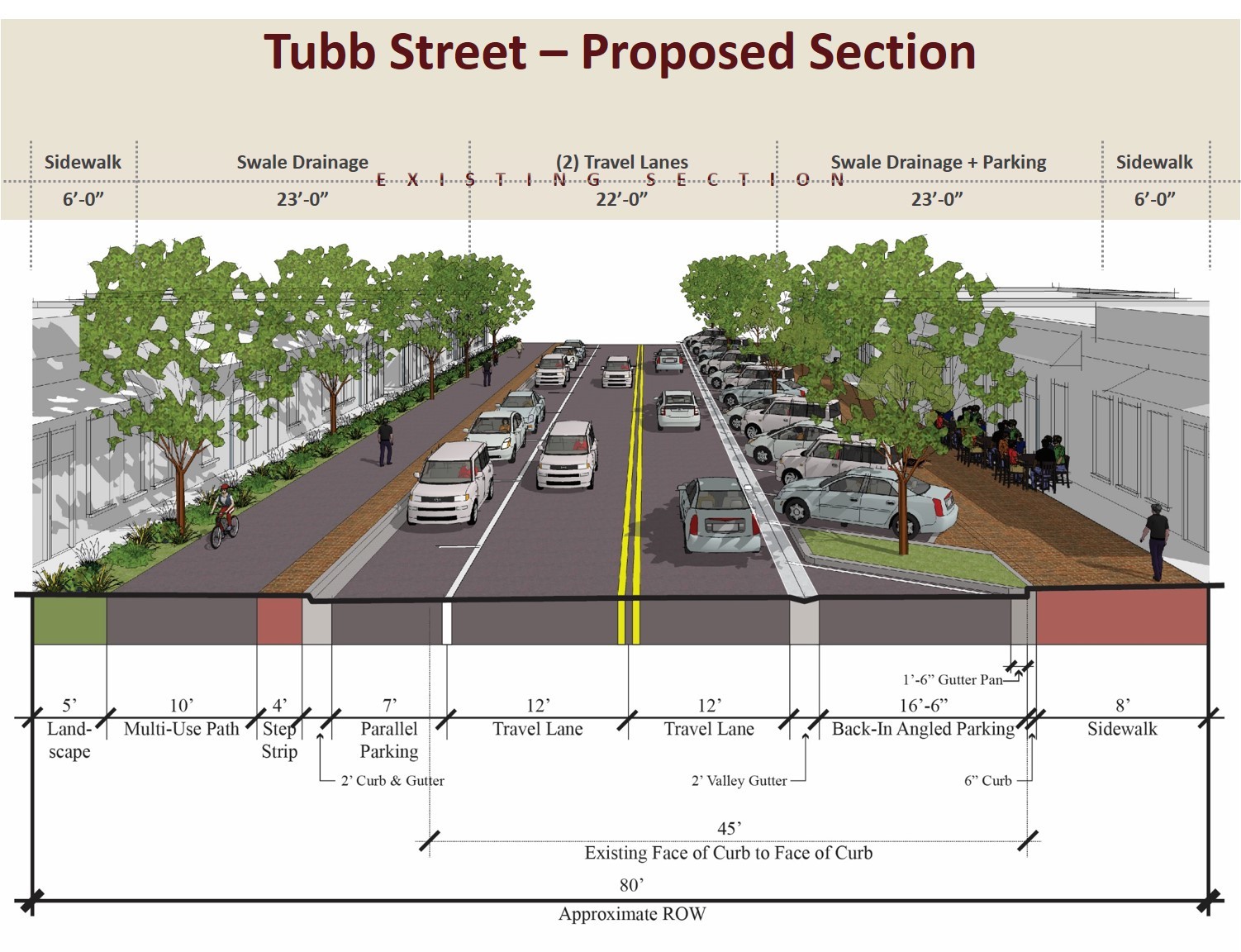 This proposal does not require the town to acquire any additional right-of-way.
"There will be no paving of dirt streets and no more widening of Tubb Street and Oakland Avenue," Town Planner Jay Marder said.
Weesner suggested ways to connect all of Oakland, including "humanizing" Colonial Drive, creating walkable blocks and extending the downtown grid across Colonial, adding connections to the West Orange Trail and extending Tubb from Lake Apopka to Johns Lake.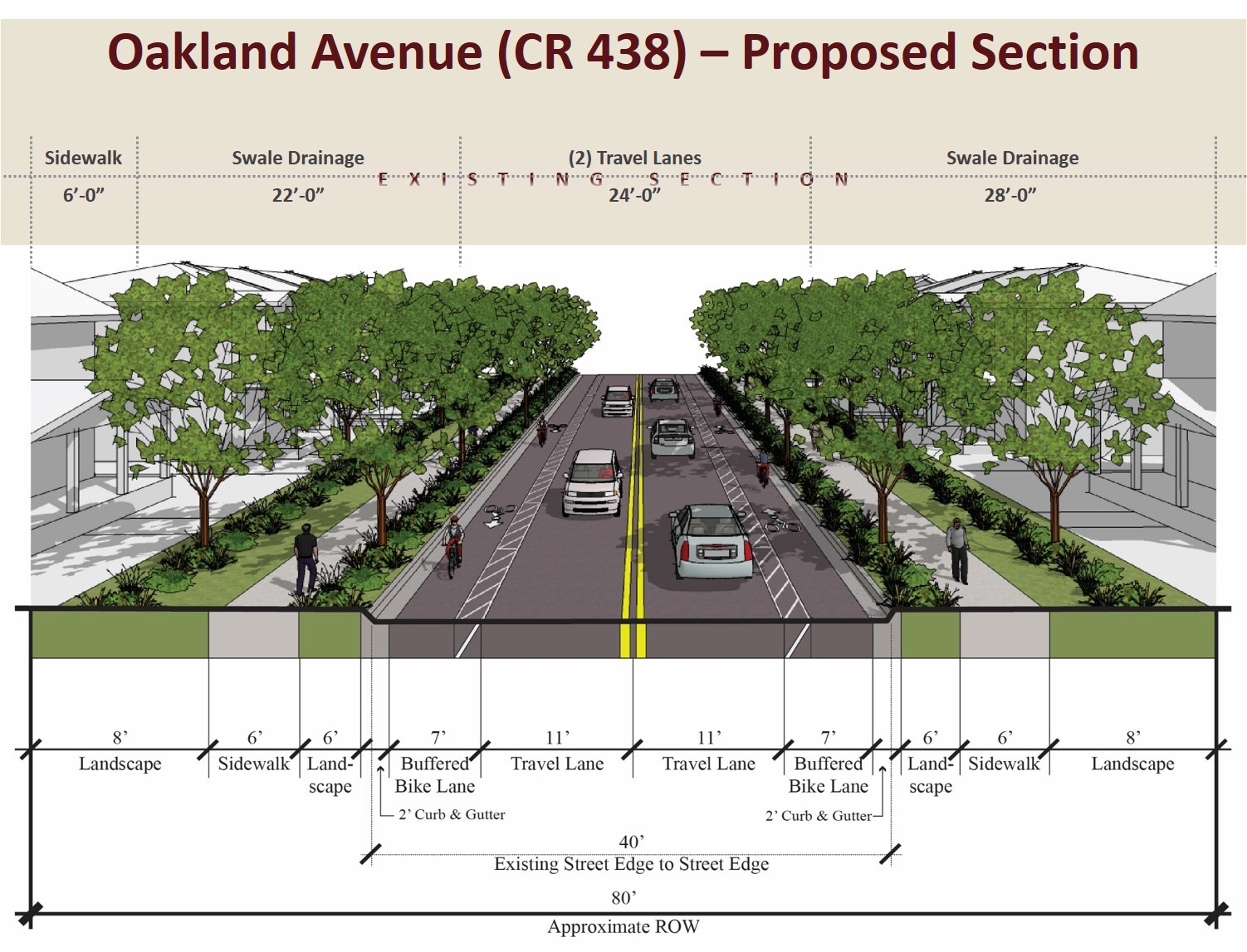 The continuation of the downtown Oakland grid system across Colonial could create a section of walkable blocks that look similar to Colonial near Mills Avenue in downtown Orlando.
Existing streets south of Colonial could be extended westward to create additional walkable blocks near Florida's Turnpike, where larger-scale projects such as hotels, single-use commercial and offices will likely go in.
The plan provides proposals for a potential Lynx Bus Rapid Transit regional hub at Colonial and Tubb.
"This will help us maintain our identity," Mayor Kathy Stark said of the new mobility plan.
When one resident expressed concerns about some of the details presented, Stark said, "We have no intention of putting in anything that we cannot budget for or maintain."
IN OTHER NEWS:
• Town commissioners Joseph McMullen and Rick Polland were sworn into office for another term. "We are very, very lucky to have such faithful servants in the town of Oakland," Mayor Kathy Stark said.
• The commission approved the final subdivision plat for the Longleaf at Oakland project on the west end of Oakland Avenue. Pulte Homes is the builder for the 39.5 acres of land. Another unanimous vote allowed for the vacating of a 5,350-square-foot partial utility easement that was dedicated to the town of Oakland in 2002 but is no longer needed.
• The commission approved spending up to $100,000 on two projects at Oakland Avenue Charter School. The first is a two-year rental of a mobile building for the pre-kindergarten classes, necessitated by the elimination of the classroom co-teacher program. The second is the purchase and installation of 1,800 linear feet of vinyl-coated chain-link fencing and five gates to complete the perimeter of the school to better maintain school safety.