Norma Johns has been drawing and painting for as long as she can remember.
She always was painting and drawing whenever she could as a child, and at age 11, she honed her artistic talents by joining an art class for adults, which is where she began working with oil paints. She later went to college to study architecture, but she never put her paintbrush down.
"I used to sit on the staircase and just draw and draw and paint and paint," Johns said. "One of my uncles had a studio. He was also an artist. … I wanted badly to take classes with him, but I was 5, and he was giving classes to adults — oil-painting classes. So he allowed me to be there, but just for charcoal (drawing), and I loved it."
Johns is just one of the artists who has had one of her paintings on display in the SoBo Art Gallery's Sixth Annual Top Choice Art Exhibition that ran from June to July. She even earned the People's Choice Award, along with a Merit Award, for the painting she featured in the exhibition.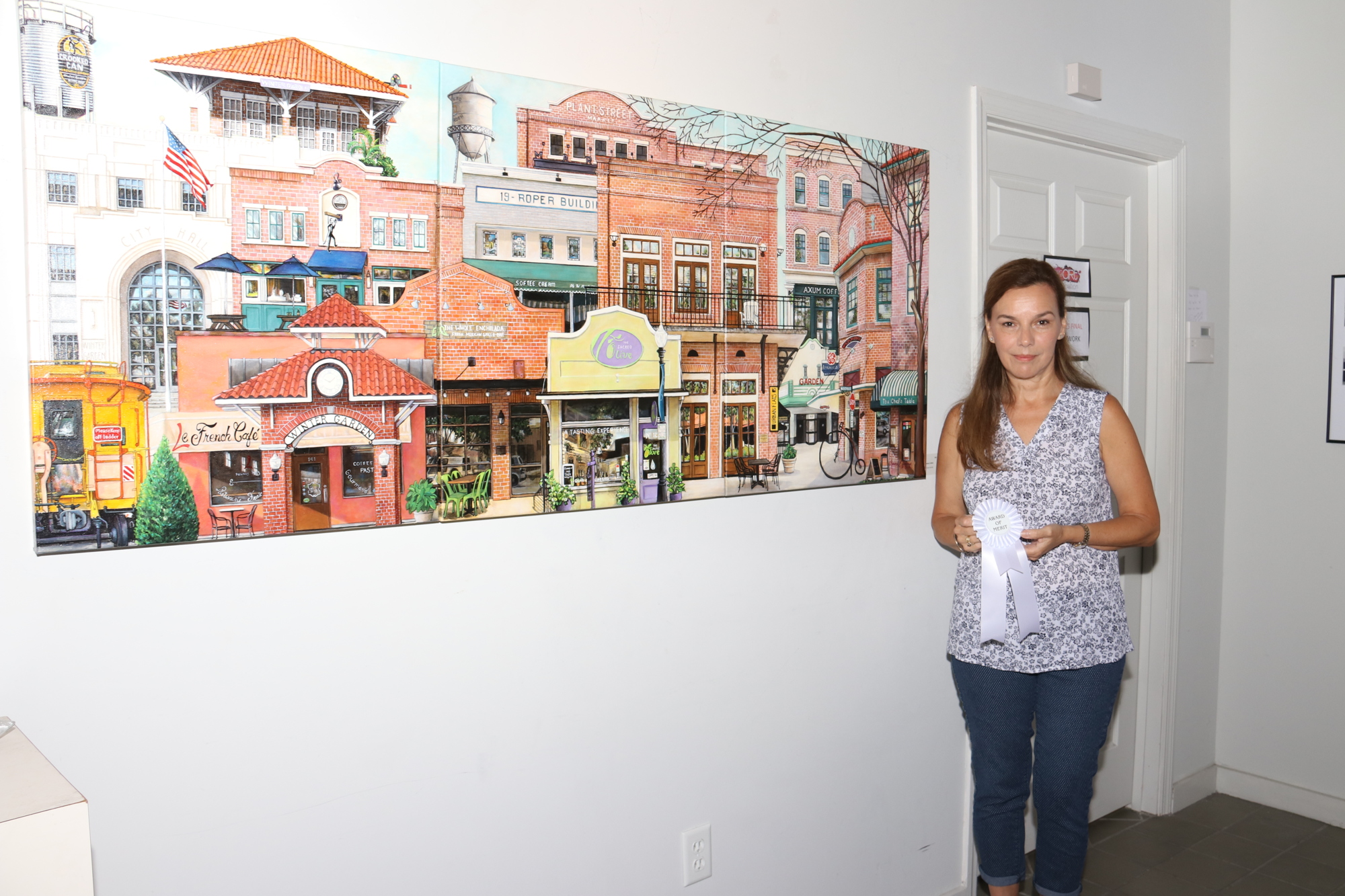 The piece Johns had on display was a cityscape painting that features a collage of the buildings along Plant Street in downtown Winter Garden, but how and where the buildings appear in the painting is different from reality. Rather than painting how the buildings appear along Plant Street in real life, Johns painted the buildings in a manner that shows them all next to or overlapping each other. This style of cityscape painting not only showcases Johns' background as an architect but also her signature style. 
"What I want for my paintings is for you, the spectator, to come in and feel like you're there," Johns said. "Like when you're (at) a Disney park — in the middle of Magic Kingdom — and you're (around the buildings), I want to capture that, put you inside and have that feeling (of being there)."
Originally from Monterrey, Mexico, Johns, 57, currently lives in Winter Garden. She moved to the area three years ago to live closer to her youngest daughter, but she has traveled and lived all over the world. Johns plans on staying in Winter Garden for now, but she and her husband still enjoy traveling. In fact, her travels have often inspired her paintings, as much of her work depicts buildings she's seen herself. She dedicates much time and planning to her cityscape paintings, and they all start as drawings before the paint even hits the canvas.
"These (paintings) take a lot of planning and a lot of patience and a lot of research, because — when I get a commission — sometimes the buildings don't exist anymore," Johns said. "A lot of times, I need to go and check if they have old photos, or I have to go to a city hall."
She began painting in her signature style while in China, where she lived for 10 years. At the time, she painted some buildings that reminded her of Mexico. She said she wasn't feeling homesick, but she wanted to paint something that could capture the essence of her home country. She started working on the piece while living in New York but finished it when she moved to China.
"When we moved to Shanghai, we were told it was going to be a two-year job, but that painting followed me, because it was halfway (completed)," Johns said. "It had a lot to do with me not being in my hometown … (but) I don't get homesick, because home is here (in my heart)."
Today, Johns has created numerous cityscape paintings in her signature style, and her work has been featured in galleries all over the world. In addition to painting places that she's visited herself, she has painted numerous other scenes from other cities through commission work. When she is not painting buildings, she likes to relax by painting still-life portraits and flowers.