OLD TIMES
85 years ago
Lakeview High students Alice Roper, Marie Smith, Ruby Shepherd, Clara Jean Denmark, Dora Vining, Harr Scott, J.D. Rutledge and Frank Kannon were candidates for the countywide high school debating tournament to be held on radio station WDBO.
80 years ago
The Ocoee Trade School had added many new courses to the curriculum, including carpentry, aircraft welding, aircraft woodwork, electric welding, auto mechanics. The school had trained 119 men at this date and had placed them in employment.
70 years ago
Mrs. Jimmy Hendrix gave a dessert bridge party in honor of Mrs. Everett Farnsworth on her birthday. High score was held by Mabel Thompson; second high was held by Barbara Roper.
50 years ago
Dock Reeves tried to tell Charlie Root a joke while he was getting a haircut. Trouble was, Charlie had told him the same joke two weeks earlier from the newspaper's Editor's Notebook column.
An editorial in The Winter Garden Times encouraged residents to contribute to Winter Garden's beautification effort, citing noticeable shortcomings in appearance.
40 years ago
Nathan and Martha Dykgraaf bought land on Maguire Road south of Highway 50 to construct a roller-skating rink, to be called Skate Town, U.S.A., with plans for a separate game room called Game Town, U.S.A.
The traffic jam of the year and the thrill of a lifetime occurred Sunday. Many thousands were not deterred from making a return trip to Cape Kennedy to witness the first space shuttle launch after it was scrubbed Friday.
20 years ago
Gotha residents were pleased to learn that the long-sought traffic signal at Old Winter Garden Road and Hempel Avenue was close to being finished.
THROWBACK THURSDAY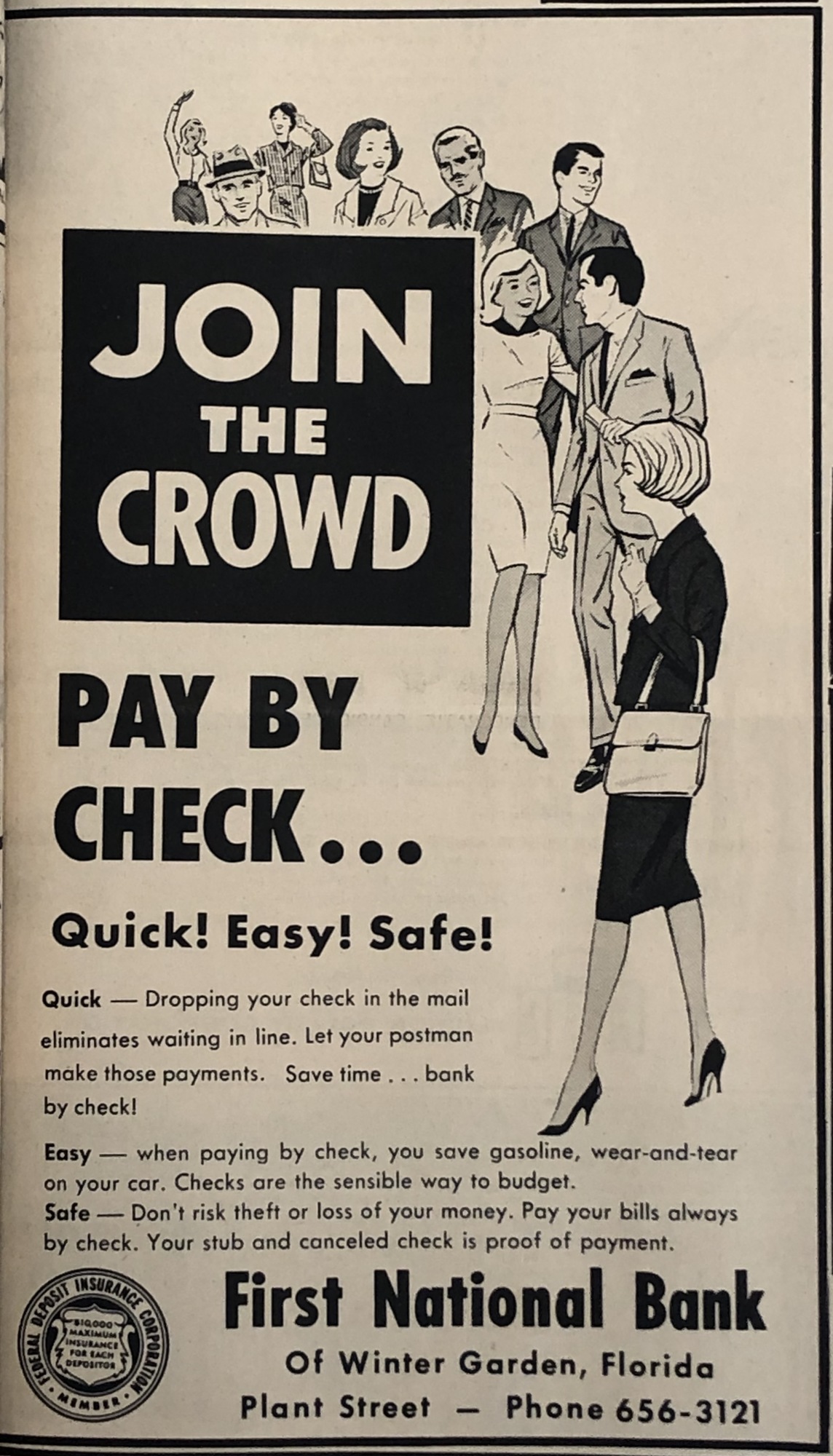 April 29, 2021
First National Bank of Winter Garden, located on downtown Plant Street (now home of The Real Estate Collection and other businesses) placed an ad in The Winter Garden Times to let customers know of its new banking system. Instead of paying bills by driving to each destination and waiting in line, customers could drop a check in the mail and "let your postman make those payments." They could save gasoline and wear-and-tear on their vehicle, and they reduced the risk of theft because they always had a stub and canceled check as proof of payment.
FROM THE WINTER GARDEN HERITAGE FOUNDATION ARCHIVES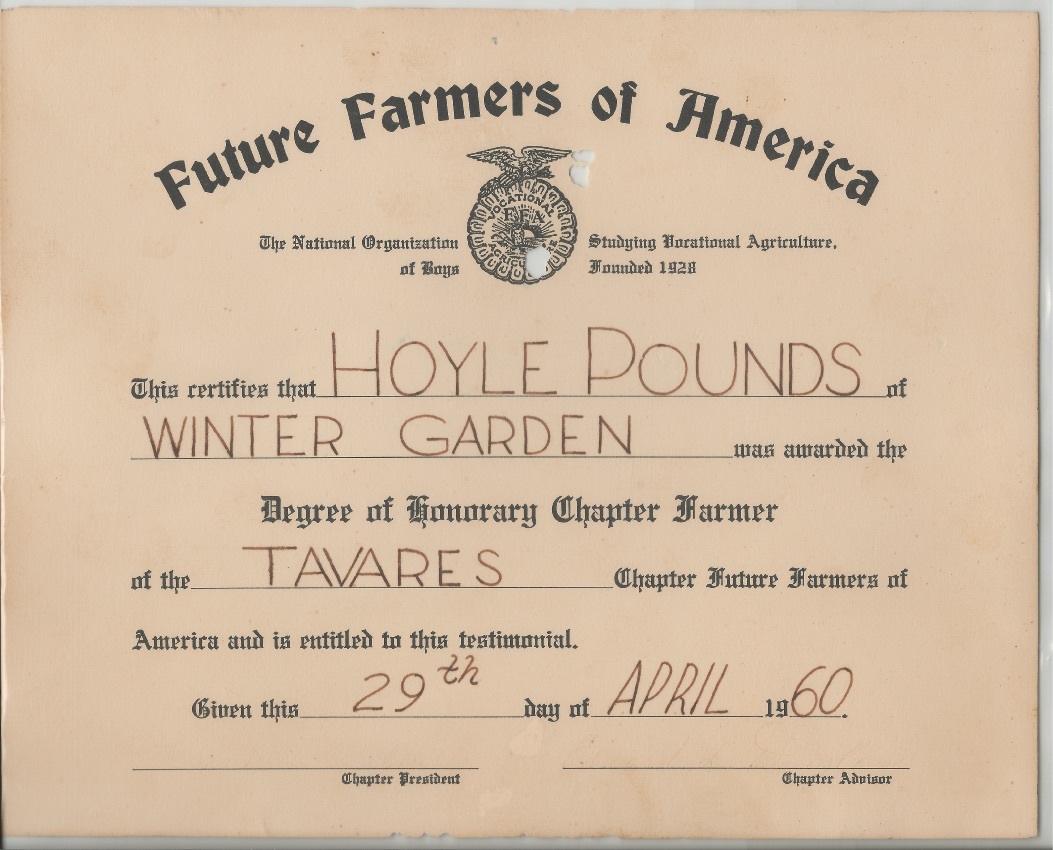 Sixty-one years ago, on April 29, 1960, entrepreneur Hoyle Pounds received this certificate from the Tavares Chapter of the Future Farmers of America. This modest "Degree of Honorary Chapter Farmer" doesn't begin to address the man's accomplishments. Besides patenting a device that streamlined a tractor's tasks by allowing rubber truck tires to replace its metal wheels, Pounds came up with dozens of inventions and modifications that made farming much less difficult. A citrus grower, he also found time to serve as chief of Winter Garden's volunteer fire department for 41 years.
His shop and offices, constructed in 1926, were housed in the two-story Pounds Building located at Lakeview Avenue and Plant Street in Winter Garden.