OLD TIMES
85 years ago
The West Orange News was published by Burch-Story Press Inc., with L.P. Robinson as editor and James A. Lewis as advertising manager. The subscription rate was $1.50 per year in advance.
A new motor company opened in Winter Garden at the corner of Plant Street and Highland Avenue. The company, known as Harper and Harper, carried Dodge and Plymouth commercial cars and trucks.
80 years ago
Miss Mary Tilden, bride-elect of Everette Farnsworth, was entertained at a Coca-Cola party at the home of Mrs. P.H. Britt.
The Winter Garden Welfare League was sponsoring an informal dance at the city auditorium, and tickets were on sale at 99 cents per couple. The proceeds were to go to the WPS nursery school.
Harold Maguire completed his civilian pilot's training course at Rollins College and was leaving for the University of Tampa for advanced training in the Air Corps.
45 years ago
Sam Hovsepian was elected mayor of Oakland.
Our "The Man in the Stands" sports columnist gave the Bone Crusher Award to Craig Maloy for a tackle of the Oviedo quarterback that "almost separated the head from the shoulders."
40 years ago
Hundreds of football players were suiting up in West Orange County for the start of the 1982 football season. Two of the biggest and best were interior lineman Thomas Harp and Paul Ritten of the West Orange Warriors.
35 years ago
Ocoee Junior High Cardinal cheerleaders were Michelle Van Horn, Chrissy Amey, Traci DeLucia, Maggie James, Bonnie Keen, Sheri Stills, Sherry Messer, Karen Higgins, Kelly Wise, Tracy Kiah, Debi Rodgers and Beth Richards.
30 years ago
Betty Wade, an Atlanta resident who grew up in Oakland, accepted a three-year international assignment to set up the BellSouth system in Australia.
Kim Dryfoos has been named manager of Main Street Winter Garden, replacing Neil Fritz. She held a similar position with New Smyrna Beach Main Street.
Herschel Parrish, a Winter Garden resident and secretary-manager of the Central Florida Fairgrounds, was campaigning hard for President George Bush as chairman of the Agriculture for Bush committee.
20 years ago
Sylvia Gann, a longtime resident of Oakland and a veteran employee of the Winter Garden Post Office, retired after 20 years at the facility. She served as an operator at the Orlando office for one year before transferring to Minneola. After four years as window clerk, Gann took those skills to Winter Garden.
THROWBACK THURSDAY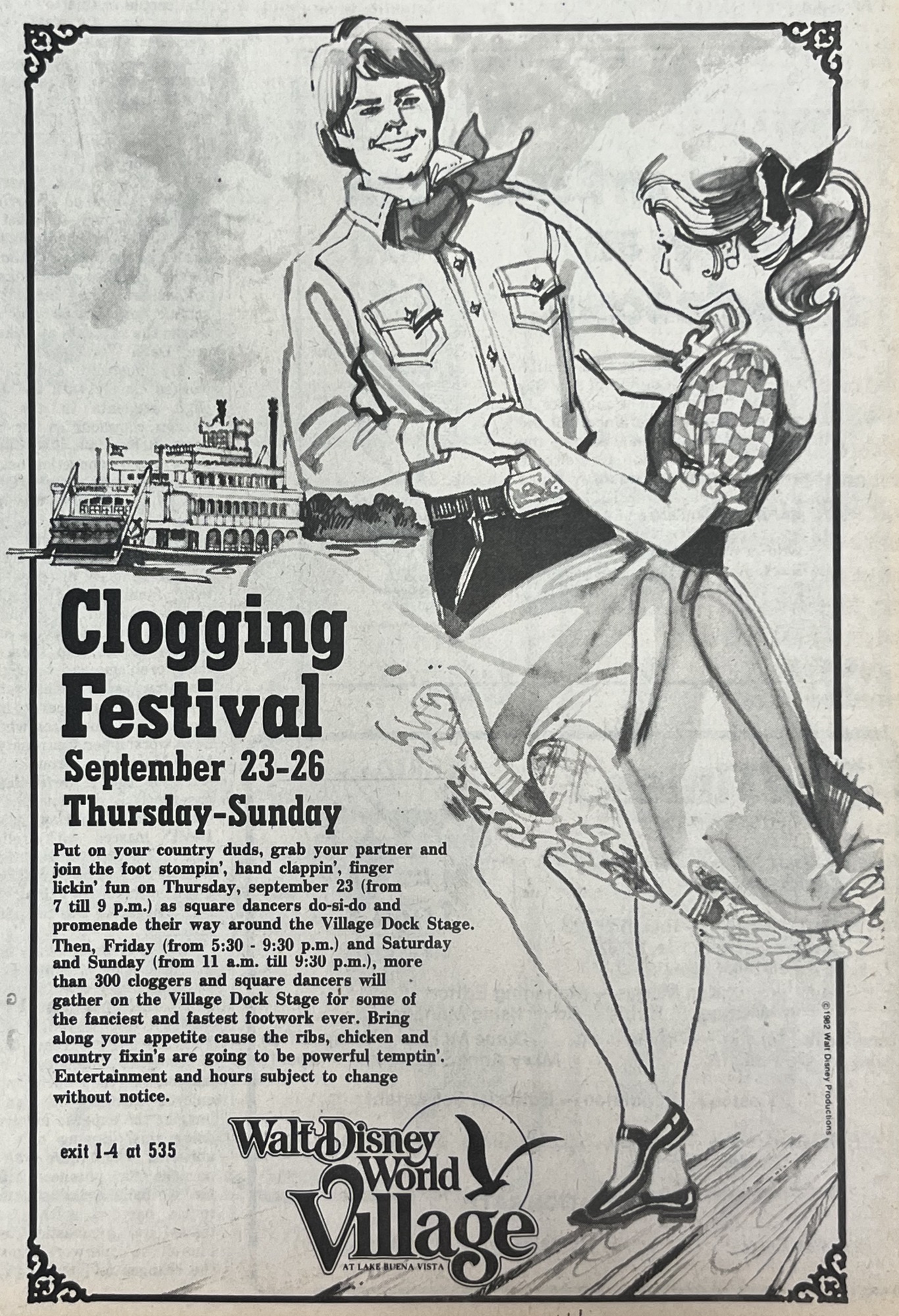 Sept. 23, 1982
Remember when Disney Springs was called the Walt Disney World Village in the 1980s? (It also was previously known as Lake Buena Vista Shopping Village, Disney Village Marketplace and Downtown Disney.)
Now a 120-acre complex, it was quite a bit smaller decades ago and once held events such as clogging festivals.
An advertisement in the Sept. 23, 1982, issue of "The Times" encouraged folks to "put on your country duds, grab your partner and join the foot-stompin', hand-clappin', finger-lickin' fun … as square dancers do-si-do and promenade their way around the Village Dock Stage."
More than 300 cloggers and square dancers gathered to show off their fancy footwork. Ribs, chicken and country fixin's were on the menu as well.
FROM THE WINTER GARDEN HERITAGE FOUNDATION ARCHIVES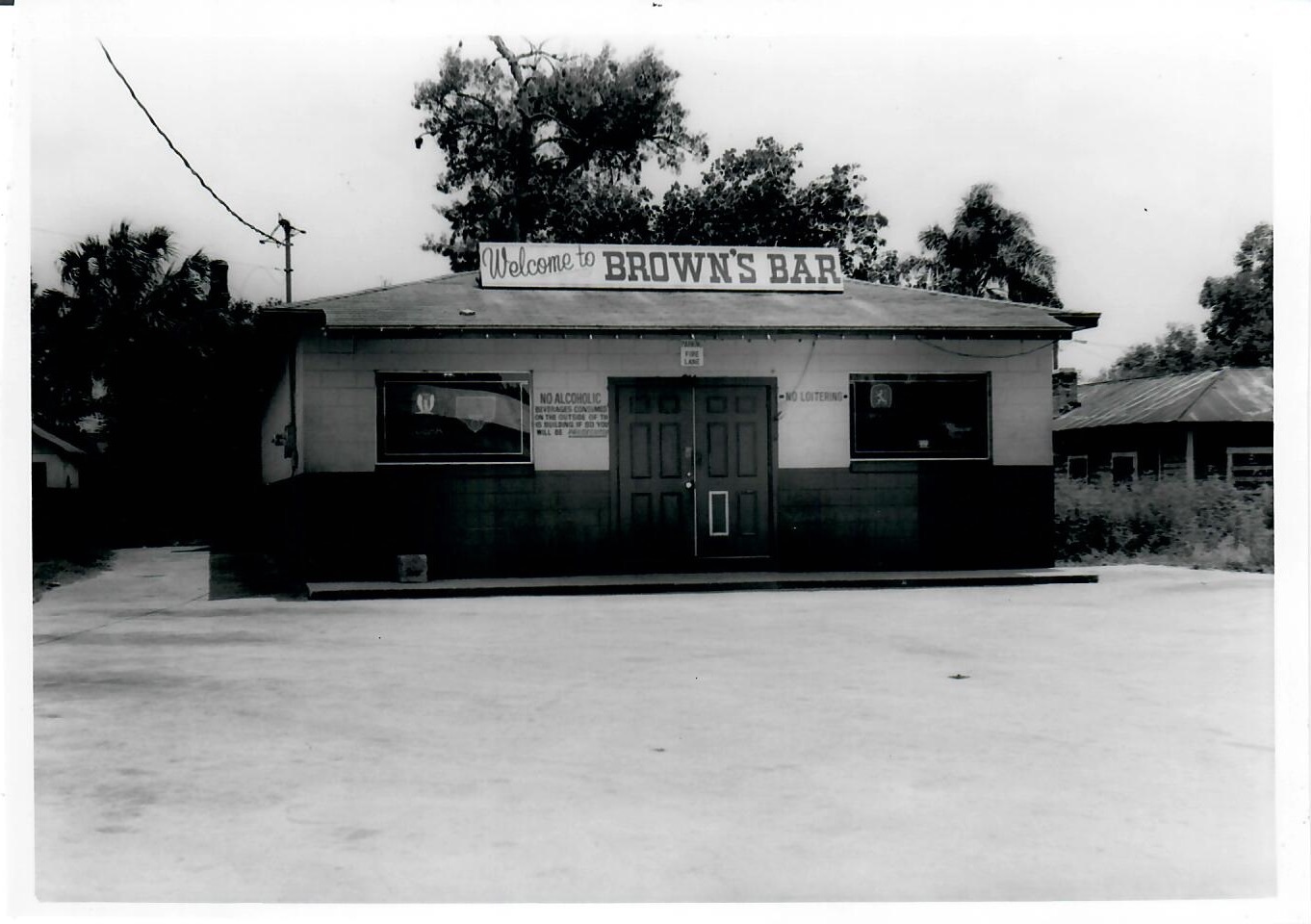 Brown's Bar was located on the east side of Winter Garden at 214 Center St. According to city directories in the Winter Garden Heritage Foundation archive, it was located a block west in the 1970s and early 1980s and then relocated.
The WGHF is gathering and mapping information about the many businesses that were at one time located along Center and 10th streets, the heart of Winter Garden's traditionally black east side. Call (407) 656-3244 to share any photographs and information.