Photos by Phillip Pacheco | Central Florida Event Photography
In 2011, Dr. Phillips High School promoted alumnus and defensive coordinator Rodney Wells to head coach of the Panthers' football program, and 13 seasons later, he's established DP as the top program in West & Southwest Orange County. 
See all of the district championships and the 2017 state championship for proof.
Over his decade-plus in charge of the program, Wells has made Panthers football synonymous with winning games, especially district games.
Which is why losing the district title in 2022 to West Orange and this season to Olympia — after falling to the Titans in Week 7 — has been shocking. 
It's also why this 17-15 win over Olympia (8-3) in the first round of the FHSAA Class 4M playoffs on Friday night — Dr. Phillips' first playoff win since 2019 — meant so much to the Panthers (7-4). 
It represents their climb back to the top of the area's preverbal football throne. 
"It means a lot to me, especially because of my seniors. They've suffered some horrible losses, I mean, one and two, three-point losses over the last two seasons that cost us a berth in the playoffs," Wells said. 
"So I'm just so happy that these guys stayed here and worked hard. They were committed to the process, and we got to these guys back to winning playoff games because of it."
That hard work and commitment Wells mentions, has paid dividends in the win column this season.
"Last year, we weren't finishing those close games. This year, we've finished most of them. We could have won seven, eight games last year," Wells said.
A few of the 2022 games he pointed to was a 19-17 loss to West Orange on a Hail Mary, a 24-22 loss to Timber Creek after a last-second field goal and 7-6 loss to Apopka after a late-drive gave the Blue Darters their first TD of the night. 
"The same thing could have happened this year. We had close games … that could have gone either way this year," Wells said. "All in all, it's just about the discipline, and the leadership of the seniors, and the team's refusal to lose those close games."
READ MORE: Here's a recap of the 2023 football regular season
READ MORE: Why Laney Perdue is the best hitter in Olympia girls volleyball history
READ MORE: Horizon football win Battle of the Groves for a third time
BEAT ME TWICE, SHAME ON ME
"Just mistakes," Wells responded when asked about the difference in their Week 7 loss and playoff win. 
"When you plan a playoff caliber team and you play playoff football, you cannot make mistakes and in the first game we made some big mistakes. We pretty much spotted them, 14-17 points," Wells said 
"We threw two interceptions, a pick-six and another that led to a score. We also had a punt blocked and another punt that only went like 10-15 yards. So, when you make four major mistakes like that against an explosive team like Olympia, they're going to make you pay and they did that game."
This week though, Wells' team limited the mistakes and the game went the Panthers' way.
"This game, we didn't have as many of those big mistakes. We had that one mistake on a kickoff return, where we fumbled the ball. But other than that, we played pretty clean. … it's all about just cleaning up the mistakes from day one," Wells added.
Along with cleaning up the mistakes, the Panthers playmakers also stepped up in this one. 
Junior Cameron Dixon gave Dr. Phillips a 10-9 lead on a 21-yard touchdown run in the third quarter, after an interception by senior Orlendy Larosiliere. And at the tail-end of the third, junior Amari Major scored the game's last TD to again give the Panthers the lead, 17-15. 
In the fourth, it was all about the Panthers' defense getting stops and senior QB Stanley Anderson bringing the offense stability. 
"Last year, Stanley was rotating back and forth, but he kind of took the job towards the end of the season. Now you can just see his maturation, he's getting better and better each week. He's taking care of the ball, running the ball well, making the open throws. He just has command of the offense," Wells said. 
"And playoff football is about the turnover margin, running the ball well an stopping the run. Those were the things we did well at Olympia. … I feel good about where we are right now."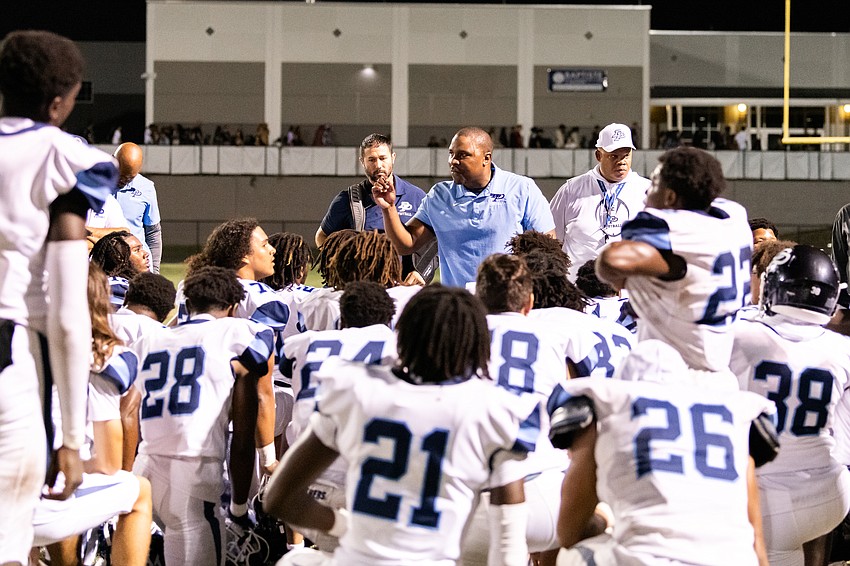 WE'RE ON TO PLANT
Next week in the Class 4M region semifinals, No. 6 seed Dr. Phillips will travel west to Tampa to face Plant (9-2). 
Wells says his team will get the win by following the same plan they've always had. 
"The blueprint we'll follow is the same one we've been using for years that got us a state championship and so many playoff wins: Run the ball, control the clock, stop the run, and limit turning the ball over," Wells said.
"Plant is going to be well coached, they're going to be disciplined, it's going to be a hostile environment … and they're playing some really good football. So, we have to be mature and we have to travel well … and minimize the mistakes on the road."