Foundation Academy has recognized two former Lions for their contributions to the school's athletic program.
The inaugural Hall of Fame induction ceremony was held Sept. 25 — and former football coach Brad Lord and former athletic standout Wes Murray were acknowledged for their efforts to bring topnotch sports to the private school. Plaques honoring their achievements are mounted on the wall above the doors leading to the gymnasium, and each recipient was given a smaller glass replica.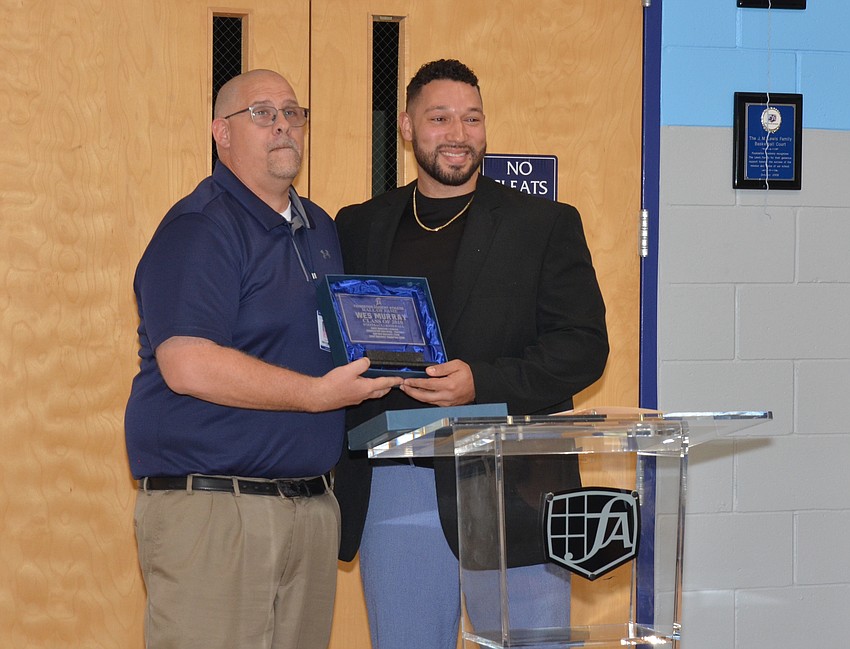 "This will be the beginning of an annual tradition for the opening of Homecoming Week," said FA president Dave Buckles. "We want to recognize individuals who have been known to epitomize what is known as the Lion Way. … (It) recognizes individuals who have raised awareness in high school athletics through their achievements and excellence in one or more athletic sports programs."
Inductees exemplify the highest standard of sportsmanship, ethical conduct and moral character based on a Biblical world view.
Robert East, athletic director and director of operations at Foundation, was present for the induction.
"I'm so proud to have been able to work with you," he said to Murray and Lord.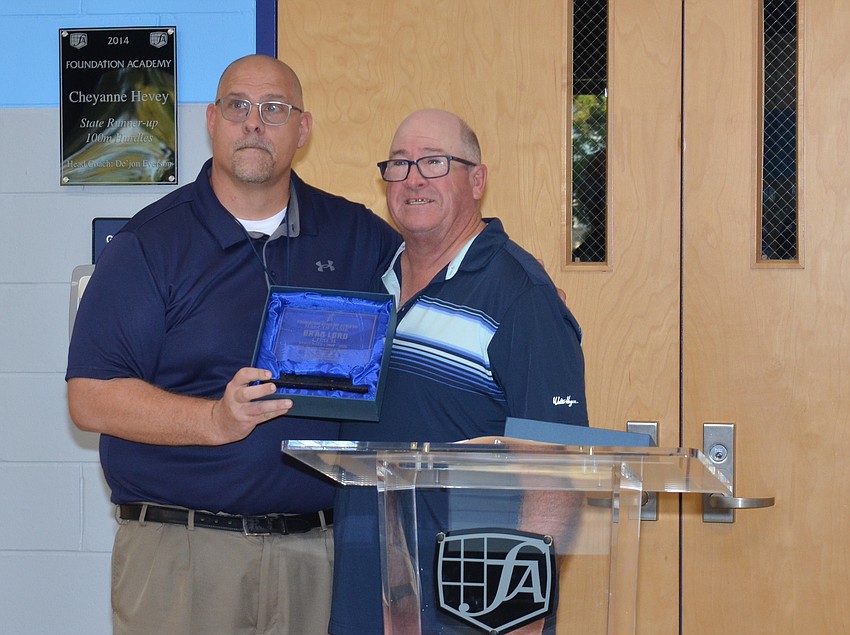 In his introduction of Murray, East shared the former player's stats. He was a three-sport athlete, Athlete of the Year, All-Conference Defensive Athlete of the Year, class vice president, Homecoming king, and member of the National Honor Society and Fellowship of Christian Athletes. He was on Foundation's School Improvement Committee and participated in the Student Leadership Institute, he was a powder puff football coach, and he attended mission trips to Haiti.
Murray was the school's first athlete to play at a Division 1 college, Charleston Southern University. He interned with the football program at the University of Central Florida, was the strength and conditioning coach and the football coach for Foundation Academy, and is general manager and head strength coach at D1 Training in Dr. Phillips.
In addition, Murray is an international champion power lifter, three-time gold medalist in North American championship power lifting, and a six-time state record holder in the U.S. Power Lifting Association.
"He was a tremendous athlete and student," East said.
"It's not a one-man show," Murray said when introduced. "I wouldn't be here if it wasn't for Coach Lord, if it wasn't for many of my teammates, if it wasn't for our amazing athletic directors along the way. … When I was informed that Foundation was recognizing me and Coach Lord, I started thinking about all the people I spent time with, sweated with … all the dedication.
"To the Foundation Academy family, I say thank you, and to all the people who prayed for me and prayed alongside me, and thank God for the opportunities and the future of this school," Murray said.
East introduced Lord, who was coach of the year for Foundation Academy, FACA District 11 2A and Florida State; had appearances in nine playoffs and five regional championships; coached winning district and regional championship teams; and was the All-Academic Team winner for the FHSHA state championship.
"We all know that Coach Lord has been successful on the football field," East said. "The thing that constantly amazes me is how much he loves the kids he works with, he loves the coaches he works with, he loves the teachers he works with. I have never met a man with a bigger heart."
"It's quite an honor to be here, quite an honor to be in front of another player," Lord said. "Foundation Academy gave me my first chance as a head coach. … I had the privilege of coaching a really strong athletic base that came to Foundation. … I was blessed to have unbelievable coaching staffs here. … I'm proud of our football program. I believe that our football program was a big part of getting Foundation Academy on the map.
"I never saw myself as just a football coach here; I saw myself as an AP teacher first," Lord said. "I saw myself as a leader who could lead kids. And they taught me. God has plans for everyone. … I've always had a servant's heart for my peers and the players and the community. I believe sports makes a difference in kids' lives. I believe sports can save some kids. … I strived to make FA a better place. With the people around us, I believe that we did that. It's not how many times you get knocked down, it's how many times you get up and move forward.
"I want to thank you all, I want to thank you for believing in me and for the great memories I will have for a lifetime for serving Foundation Academy," he said.