West Orange County residents were spared the devastating wind and rain accompanying the Category 5 Hurricane Dorian, which skirted the east coast of Florida last week, so they are paying it forward with donations to the destroyed northern islands of the Bahamas that suffered a direct hit.
Every day, new gut-wrenching stories from the islands are being shared with the rest of the world — but in the heartache there is proof of amazing goodness.
Schools, churches, businesses, pilots, boat owners and hundreds of families have answered the call for food, supplies and prayer as the Bahamian people struggle for survival and aid.
Those who have the means to make the trip in the last week have been traveling to the Bahamas to deliver supplies.
Dr. Jonathan Higgins, a vascular surgeon at Orlando Health — Health Central Hospital and a Bahamian native, flew with a team of community volunteers over the weekend to deliver medical and personal supplies and provide medical expertise.
Larry Dobson, president of Dobson's Woods & Water, in Ocoee, said he is overwhelmed by the community's support of the local relief efforts. Larry and his wife, Laurie, have owned a vacation home on Treasure Cay since the 1980s and have friends on the island, many of whom live in Central Florida. After learning their two-story house and so many others were destroyed, the Dobsons put out a request on Facebook to collect supplies for their friends. They intended to make the delivery in their plane.
"We were just worried about our friends and neighbors who were stuck over there and wanted to get to them before the government could get there and help," Larry Dobson said. "We were just concerned … so that's why we put the word out. And from there it just exploded. It's overwhelming and unbelievable the amount of donations and help that the people from West Orange County are wanting to send."
Several trailers loaded with supplies and food have left the Dobson warehouse in Ocoee and headed to Palm Beach, where they will be transferred to aircraft destined for the Bahamas.
When he put out a request for people with airplanes to help with transportation, several heeded the call.
Windermere residents Randy and Jamie June, who also lost their Bahamian house, offered the use of their private cargo plane. They have been working with the Dobsons to coordinate flights.
"Yesterday, when we flew in, they had 74 flights," Dobson said.
This has created a logistical nightmare, but the Bahamian government has had it under control, monitoring the flights and their cargo, he said.
"I cannot begin to thank everyone who has donated," Lee Dobson said. "This is making a huge difference for the people who have lost everything."
One donation taken to the Dobson business included enough food to feed 10,000 people, he said.
Volunteers have been helping the Dobsons and their employees sort donations all week, and more are needed Thursday and Friday.
Randy June has helped transport the goods collected at Dobson's. In just 48 hours, the June family raised more than $40,000, and their first flight to the Bahamas last Thursday carried $4,000 worth of food and medical supplies.
Another local resident, David Strube, offered his airplane.
As of Monday, the Junes had flown about 12,500 pounds of food and supplies to Treasure Cay.
"Treasure Cay was very safe and calm the last several days while we were there," June said.
"Defense Force visibly increased daily, and (we) made some great contacts and friends with all security areas. One member of the Defense Force said he and others of his team were there to stay, so that was encouraging."
Abaco and Grand Bahama were the hardest-hit islands, and many of the locals are leaving Abaco until there is something to return to, June said. The hurricane destroyed every building on the island.
"We all need to figure out the next phase of getting heavy equipment and building materials to Abaco," June said. "I have spoken to many people who have nothing on their minds but getting back to Abaco."
On Sunday, Wade Bradford used his 46-foot sport-fishing boat to transport 200 blue tarps, 40 buckets of roofing nails, 12 generators, three chainsaws, cases of water and MREs, 100 pounds of hamburgers and hotdogs, non-perishable food and baby supplies. He said all donations will be distributed by Bahamian faith-based groups to the neediest individuals first.
Bradford and his crew prepared a hot meal for several hundred people before returning home Monday. He plans to make several more trips in the coming weeks and months.
Leah Jennings-Thompson, a former Windermere resident who still owns Collective Kindness in Winter Garden, has been going to the Bahamas' Nassau island with her family for close to a decade. They moved permanently to Nassau about six weeks ago.
Jennings-Thompson is safe but knows many others are suffering, so she has teamed with the Bahamas Red Cross, Nine To Five Import Ltd. and Post Boxes Etc. to provide for residents' immediate needs.
An Amazon wish list has been created, and people can go online to shop, ship and donate items. The donations will be shipped to the importers in Fort Lauderdale and will be distributed to the Bahamas Red Cross.
"We have had people from all over the world donate," Jennings-Thompson said.
By Monday afternoon, she said, Amazon and UPS were busy delivering donations to the hangar.
"It looks like we will have enough items to fill at least two ocean freights this week, possibly three," she said.
Each ocean freight holds 18 pallets.
Although no one in her family was affected by Dorian, she has many friends whose relatives were directly impacted.
"Our friend … lost her uncle, and her mother was taken via U.S. Coast Guard to a hospital in Nassau," she said. "She has 10 additional family members living in her home now that have been displaced. Her childhood home is gone. We have so many friends with stories just like this.
"Today, when we were at the Red Cross, a family walked in who had lost everything," Jennings-Thompson said. "The mom and dad looked to be early 30s; they came in with one of thier mothers, they had three small children under 7, and she looked to be about eight months pregnant. Their clothes were filthy and tattered. It broke my heart."
Andrew McGhee, a marketing director for a holding company that includes Simple Pawn, whose headquarters is in Windermere, and Chad McGhee, CEO, arranged to have a 26-foot truck set up in front of Windermere Town Hall.
"We have stores in Freeport whose employees and community are severely affected by the devastation brought on by Hurricane Dorian … and we have mobilized to not just gather supplies but deliver them along with much-needed support," Andrew McGhee said. "As a company that deals with international shipping and commerce, we have the logistics and ability to pull this off, as we did the same thing when we had stores affected by Hurricane Irma."
Many churches in West Orange County have been serving as collection points for donations.
Glad Tidings Church, in Ocoee, has a link to hurricane relief on its website, ocoeegt.com. First Baptist Church Windermere is working with Missionary Flights, and donations can be made at missionaryflights.org/relief. Lakeside Church, in Oakland, is partnering with other ministries and organizations and has provided a donation link at kindridgiving.com/…/60f8ba5a-e678-486c-a64e-40d…. Lifebridge Church Orlando, located in Windermere, has provided a link for giving: lifebridgechurch.org/hurricane-relief.
Businesses have been holding fundraisers, too. On Monday, Plant Street Market, in Winter Garden, offered a free pizza and Crooked Can beer with a donation to the Bahamas relief effort. Items collected were to be flown to the islands via a local resident's private plane.
MONETARY DONATIONS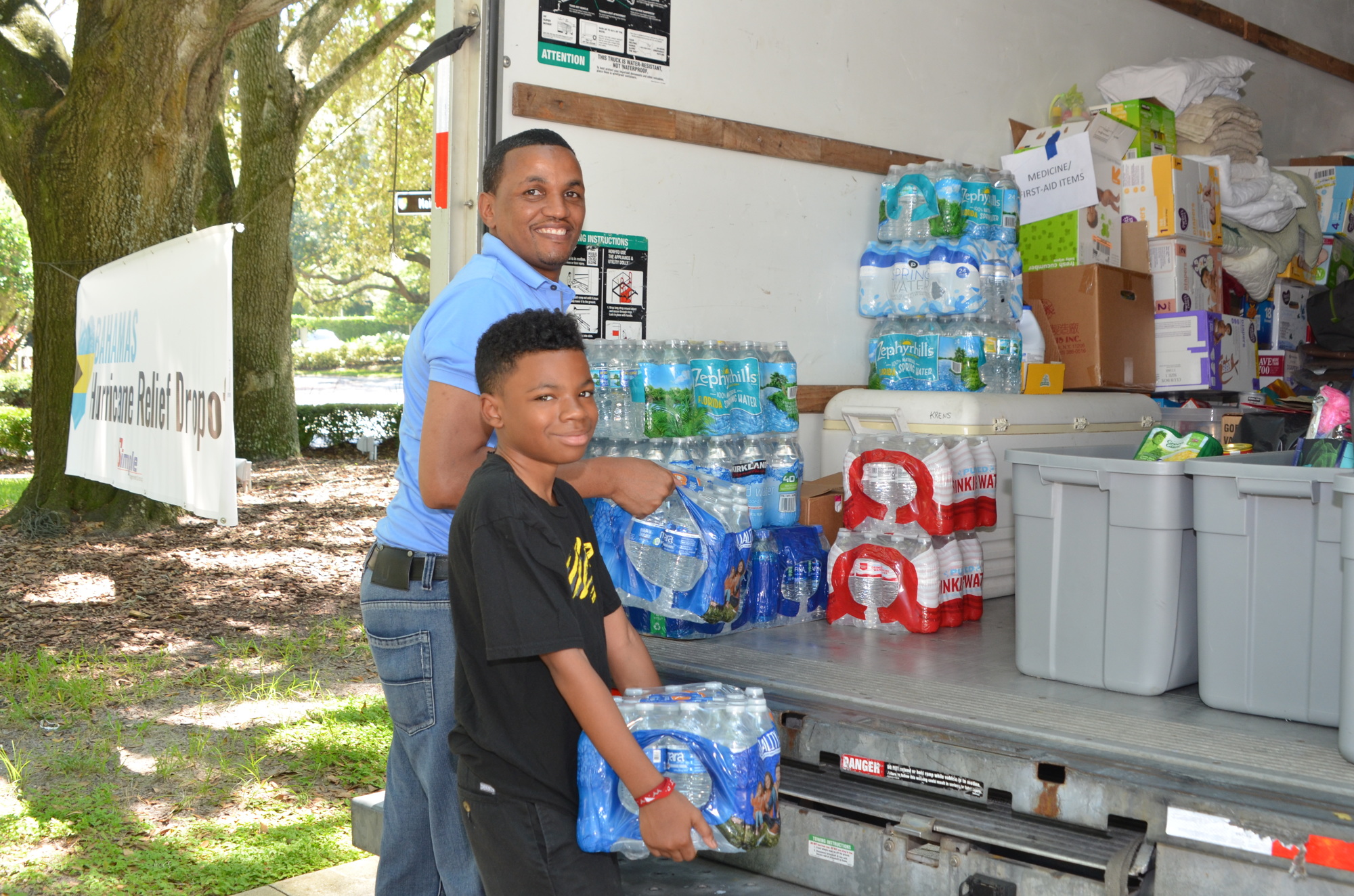 Monetary donations can be made in several ways:
• Treasure Cay Community Foundation is an established 501(C)(3) charitable organization and is approved to accept donations that are deductible for U.S. taxpayers. Checks made out to TCCF and designated "Hurricane Dorian relief" can be mailed to Tom Wheeler, P.O. Box 305, Mentor, OH 44060. Funds received will be acknowledged by email and deposited in TCCF's account at PNC bank.
• Checks made out to the Junebug Foundation can be mailed to 32 W. Plant St., Winter Garden, FL 34787
• Donations can be made via Venmo: @jaylyn-june or @rohland-june
• Orlando Health has set up a hurricane relief and recovery fund, and monetary contributions can be made at Give.OrlandoHealth.com/HurricaneDorian. Immediate donations of $10 also can be made by texting RELIEF to 20222. Donations will be accepted until Sept. 30, and 100% of the funds collected will be used to administer aid to hurricane victims.
• An Amazon wish list has been established, and supplies can be ordered and shipped directly to Fort Lauderdale, where they will flown to the Bahamas. To donate items, go to amzn.to/2kBOwXR. The shipping address is Nine To Five Imports Ltd., 1811 NW 51st. St., Hanger 42 D, Fort Lauderdale, FL 33309. When checking out, customers must choose the Hurricane Relief Wishlist so their donations will go directly to the hangar. For information, contact Jennings-Thompson at [email protected].
All items for relief efforts should be addressed to Hurricane Dorian Relief/Bahamas Red Cross.
• The Wade Bradford family, which is making boat deliveries, has established three ways to make donations: by giving on a GoFundMe page, gofundme.com/f/w9chc4-bahamas-relief?fbclid=IwAR1dVO8vTy_C57KI3decad08reLsxzy4iGyDsdB3QLITvx-PSMPQBEoFTvk; by purchasing supplies on Amazon and having them shipped to the marina c/o Wade Bradford, 21 Harbour Isle West, Unit 103, Fort Pierce, FL 34949; or by dropping them off at the Bradford home, 111 Mericam Court, Winter Garden, or at Cam Bradford Homes, 1305 E. Plant St., Winter Garden.
WHAT IS NEEDED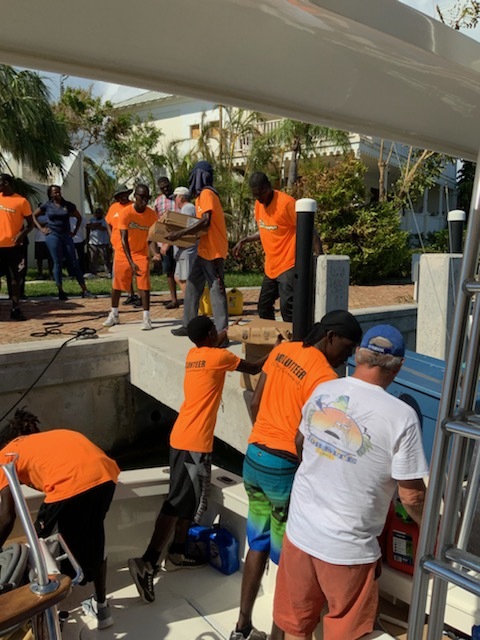 Antibacterial soap
Baby supplies and formula
Batteries
Blankets
Candles and matches
Canned or non-perishable food
Chainsaws
Cleaning supplies/disinfectants
Cots and air mattresses
Empty gas cans
Extension cords
First-aid items, including antibiotic ointment, hydrogen peroxide and gauze
Flashlights
Hand sanitizer
Hygiene kits and toiletries
Insect repellent
MREs
Medical supplies
Medicines such as ibuprofen and antihistamines
Mosquito nets
Paper goods
Portable generators
Portable fans
Portable outdoor lamps/lights
Portable stoves and grills
Portable toilets
Portable radios
Tailgate tents
Tarps
Tools
Trash bags
Water
Water purification kits