When traditional medicine doesn't work, some look to alternative methods to cure what ails them.
One of those techniques used by some therapy specialists is what's called EFT tapping — short for emotional freedom technique tapping.
Developed by Gary Craig — a Stanford engineer —  in the early 1990s, EFT is largely considered a pseudoscience by those in the medical field, but some specialists believe it offers clients relief. One of those who uses the technique is Lyris Steuber — a Lake Mary psychotherapist who specializes in marriage and family therapy. Steuber also works with Total Life Counseling, which has a location in MetroWest.
"It's an alternative medicine treatment for physical pain and emotional distress — it can also be referred to as a psychological acupuncture," Steuber said. "Gary Craig was the person who developed this and believes the disruption in energy in your body is what causes negative emotions and pains. 
"We have what are called 'meridian points,' or energy hotspots in our body that can help to restore the body's natural balance," she said. "It (is believed) that restoring this energy can relieve symptoms from a negative experience in the past or what is going on in the present. Proponents say that tapping can help you access your body's energy and send signals to the different parts of the brain that control stress."
For 20 years, Steuber has been helping people as a therapist. A few years ago, she began researching and studying EFT and its possible effects on those dealing with stress and pain.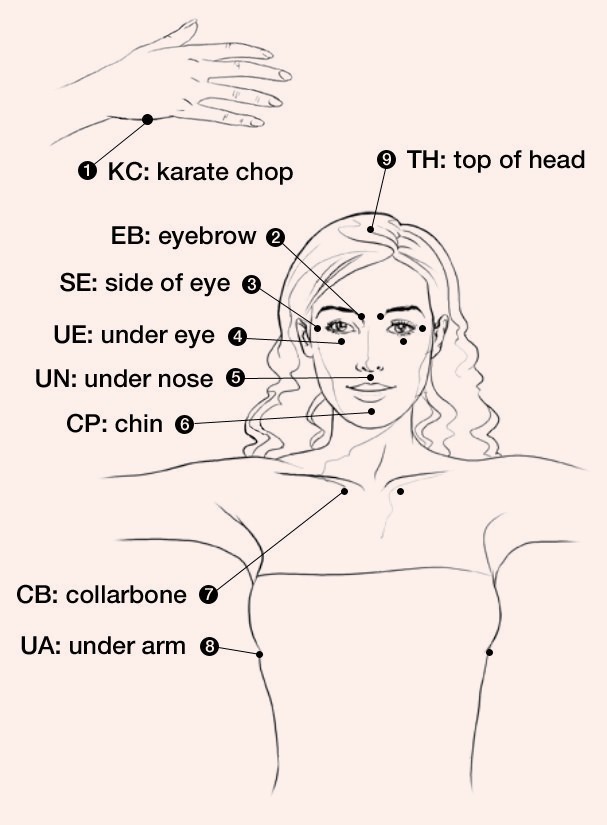 Lately, Steuber has been utilizing the technique often, thanks to the rise of cases of anxiety because of the COVID-19 pandemic. Steuber said she has seen twice as many clients dealing with added anxiety.
With EFT being an alternative style of medicine, some clients have been weary of it, but Steuber said she has offered it as something to use if they are comfortable with trying it out.
"It varies — some people are skeptical of it, and I obviously respect my clients' level of comfort," she said. "It may not be the first thing I use with them — I'll use other cognitive behavioral techniques first, and then if that doesn't seem to be helping them to clear up their emotions and anxiety, I suggest this." 
The first thing to know, Steuber said, is where the nine different meridian points are located on the body. Points one through nine are located in the following areas: underside of the hand (referred to as the karate chop), eyebrow, side of the eye, under the eye, under the nose, chin, collarbone, under the arm and on the top of the head.
With the points located, the first step is to identify the issue — which can be something as simple as work stress or a family issue. With the issue in mind, rate it on a scale from one to 10 — Steuber said that you want to get that number below a five.
"If it's below five, that's a little bit more manageable to use other coping skills and techniques and stress-relievers in order to deal with it," Steuber said.
Step three is coming up with an acceptance phrase — such as, "I love and accept …" — that a patient can use later. Then, while tapping the different meridian points on the body, talk out the negative emotions and thoughts. 
After a deep breath, patients will re-rate the severity of their anxiety — if it's more than five, Steuber will repeat the process until the number is below five. Once accomplished, patients replace negative thoughts and emotions with what they want to feel.
"It clears the emotions away and helps to kind of neutralize it to be able to then have people make good choices in their life, and adapt and make better decisions and then to kind of heal," Steuber said. "In a simple phrase — 'Out with the old and in with the new.'"
Although it can help, EFT isn't the only treatment people should do to care for themselves, Steuber said.
"You want to use this with other coping skills — healthy diet, exercise, nutrition, taking good supplements and being around positive people," Steuber said. "It can be used for a variety of clients, but it is kind of just one skill set that you can have to have better mental health."