It's not every day that you find out you're one of 120 veterans from across the country chosen to showcase your creative talent on a national scale. 
But Winter Garden's Ernie Windhauser — a veteran of the U.S. Marines — received the phone call inviting him to the National Veterans Creative Arts Festival in Buffalo, New York, just a few months ago.
SHOWCASING CREATIVITY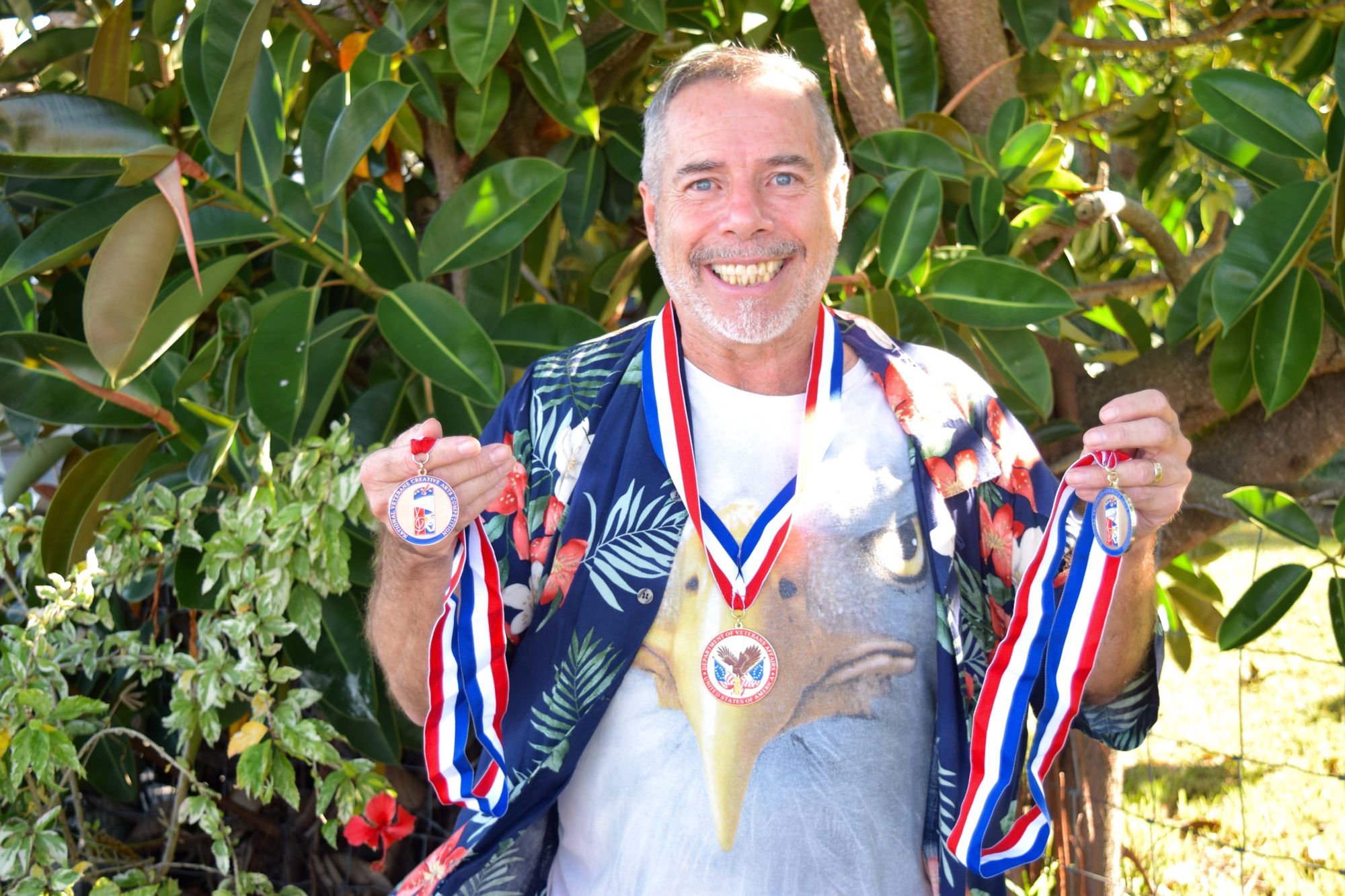 Across the nation, according to the Department of Veterans Affairs, the VA medical facilities use creative arts as a form of therapeutic rehabilitation to help veterans cope with and recover from physical and emotional disabilities. 
Every year, veterans enrolled at these facilities have the opportunity to compete in a local creative arts competition, where they can showcase their talents in categories in both the visual and performing arts. 
The competition includes 51 categories in the visual-arts division — such as oil painting and paint-by-number — and 100 in the performing arts, such as music and drama. Once veterans submit their work to the national competition, it goes through a national judging process. In total, about 120 veterans are invited to exhibit their work or performances at the NVCAF, which is the celebration and grand finale of the competition. This year's was held Oct. 23 to 29 in Buffalo, New York.
Windhauser stumbled upon the local Orlando VA branch's competition by chance 18 months ago, when he noticed a small poster for it after leaving an appointment.
"They were just ending it, because you have to go to this room where they video you and see if you're good enough to even be in one of the categories," he said. "I did part of the spiritual ministry I do with the acting and the resurrection dance. … That was the Lord, that I even had favor to get looked at."
Windhauser and his wife, Angela, run a ministry called God's Finest Hour. It's a performing-arts ministry which aims to present the Christian faith through dramatic interpretation, song and dance. 
While Angela sings, Windhauser dances along with flags in interpretive dances — and the joy he emanates from his performances are infectious. To him, entering the competition was a chance to both express himself and share the ministry's overarching message of hope and joy.
"That's my heart — just to help people see the Father," he said. "My heart is to be joyful and to bring that joy to other people and let my light shine so that they'd want to be drawn toward the Father."
GOD'S FINEST HOUR
Windhauser's testimony began 15 years ago, when his second wife left him. Heartbroken, he took some time to soak in God's word and embarked on a spiritual journey to find himself again.
It was then that he found a Christian dinner theater and rediscovered his love for acting and the performing arts. He played Samuel the scribe in a play called "John and Company" and was consistently receiving positive feedback from audiences.
"Everyone loved it," he said. "I had done acting in high school and community theater and plays, so I was used to performing, but I kept growing as an actor."
During the tough time in his life he met Angela, a talented singer, and along with another friend, they formed God's Finest Hour. Windhauser implemented some of the acting he had done and soon after brought in the flag dancing. 
"This pastor was at the church I was going to, and he was very theatrical, so I think that enhanced the dramatic arts out of me," he said. "One Sunday, this lady comes up to me and said, 'The Lord told me to give you these,' and she gave me two red flags. There's a piece of Scripture that says when evil comes in like a flood, the Lord will lift up a banner. When I dance with the flags it's like His love being a banner, coming against evil. 
"He's given me so much revelation about that kind of exertion, that kind of zeal with praise and worship," he said. "The two sets I have have been well used. I've been doing it for 13 or14 years now."
The elation that came along with being invited to demonstrate his ministry at the NVCAF was thrilling, but getting to meet the other veterans showcasing their talents was even bigger.
"It's so therapeutic," he said. "I met a couple of people with PTSD, but through singing they were comforted — that's a great therapy for a lot of these veterans. A lot of these vets coming back from Iraq and Afghanistan should know about this festival. It would be quite helpful for them to get involved. 
"Most people know a veteran and can tell them, 'Hey, they've (the VA) got these programs going on, you're not alone,'" Windhauser said. "Even if they want to come and just listen to other veterans, they can share their stories and whatever gifts they might have or be encouraged to promote their own gifts."