It's a typical afternoon at Special Hearts Farm. The staff members are making sure everyone's rubber boots are on, Alivia's flag is set aside, Cameron's headphones are off, someone is pushing Brianna's chair and everyone is given a bucket of fresh hay for the stalls.
This young farm is carved out of a section of land on the former Maxey Elementary School site on East Maple Street, in Winter Garden. The school's new campus opened in the fall, so the empty portables are perfect as office and classroom space for the Special Hearts staff and special-needs participants.
A partnership between Orange County Public Schools and the non-profit farm — an Adult Day Training Program facility — allows a transition opportunity for students with disabilities to train and continue performing jobs once they age out of school.
Students with autism and related disabilities can attend public school until they are 22. After that, they have no place to go that's meaningful, said Teresa Renfroe, program manager at Special Hearts Farm.
This is where the farm comes into play.
Luke Byerly is one of the clients.
"Luke graduated when he was 18 years old, but he stayed on at the school until he was 22," said Patrice Byerly, a member of the board of directors and Luke's mother. "Once they turn 22, they no longer have the opportunity to go to school. And now they're coming here to the farm to have meaningful work."
Byerly praises the farm for allowing people like her son to not only take care of the animals but to be part of a community and to work with others for a common goal.
"My son, when he was in school, he was very anxious and disturbed," she said. "Since he's come here, he's smiling again, laughing."
The Adult Day Training Program runs from 8 a.m. to 2 p.m. Monday through Friday. Participants must be 18. A daily routine gives the program some order.
Renfroe explained a typical day: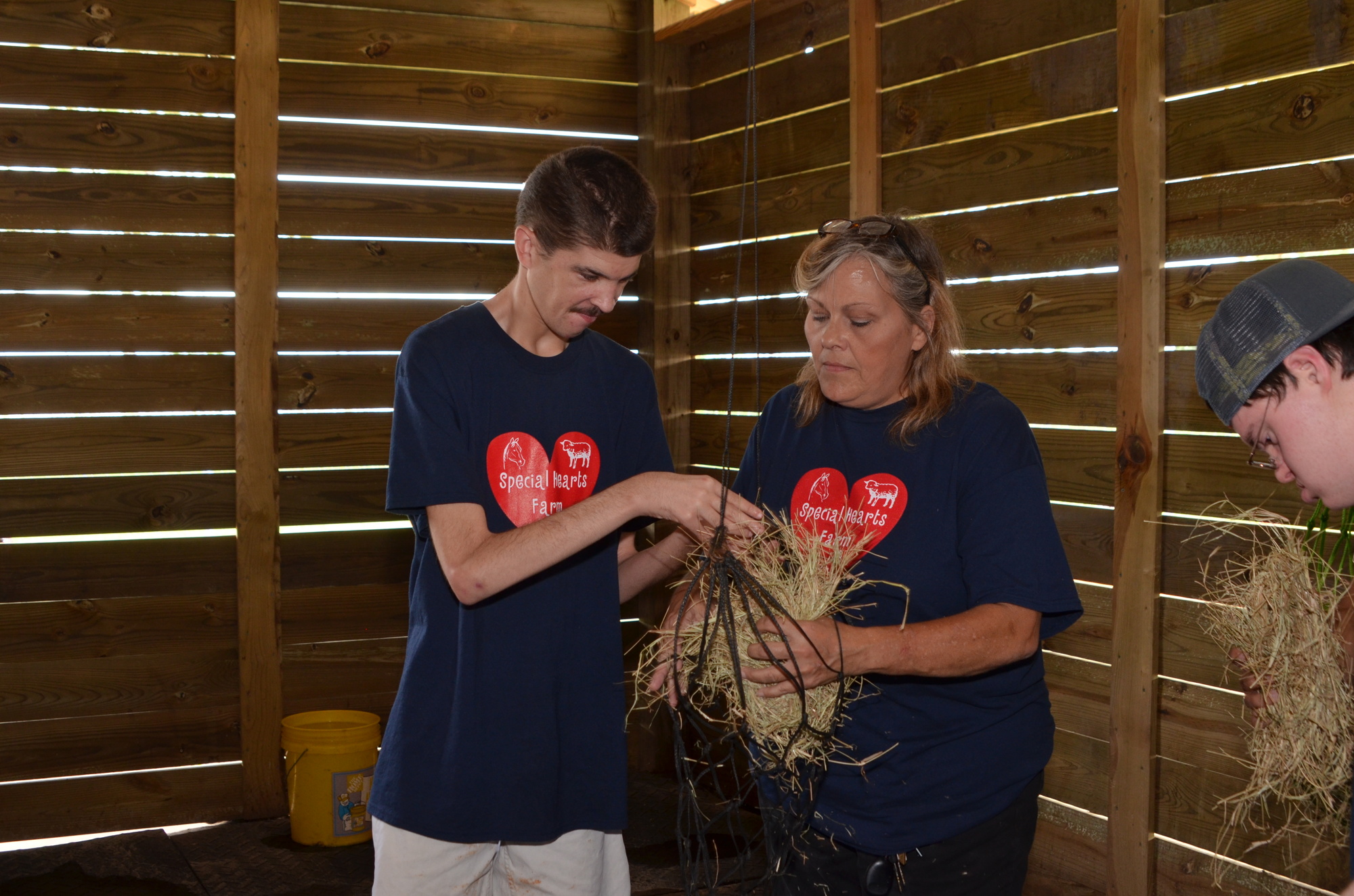 "In the morning, they come in. … We have calendar time. They go into the break room. They put their boots on. We try to get them as independent as possible. We're usually out at the farm by 9:30.
"The morning duties are dirtier; we're cleaning out the horse stall. They rake it up and dump it in the muck bucket. The clients pull the muck bucket to the dumpster and dump it. They go into all the stalls and rinse them out, give them fresh water and … take out the animals. … And then after that we come in and start working on our goat-milk soap."
Carrots and hay are dispensed after lunch. At the first scent of the vegetables, Cherry and Bugsy — the miniature horses — and Buster, Dusty, Rusty, Rain, Margo and Dolly — the goats — eagerly follow the clients around the pens, hoping for a nibble.
Sheep, chickens and ducks live on the farm, too. A miniature donkey named Lucy is expected to arrive soon.
A farm store is located on the one-acre property. For sale are items like the soap and rustic wooden signs — all made by the clients. The soap has proven to be a money-maker; recently, a customer requested 100 bars of the soap to give out as wedding favors.
There are plans to set up a booth at the weekly Windermere Farmers Market on Fridays and, possibly, to sell the signs and soaps at a permanent marketplace.
The staff wants to plant a fall garden with apple trees, peach trees, grapes and assorted greens so the clients can develop even more skills.
A SPECIAL FARM
Byerly's son attended Dr. Phillips High School, and Kathy Meena was his exceptional-student education teacher. She and two other ESE teachers created the first Special Hearts Farm in 2014 to give their students real-life work experience.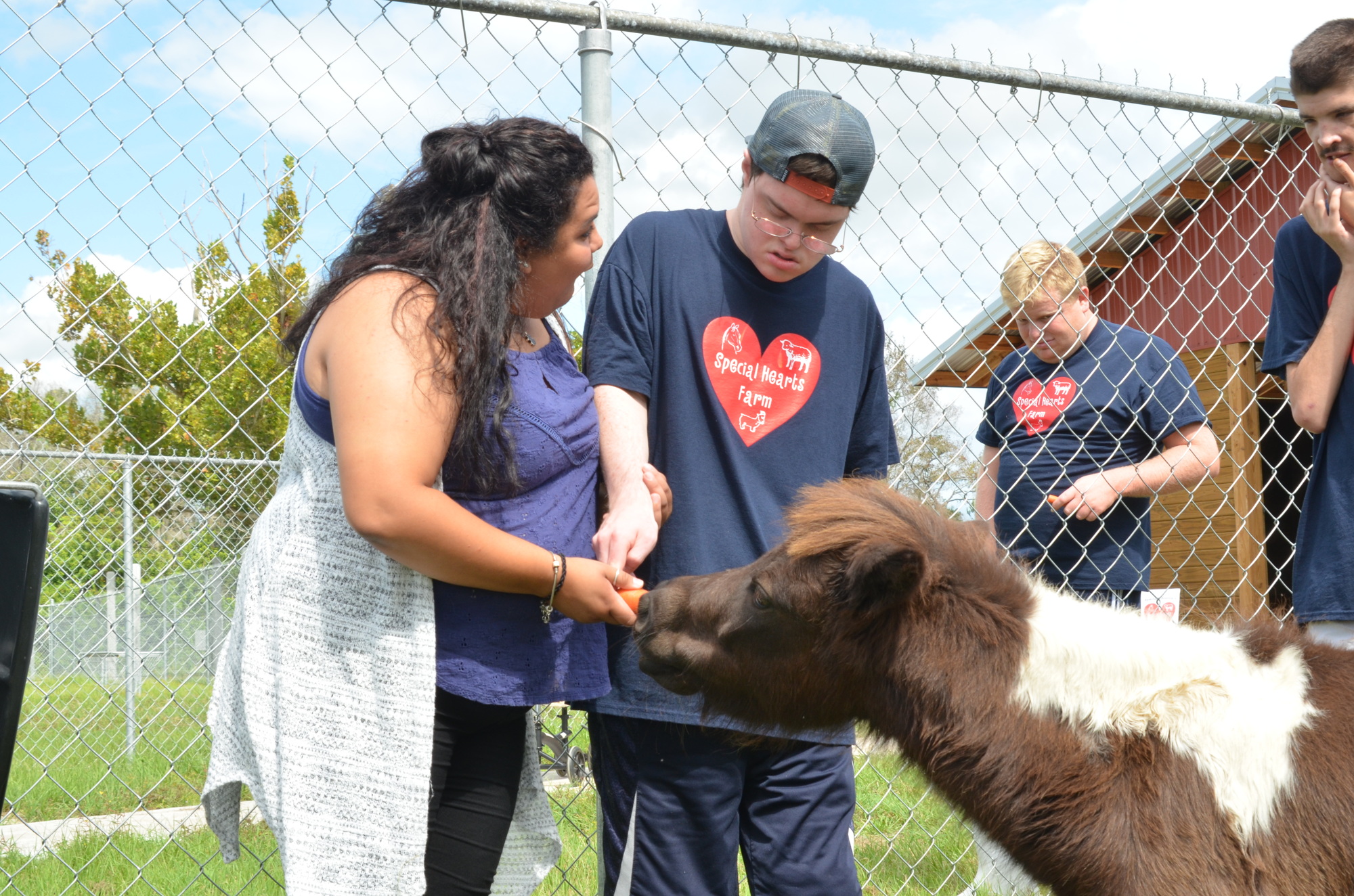 After Meena's own son, Cameron, aged out of high school, she worried about him being able to find meaningful employment with his autism. This new farm in Winter Garden allows him this opportunity. She sits on the farm's board of directors, as well.
In July, Special Hearts Farm staff members met with Barbara Jenkins, Orange County Public Schools superintendent, to outline their goals. Jenkins was onboard and agreed to let the farm use the land for free.
In return, Byerly said, the OCPS transition program for ages 18 to 22 operates out of the old Maxey campus, as well.
Once they graduate from the transition program, they can attend the adult day program. Fees vary according to their individual needs.
Ten adults are currently participating in the training program, which is funded by the Agency for Personal Disabilities.
"(They) all went through the school system together — Princeton House, Thornebrooke Elementary, Southwest Middle," Byerly said. "They understand what's expected of them. They know each other very well. And they're friends."
The staff includes OCPS transition teacher Kathy Meena, whose son, Cameron, is in the program; OCPS transition job coach Emily Rouse; Teresa Renfroe, director and manager of the Adult Day Training Program; and consultant and OCPS teacher Jennifer Elliott.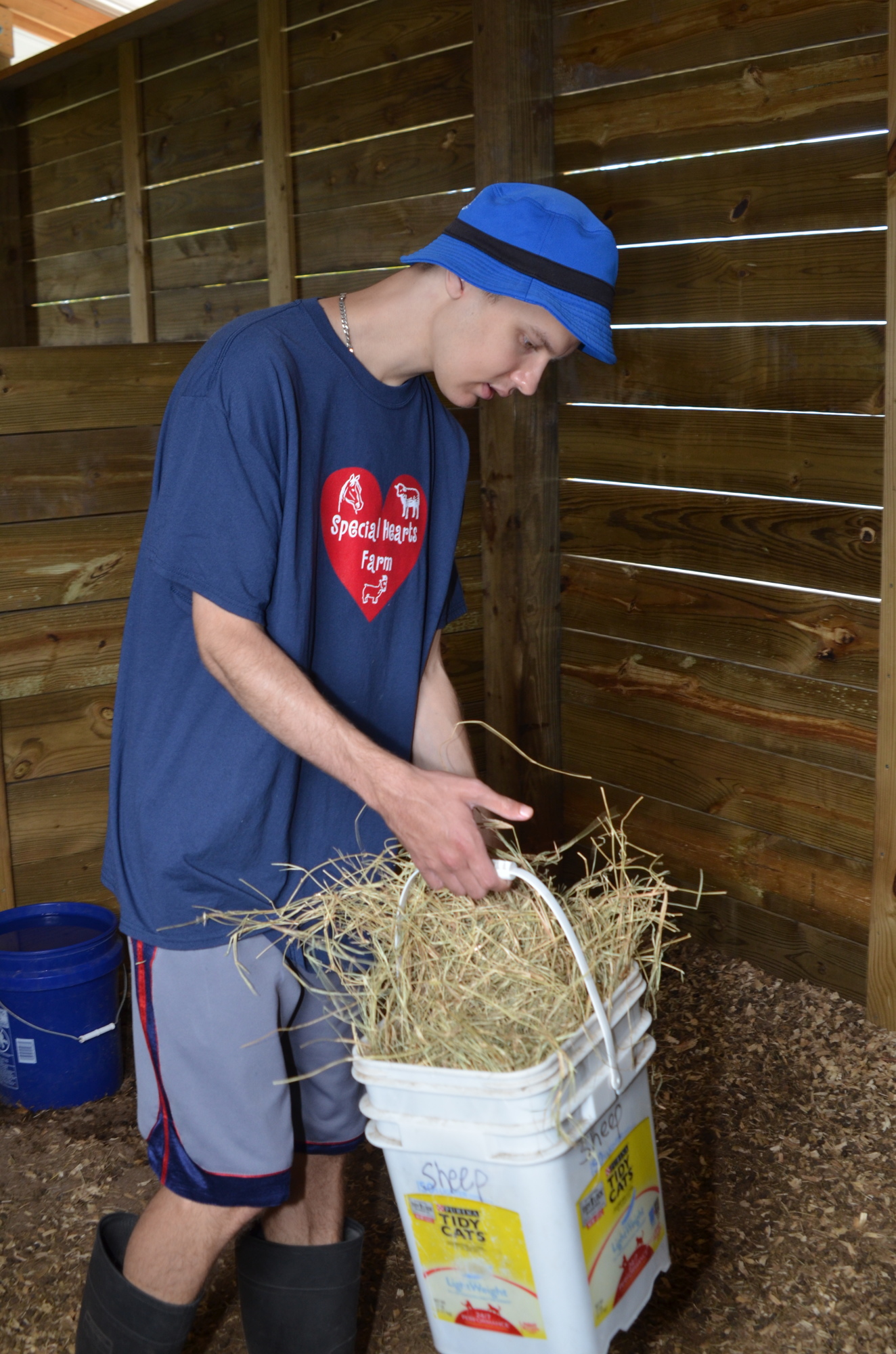 Opportunities to volunteer are available, and community members are invited to participate.
Another way West Orange County residents can get involved is by making a donation toward a large-capacity van or bus so the adults can travel to farmers markets to sell the items they make. The farm also is looking for a trailer to transport the animals to special events. Other needs include fill dirt for some low-lying areas of the farm, as well as hay.
GAINING RECOGNITION
The farm is starting to get noticed in the community. An open house was held Saturday, Oct. 20, and the West Orange Chamber of Commerce is holding a ribbon-cutting ceremony at 5:30 p.m. Monday, Oct. 29.
A Boots, Wine and Dine Under the Stars fundraiser for Special Hearts Farm is set for Dec. 15 at the Lakeridge Winery & Vineyards, 19239 U.S. 27 North, in Clermont. It will include a cocktail party, dinner, entertainment by The Randall Crawford Band, a silent auction and raffles. For updated details about the event or how to purchase tickets, visit the website, specialheartsfarm.com, or the Facebook page.
To make a special order for rustic signs or goat-milk soap, or to make a donation, visit the website, email [email protected] or call (407) 353-4367.