The Foundation Academy football team took its home field Sept. 7 with heavy hearts, with the Lions aware that one of their own was fighting for his life. 
Bailey Trinder, a junior lineman for Foundation, was in a serious automobile accident Sept. 6 while driving home from football practice. Trinder was airlifted to Orlando Regional Medical Center around 5 p.m. that day. Trinder's condition was critical, but he fought and made it through the night and, according to a release from Foundation Academy football coach Brad Lord, there have been encouraging developments — though the situation is still very serious.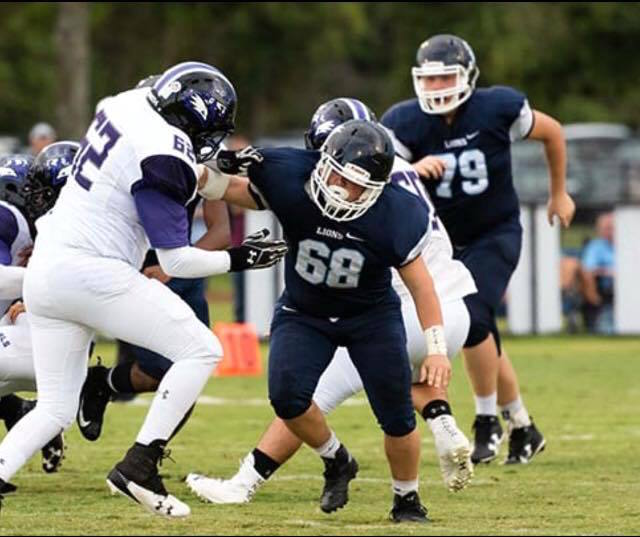 Per the release: "Over the weekend (Trinder) got stronger. (The doctors) ruled out brain damage and stated that he had suffered a serious concussion and that there was a spinal injury, but it was to hard to tell with the swelling. Bailey had some upper body movement and by Monday the doctors felt that he was strong enough to have surgery on his spine. Bailey had surgery on Monday and the doctors said that they were able to do more than expected. At this time, we know that he is coming in and out of consciousness, using hand signals as communication."
Amidst their sadness and concern, the football team met with school president David Buckles the afternoon after the accident to decide whether to play the scheduled game. The Lions decided to do so as a way to honor their teammate.
Foundation Academy indeed played and scored a decisive 30-0 victory over visiting Bradenton Christian (0-2). The win improved the Lions to 3-0 on the season — the first time the program has started with three consecutive wins since 2009. Before the game, players held a banner that read "Bailey Strong." 
Members of the campus community have visited Trinder and his family at the hospital and, in place of a planned pep rally before the game, the student body instead came together in the gym and prayed for their classmate. 
Players in football and other fall sports, including cross-country and volleyball, have worn gray ribbons and painted "#68" — Trinder's jersey number — and "#baileystrong" on arms or legs to show support.
Support has come from other schools in the community, and football coach Brad Lord and athletic director Lisa Eaves both expressed their gratitude for the support. 
Lord said he was contacted by coaches from nearby schools such as The First Academy and West Orange High, as well as schools that are further away such as Seven Rivers Christian, all of whom offered support and to help where they could.
Bradenton Christian, the team that Foundation Academy played this past Friday, arrived early for the game and players circled up to pray for Trinder before the game. According to Lord, Bradenton Christian head coach Dan Fort and his staff had stickers made with Trinder's number for the Foundation Academy players to place on their helmets. Fort previously worked at Foundation Academy as a defensive coordinator and assistant head coach.
The Lions are currently ranked No. 2 in the state in Class 2A, but their hearts are heavy while their teammate fights to recover.
Said Lord of Trinder: "He is the type of player that a coach loves to have on his team. Bailey has a 'can do' attitude and always gives 100%. He is often undersized and he has been accustomed to fighting his whole life on the athletic field. We know he will keep on fighting. We have an all-powerful and all-loving God and He has big plans for #68."