During a routine Tuesday meeting of the Rotary Club of Winter Garden, Tiffany Williams — executive director of the West Orange Dental Alliance — took to the front of the room to speak.
She talked about the organization and the programs it offers to those in need of urgent dental care but can't afford it. But there was one program that piqued the interest of Rotary president elect and board member Eric Roukey — the Jump Start program.
The program is one of two offered by the organization, and its impact on those it benefits is significant, Williams said.
"We work with patients who apply to our program, and we help restore their smiles," Williams said. "Most of the smiles are very broken, decayed and missing, and we get those fixed while we work in conjunction with CareerSource Central Florida — they help do their resume, career assessment and get them set on the right career path. We're kind of just giving those smiles so people have that confidence to follow their career and dreams."
As Roukey listened to stories of how something as simple as a smile was able to change a life, he realized this aligned with Rotary's philanthropic mission.
"I didn't even know that it existed," Roukey said. "So for me, living here and being a parent, I didn't know that this type of dental assistance existed. When I learned about these individuals — mostly adults — and how their confidence was restored in themselves simply because they changed their smile.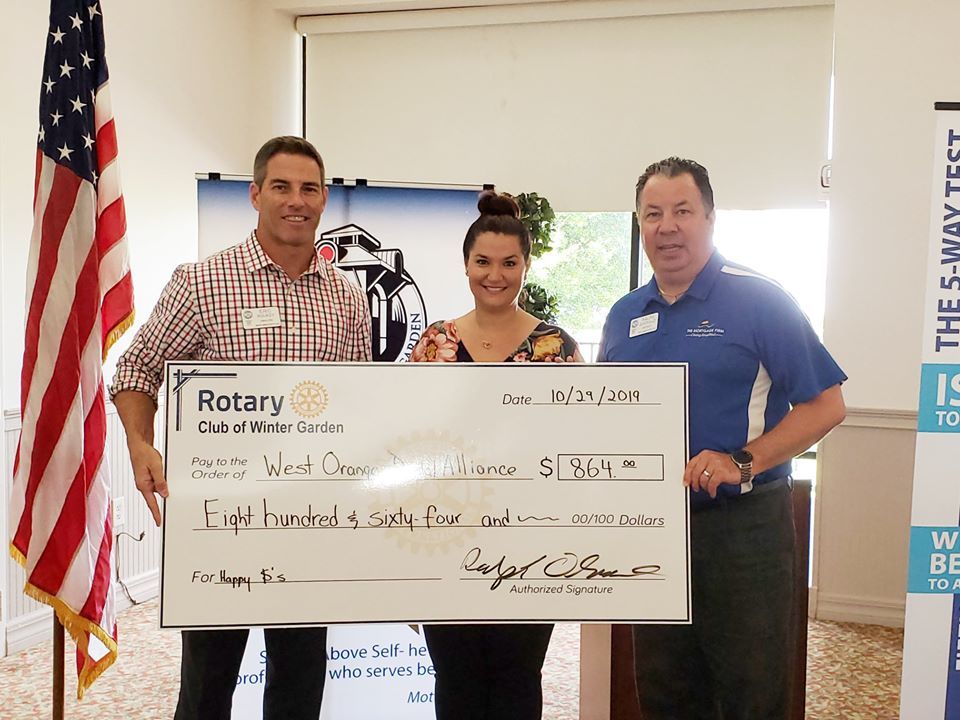 "I saw the video and thought, 'Wow, if we could make one person's life better — give them more confidence — what could that do for them?'" he said. "In the grand scheme of things, it's a small amount of money, but it might change this person's life forever."
With his mind made up, Roukey decided to utilize what the club refers to as "Happy Dollars."
Each board member is able to nominate a local charity for "Happy Dollars," and money is collected during the Tuesday meetings. Some members give a dollar, while others give more.
"I was moved by what they were doing, so I nominated them to receive our 'Happy Dollars,'" Roukey said. "So for the month that we collected dollars — every Tuesday — we then collect and give to the charity. What was different this time around is I challenged the members that I would match — dollar for dollar — whatever we collected as a group."
By the end of the month the club had raised more than $400, and by Roukey matching the donation dollar for dollar, the Rotary raised a total of $864 to go toward one lucky, local person who was looking to get their smile back.
The act of kindness by the Rotary means a lot to the West Orange Dental Alliance. Not only did it help give someone a new opportunity in life, but also it helped out an individual who didn't have the means to afford such care, Williams said.
"A private practice charges about $400 to actually extract a tooth, and that doesn't include you consultation, your X-ray, any anesthetic and that kind of thing," Williams said. "And what people don't know is that Medicaid, Medicare and the health centers is they only allow one extraction per year on those plans. "
It was simple for those Rotary Club members who gave money, but it also was a chance to do what they always do — give back to the community and assist those in need, Roukey said.
"This is what the Rotary Club of Winter Garden does," Roukey said. "Our No. 1 motto is 'service above self,' and this absolutely fits that. It was an opportunity for all of us to come together to change somebody else's life."