What a difference four years — and one class — can make.
For West Orange football seniors such as Eddie McDoom, who played varsity as a freshman, the perspective of how far the program has come in just a few years should be most evident.
The Warriors finished 5-5 that freshman season in 2012. A year later, in 2013, West Orange made the state playoffs for the first time since 1999. In 2014, the Warriors got the program's first playoff win. 
And, as seniors this fall, that same group was the driving force behind a run that ended in the state semifinals — with a second consecutive district championship and first regional championship to their credit.
Seniors dominated the playing rotations for the Warriors this fall. The West Orange defense had its best season in years, keyed by seniors such as Tre Rogers, Ben Bollinger, Jeremy Samuels, Jacquez Federick, Decary Croaker, Nolan DeFranco, Dajour Nesbeth and Ki-Jana Zow.
The Warrior offense was orchestrated by senior quarterback Woody Barrett, with Florida Gator commit Stone Forsythe among those blocking for senior skill players such as McDoom and Darlens Mathieu.
In total, the Class of 2016 won 37 games and lost just 10.
Against the program's main rivals — Apopka, Olympia, Ocoee and Dr. Phillips — this fall's seniors were a combined 10-4. From 2012-15, West Orange went .500 against the Blue Darters at 3-3, defeated Olympia two out of three times and swept Ocoee each year. The Warriors played the Panthers just once, this fall, and won in a 41-34 thriller.
"The seniors have got so much to be proud of," head coach Bob Head said. "Some of these obstacles (the seniors have) overcome, undersized guys just battling until the end. It's awesome to see how hard the seniors worked."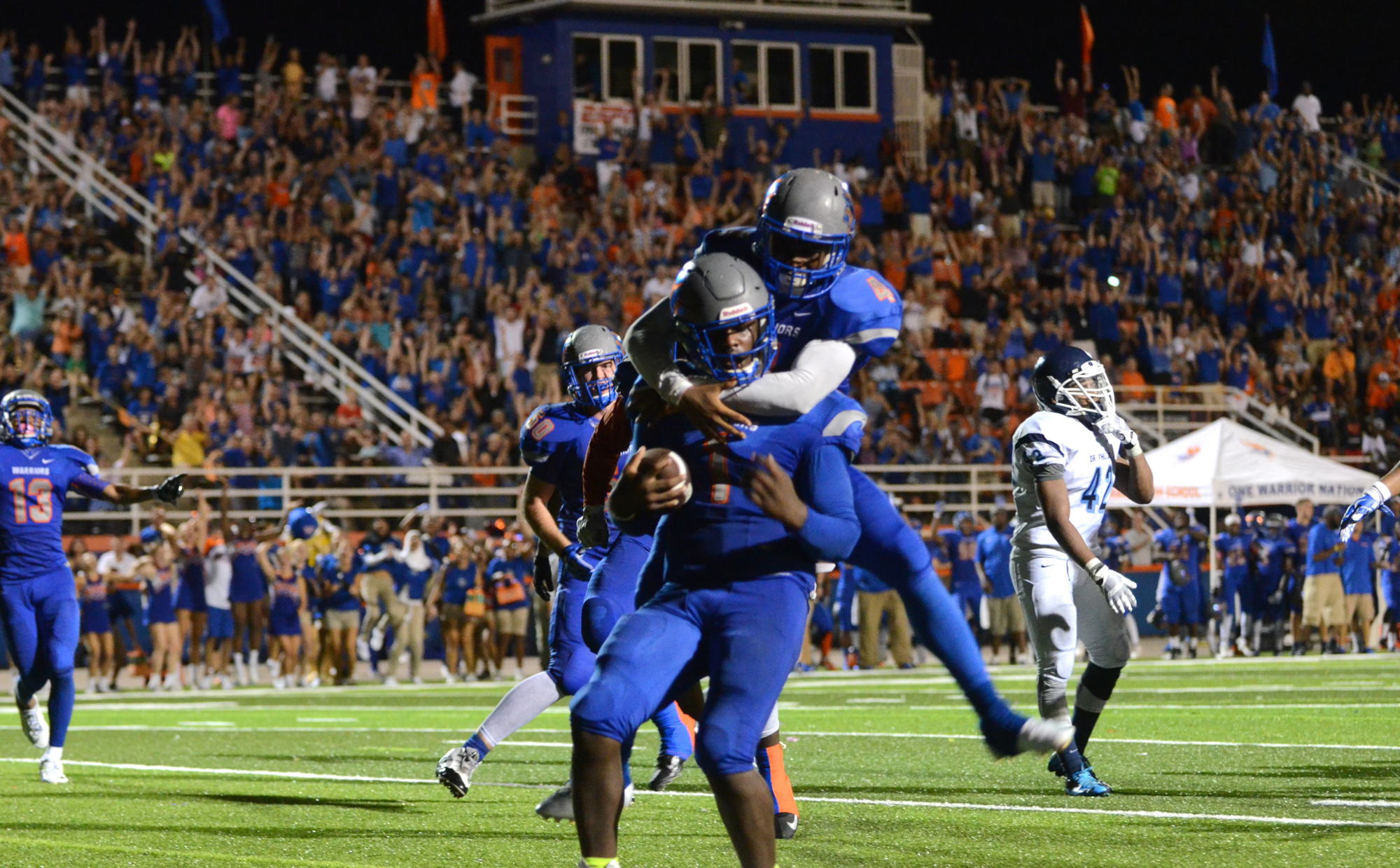 TWO SPECIAL PLAYERS
Though the Warriors' Class of 2016 is loaded with talented players — many of whom will be playing on Saturdays beginning next fall — there were two players whose individual star power was undeniable.
Quarterback Woody Barrett, rated a 4-star prospect by ESPN and the fourth-ranked senior quarterback in the nation, and receiver Eddie McDoom, also rated a 4-star prospect by ESPN and the 26th-ranked senior receiver in the nation, captivated Warrior fans with their highlight reels of game-changing plays.
Barrett is committed to play for the Auburn Tigers next fall, while McDoom is considering offers from Michigan, Oregon, Kentucky, Ohio State and Florida. 
For the coaching staff at West Orange, including head coach Bob Head and offensive coordinator/quarterbacks coach Collin Drafts, the opportunity to coach the two blue-chip prospects was a privilege they will not soon forget.
"It's been unbelievable, man — those two young men, you can't say enough about them," Drafts said. 
Head is just excited to see what the future holds.
"I can't wait to watch them on Saturdays," Head said.
Contact Steven Ryzewski at [email protected].