THURS., SEPT. 24
Chef's Night Series — 6 to 9 p.m. Thursday, Sept. 24, at Second Harvest Food Bank of Central Florida, 411 Mercy Drive, Orlando. Chefs will prepare dinner at the Community Kitchen as part of the Chef's Night series and Catering for Good program. The menu will feature a four-course dinner along with a specialty cocktail, wine and hand-crafted beer. Cost is $75. To purchase tickets, visit FeedHopeNow.org. Call (407) 514-1048 for details.
"Tick, Tick…BOOM!" — 7 p.m. Thursday, Sept. 24, Friday, Sept. 25 and Saturday, Sept. 26; 3 p.m. Sunday, Sept. 27, at The Studio Theatre at Dr. Phillips High School, 6500 Turkey Lake Road, Orlando. Watch as Jon, a young promising composer, struggles to make his Broadway debut. Along the way, his girlfriend announces her plans to move to Cape Cod and pursue her dance career, and his best friend retires from Broadway and has a successful career in business. This musical is filled with dramatic moments, hilarious comedy and upbeat tunes that will make your feet tap. Will Jon follow his dreams or will they fall apart? Tickets are $10 and available at dphs.ocps.net.
FRIDAY, SEPT. 25
Between the Brushes — Adult class will be from 7 to 10 p.m. Friday, Sept. 25, and the children's class will be from 10 a.m. to noon Saturday, Sept. 26, at The Art Room, 709 Main St., Windermere. Cost is $35 for either session. Reservations required, (407) 909-1869.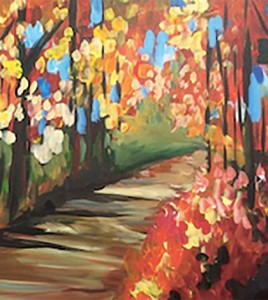 Paint Party with Amy Morgan — 6:30 to 9 p.m. Friday, Sept. 25, at the SoBo Art Gallery, 127 S Boyd St, Winter Garden. Enjoy professional artist instruction in a relaxed social setting. No experience necessary. Gallery provides all materials including professional instruction. Cost is $30 for members and $35 for non-members. For more, visit wgart.org.
SAT., SEPT. 26
Acrylic Painting Workshop — 1:30 p.m. Saturday, Sept. 26, at the Southwest Library, 7255 Della Drive, Orlando. The Southwest Art Club, in partnership with Women in the Arts Inc., is presenting the workshop. Participants will create a landscape using acrylic paint on canvas based on Van Gogh's famous painting "The Starry Night." Suggested donation amount for art materials and supplies is $15, cash or check only. For 18 years and up, women and men. Space is limited. Registration required by calling (407) 835-7323.
TUES., SEPT. 29
Painting Dots with Seurat — 4 p.m. Tuesday, Sept. 29, at the Southwest Library, 7255 Della Drive, Orlando. Learn about famous artist Georges Seurat and create a work of art using his method of separating color into individual dots. For ages 6 to 12. Call (407) 835-7323 for details.
THURSDAY, OCT. 1
"Musical Vibrations" Opening Reception — 5:30 to 8 p.m. Thursday, Oct. 1, at the WGHF History Research and Education Center, 21 E. Plant St., Winter Garden. The Winter Garden Heritage Foundation celebrates music with artworks featuring musical instruments, song titles and colorful abstracts representing musical topics. Exhibition runs until Oct. 31. There is no charge. For information, call (407) 656-3244.