OCOEE  Lynn and Brenda McClung moved their business, Beckett's Emporium, to McKey Street in downtown Ocoee after six years of business on Plant Street in Winter Garden and 22 years in Polk County.  
When the McClungs are in Winter Garden and friends ask them where the business moved to, they'll answer, "McKey Street." 
Most people answer in response: Where's that?
"The biggest issue is getting some kind of recognition that we're here," Lynn McClung said.
Today, there are nearly 30 businesses along McKey Street, which has historically been the downtown area in Ocoee. 
"What we want as the merchants of downtown Ocoee is to revitalize this into an actual, functioning downtown," said Pam Bozkurt, of Gosselin Realty. 
In recent years, there have been some hurdles to growth on McKey. Currently, the street runs on septic rather than sewer. Merchants feel the addition of sewer would increase the marketability of the area and would be a help to eateries in the area.  
"It's hard to run a restaurant on septic," Bozkurt said. 
CITY'S RESPONSE
Ocoee is ready to pump urban life into the city. 
The cities of Winter Garden and Ocoee have partnered with GAI Consultants to create a vision for future development regarding three interchanges — West Road, State Road 50 and Plant/Franklin, in addition to plans for the bettering of downtown areas in both Winter Garden and Ocoee. 
The Plant/Franklin interchange has a large bearing on both cities' downtowns. 
Over a period of several years, the proposed plans instruct the Winter Garden and Ocoee developments to meet at the Plant/Franklin interchange, which would become a center of employment, with the goal of bringing more activity to the area — through the addition of retail, office or entertainment options.
FUTURE PLANS

Near-term projects plan: Although Ocoee is going to create a more extensive plan, the city is also going to create a short-term plan to get the improvements started. Some of the items include the plan to get water and sewer into the downtown area, as well as starting small beautification projects, pending commission approval. 
Preparing the code: The city wants to write code to ensure the areas being constructed will have pedestrian-friendly sidewalks, storefronts along the street edge and an overall urban setting. 
Opportunities for public input and walking audits.
Later, a long-term projects plan will become available.
"It only makes sense because we share the corridor with two downtowns and two local governments that have very similar cultural history and similar values," said Craig Shadrix, Ocoee's assistant city manager. 
The preliminary plans include the desire to connect downtown to the west, through the use of Silver Star Road and Oakland Avenue, which would create a pair system of roadways, a system many downtown areas use. 
Plant Street becomes Franklin Street, which would then split into the pair roads. 
"We still don't have a defined boundary of the downtown central business district," Shadrix said. "We think of downtown right now as McKey Street, but to create a downtown we need to do more around that and those areas need to develop in a downtown-like fashion."
If these two streets begin to flourish, Shadrix believes it won't take anything away from McKey Street but rather benefit it. The proximity of Oakland Avenue to McKey Street would allow the two roads — if developed into a "pedestrian-oriented commercial district" — to create an urban block. This means development would include commercial, residential and office uses. 
"It becomes more valuable to McKey for this to happen than if it doesn't happen," Shadrix said. "If there were any conceptions out there that McKey's just going to be passed on by, it's not true. The efforts that we're making will make McKey a more valid downtown development area, but one little quarter block doesn't make a downtown."
The City Hall campus currently located along Starke Lake would be able to anchor downtown in its current location, although elected officials would make the ultimate decision if City Hall would relocate.
Oakland Avenue would aid in connecting the downtown area to neighboring areas. The road would connect to State Road 429, and the city plans to run the West Orange Trail through Oakland Avenue — meaning people could ride their bikes from downtown Winter Garden to downtown Ocoee. 
MEMORY LANE
In the early 1900s, the action happened on McKey Street.
"It was the only downtown area," said Jim Sills, of DJ's Auto Sales.
The 100 block of the street was once home to the original Bank of Ocoee, which organized in 1919, with Fred H. Maguire as president. In the 1960s, the building was also home to Ocoee's City Hall. Through the years, the building has changed names and housed different businesses, including a telephone company switchboard. It is currently home to a florist, Europa Designs, and a trophy shop, Performance Trophy & Awards.
The Marshall Block building, located west of the old bank on the 100 block, originally was built in the 1920s as the American Legion building. Later, the building divided into several different stores, one of which is Master Taxidermy Studio, which has been in business since 1972. 
Judy Bartoletti, who opened Master Taxidermy Studio with her husband, John, and a partner, has seen the changes on the street and has fond memories of her time on McKey Street.
"Everybody knew everybody," Bartoletti said.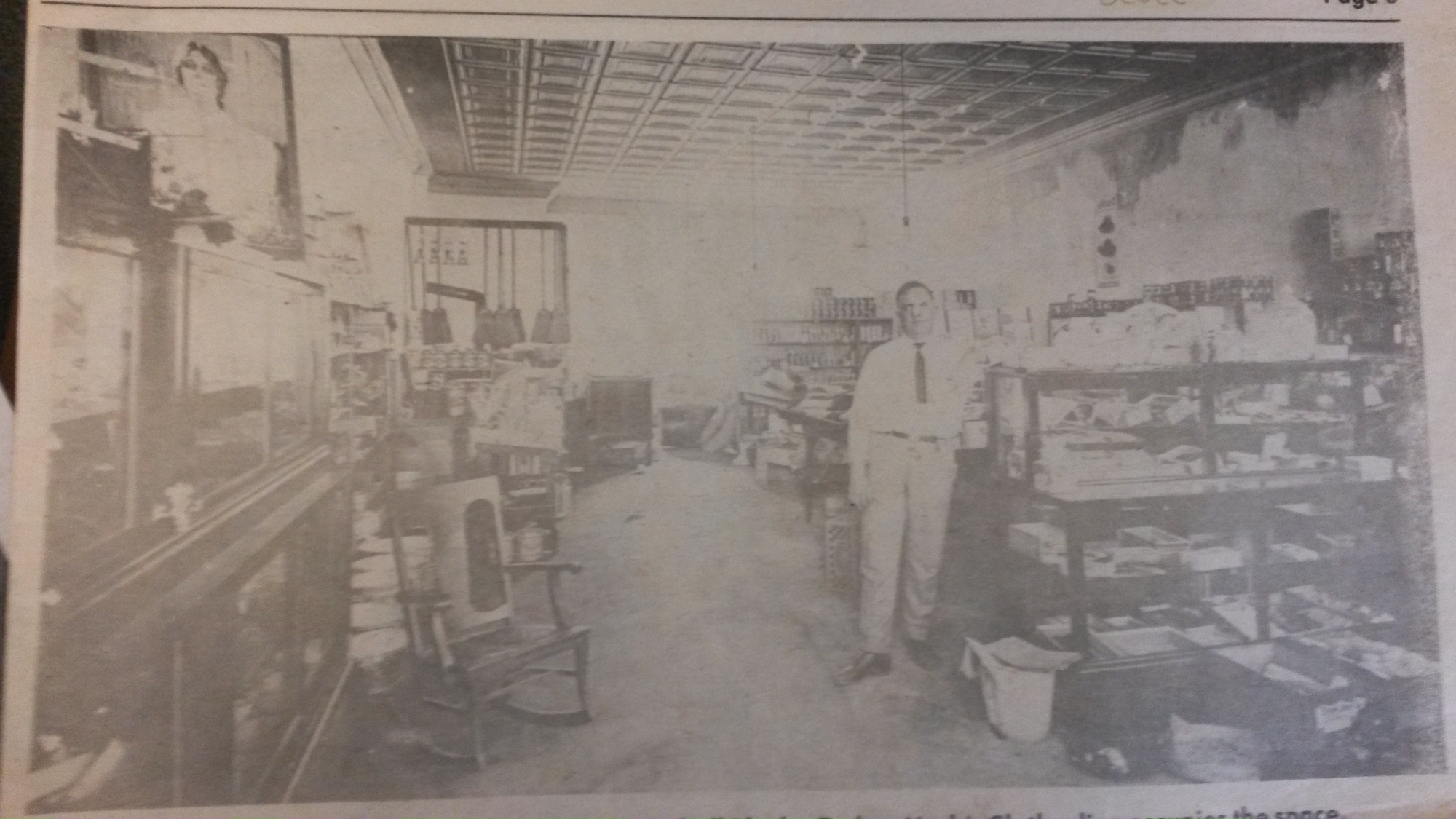 Her grandson, Derrick Powell, and his mother-in-law, Sherri Brady, bought the business from the Bartolettis five years ago. 
The 100 block was also home to William P. Blakely's general store. Also in the 100 block, Beckett's Emporium has been in downtown Ocoee for less than a year, but the business is housed in a building that has been on the street since the 1920s. 
"I don't think it's ever been vacant," Sills said. "There's always been someone in there." 
At the corner of West McKey and Taylor streets, James Hartle Bowness opened a gas station. 
The original fire station for the volunteer fire department was at 12 W. McKey St. Sills' business, DJ's Auto Sales, has been at 1 W. McKey St. since 1976, and was formerly a service station. Wesley's BBQ now occupies 14 W. McKey St., which was once a doctor's office. Gosselin Realty, at 118 W. McKey St., has been in the community since 1999, and it was formerly a pool supply store and an auto parts store. Also in the block was Sonny's Marine, a boat dealer. The business relocated, and the building now is Smart Stuff, a cell-phone repair company.
In the 1930s, the Ocoee Hotel housed visitors at 26 W. McKey St. The Ocoee Cafe at 29 W. McKey St. is located in the former U Totem Convenience Store. The building was constructed in the 1960s. Finally, 33 W. McKey St. was a Gulf service station built in the 1930s and is now Outdoor Kitchen Creations. 
BUILDING THE BRAND
The merchants along the road hope to improve their branding concerns on McKey Street. They feel the lack of signage hinders potential customers finding them, and some merchants have said friends have struggled to find where their businesses were even located. 
To improve branding, the merchants have banded together as The Ocoee Downtown Merchants at McKey Street. Including "McKey Street" in the name draws particular attention to their location. 
The merchants have worked with the city in the past to make improvements, including improving landscaping and pressure-washing the brick roads. 
The merchants also hope to see a farmers market in the area. They would like the West Orange Trail to run through McKey Street rather than Oakland Avenue, too.
"There's something wonderful that's about to happen here because of these people (on McKey who) are here," Lynn McClung said.
Contact Jennifer Nesslar at [email protected].