LAKE BUTLER  The first time the Olympia Titans and Evans Trojans boys soccer teams met this season — back on Dec. 7 — the Titans looked to have things well in hand, leading 3-0 at the half.
Disaster struck in the form of six unanswered goals.
The 6-3 defeat was still very much on the minds of the boys for Olympia when the two teams took the field Jan. 22, this time in the Class 5A, District 4 Championship. So, when the two teams went into the half tied 1-1, the Titans decided that it was their turn to dole out some second-half punishment.
They did just that, outscoring Evans 5-1 in the final 40 minutes to win 6-2 and secure the program's first district title since 2010. It was also the first time Olympia had defeated the Trojans since January 2012, ending a four-game losing streak.
"We were so motivated because we haven't beat them in like four years," senior Shelove Delance said. "Coach (Lou Romao) always tells us keep fighting, keep fighting. ... It's a great feeling."
For his part, Romao — who is taking the Titans to the playoffs for the first time as a coach — said that extensive film study in the day between the semifinals and the final helped him and his staff identify opportunities to top the Trojans.
"We couldn't play possession like we normally like to do," Romao said. "We had to kick it back to the defenders, let them do the back touch, get the ball and then we would work out their mistakes — and it happened."
Olympia's first goal came on a penalty kick by Bryce Gilgallon in the contest's 26th minute, shortly after Evans had scored the game's first goal. In the second half, Andrew Lizyness capitalized on a misplayed ball by a Trojan defender in the 44th minute to give the Titans the lead — his first of two goals. Standout Youlormans Hilaire got going shortly after that, scoring two goals of his own, and the floodgates had opened.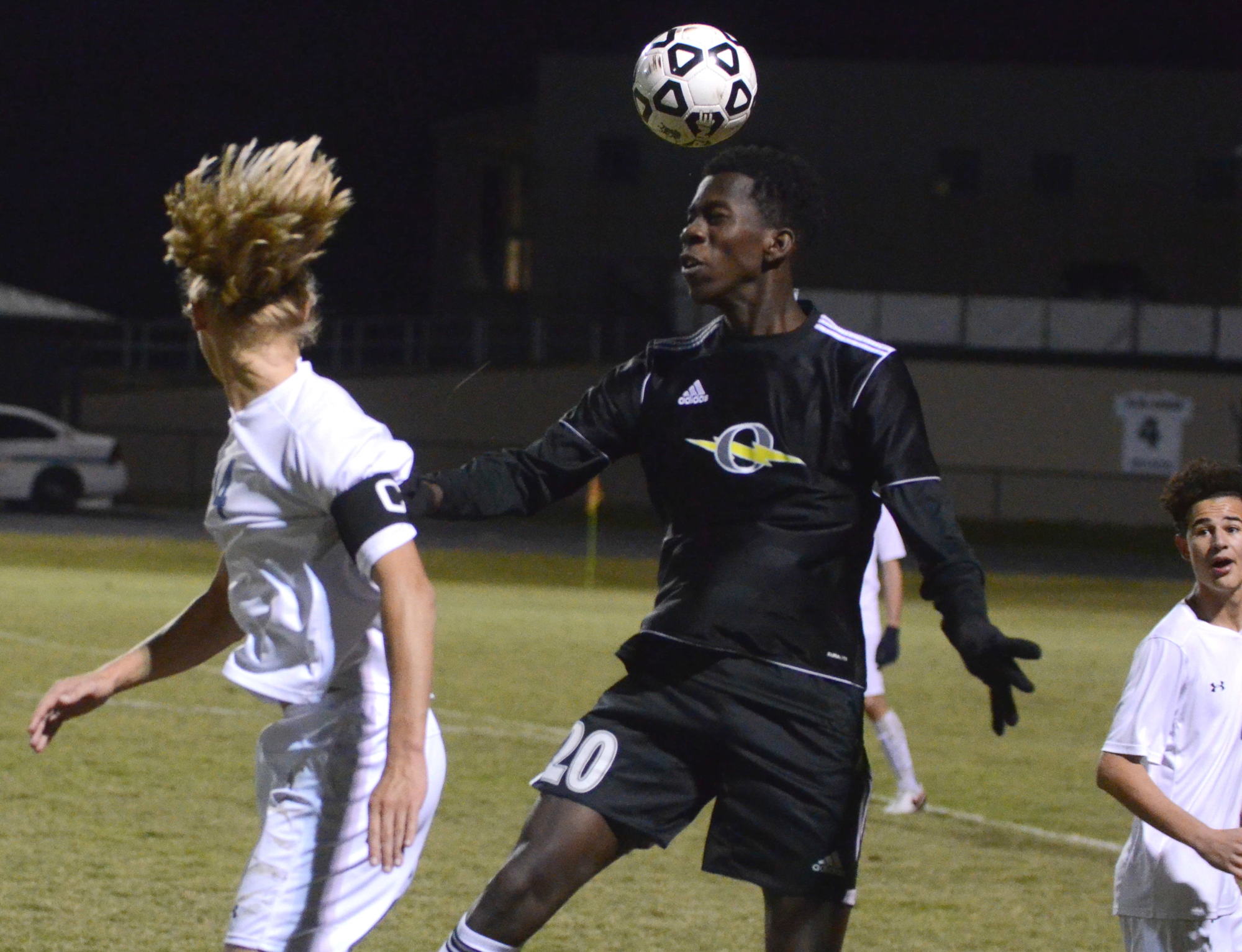 "At first I was really frustrated," Hilaire said, referring to two near misses earlier in the game. "(Romao) basically motivated me so I would get my head focused and then I was able to get two goals."
Olympia will play its first playoff game since 2010 Thursday night when it hosts Lake Brantley, the runner-up in 5A-3. The Titans (19-2-2) earned that playoff berth Jan. 20 when they defeated rival West Orange in the semifinals, 1-0.
Though the district title is a big moment the program, Romao said it won't be long until he turns his attention toward the Patriots.
"I'll be honest with you — when midnight hits, I'll be done enjoying it," Romao said. "Now it's back to work."
Contact Steven Ryzewski at [email protected].