LAKELAND Brad Lord started by stating the obvious.
Following a 35-28 overtime loss to arch-rival Victory Christian in the FHSAA Class 2A, Region 2 Championship, the head coach for Foundation Academy leveled with the dejected, tearful group of athletes huddled around him.
"I know it's stinging now — there ain't no words I can say to comfort you right now," Lord said.
He went on, though, and tried. 
Lord reminded his players that they had shattered the program's record books and that there aren't many football teams in Central Florida that can boast of consecutive appearances in a regional championship.
The thing is, though, this year — as was the case last year — the Lions had their season ended at the hands of the one team they just can't seem to beat. Even including a historic win against the Storm in 2015 that secured Foundation's first district championship, the Lions have lost to their foes from Lakeland in five of the teams' past six meetings.
Still, Lord continued to remind his boys that they should have their heads held high after an unbelievably entertaining game of football — and then, about 30 yards away in a far more exuberant huddle, the Storm broke out into a victory cheer, and the quiet in the Foundation huddle was deafening.
"I'm feeling it, too, boys," Lord said, breaking the silence. "I love you guys."
Sometimes, sports suck.
Sometimes, the perfect storyline isn't so perfect.
This felt like Foundation's year to break out. Lord and his staff have put together a growing program with a strong senior class featuring several players readying to play football in college. Even after a regular season loss to Victory earlier this fall, everything about the Lions' trajectory — the team's suffocating defense and improving offense — seemed poised to put them over the top.
And through the game's first two quarters, that seemed to be exactly what was happening.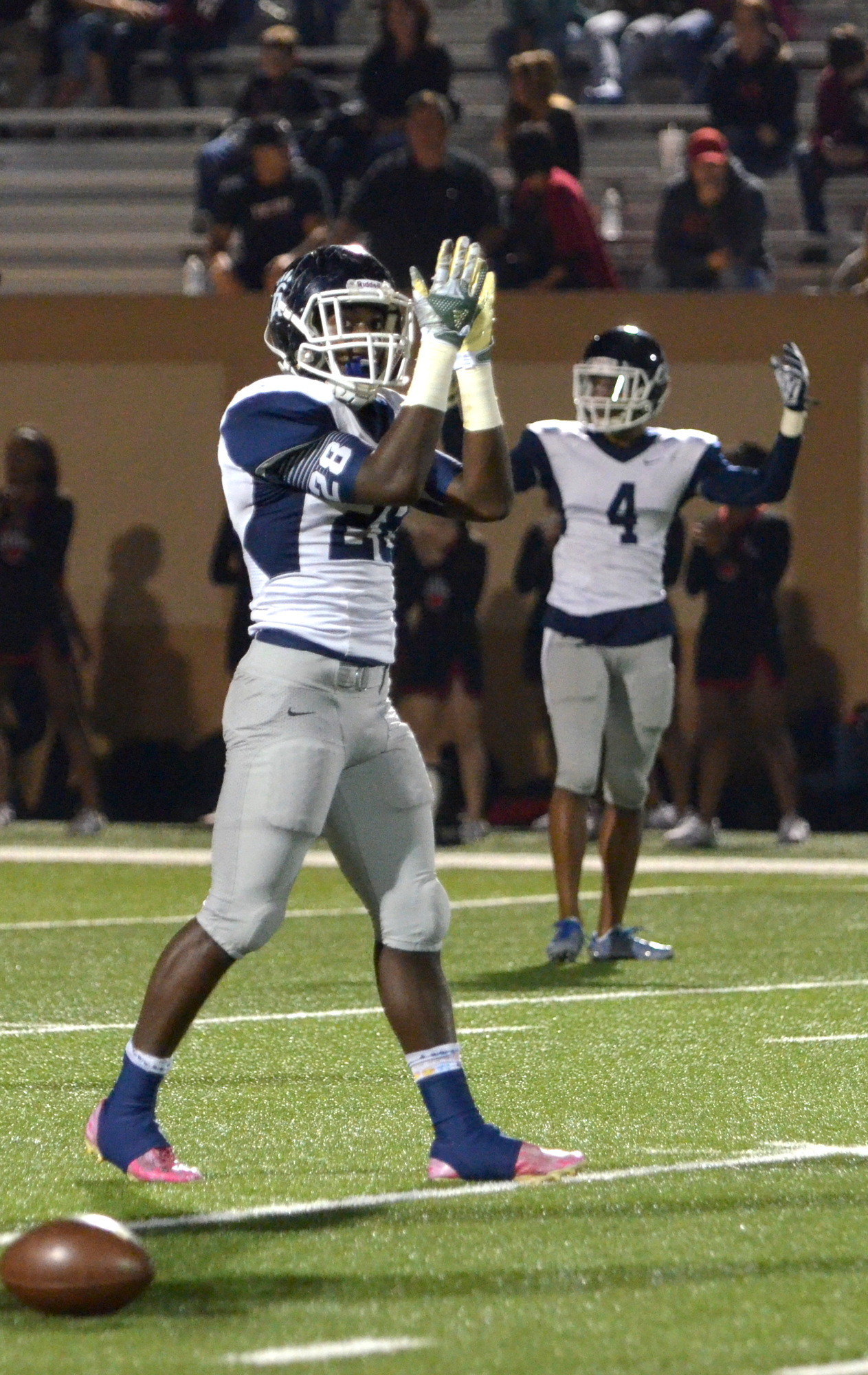 Jaquane Patterson started the game by running back the opening kickoff 81 yards for a touchdown. Later in the first quarter, Corey Rahman scored on a short rush. Rahman tasted the end zone again early in the second quarter on a pick-six interception, and suddenly Foundation Academy was leading its rival 21-0.
But, as is want to happen, the tide turned.
A touchdown pass for the Storm before the half made it 21-7.
Another touchdown in the third quarter made it 21-14.
As a sense of dread crept in, a glimmer of hope came in the form of a remarkable 41-yard touchdown run by Patterson. In actuality, he broke four tackles en route to the end zone — but as it happened he seemed to shake off the entire Victory defensive unit.
Even that 28-14 lead would not hold, though. 
Two more Storm touchdowns combined with a steady stream of yellow flags strewn about field — including a controversial illegal formation called on the Lions on a punt that was muffed by Victory and recovered by Foundation late in the fourth quarter — resulted in overtime.
In overtime, the Storm scored. 
The Lions did not.
Foundation Academy had lost, but it felt like they were not supposed to. 
Surely, this was their turn to beat their rival? Surely, they had earned it — they deserved it?
Sometimes, sports suck — but, that's why we love them. 
We love sports because something so utterly unimportant can become so very, very important. Sports have the power to bring dozens of parents, teachers and members of Foundation's campus community an hour down Interstate 4, where they cheered and cried along with their boys.
We love sports because even though players on this Lions team will probably never forget the "what ifs" of Friday's fateful game in Lakeland, that is only possible because of this simple fact — Foundation Academy was a very good football team this year.
And although nothing Brad Lord said or could have said Friday night was going to make things immediately better for his football team, that doesn't mean he didn't say something incredibly true, anyway.
"God has got your back. God is going to heal ya," Lord said. "Tomorrow, you're going to wake up, and it's going to be a new day. You did Orange County proud."
Don't ever let anyone tell you there isn't some beauty in defeat. 
No one on that field should ever forget they were a part of that game — even in defeat, it was sports at its best.