Abigail Meeks keeps a pretty busy athletic calendar.
The seventh-grader at Holy Family Catholic School has played soccer, basketball, track and volleyball for the Lions.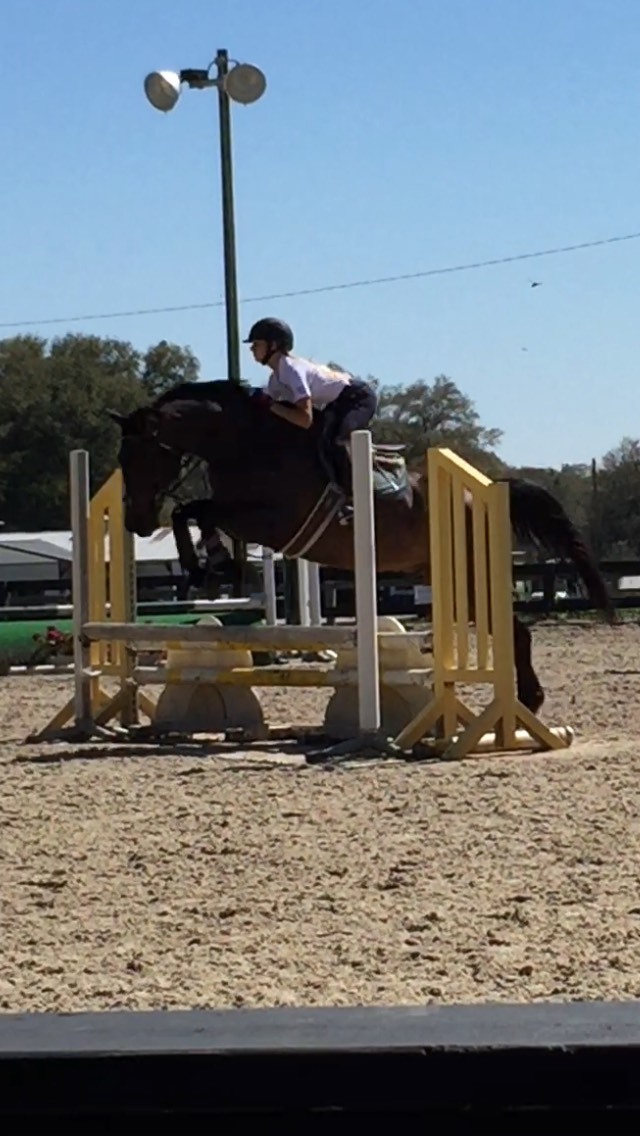 But there is one sport Abigail, who goes by Abby, competes in outside of her school — and for good reason. After all, there are not many schools — public or private — that offer an equestrian team.
Abigail has been competing as an equestrian through the Interscholastic Equestrian Association for the last two years. Competing in the IEA has taken Abigail and her parents — Troy and Maria Meeks — from local competitions all the way to South Carolina in 2016 and North Carolina just recently.
The family recently moved from Winter Garden to unincorporated Apopka, where they have more than two acres of land and their own horse, Brandy, who they welcomed home last July.
For Abigail, though, her passion for horses was rooted in that first home in Winter Garden — and her neighbors.
"I used to live behind a barn where they had all these beautiful horses," she said. "So I'd always hop over the fence and feed them carrots. I've always wanted to be around them. They're just so kind and beautiful."
Abigail's visits to her neighbor's horses started when she was around 3 or 4 years old. At about age 5, she hopped the fence and rode a horse for the first time — a full two years before her parents would allow it.
"She would tell us (about those occasions) later on in life, and we were like, 'You were doing what?!'" Maria Meeks said. "It's been fun as parents."
"Everybody said that (it was a phase), but she's pretty competitive. Once she's started something, she has always finished."

— Maria Meeks, mother
At 7, when her legs were long enough for her to ride safely, Abigail began taking formal lessons, first at Morton Equestrian Center in Winter Garden. There, she learned it was not as simple as hopping up on the horse and saying "go."
"There was a lot more to it," Abigail said. "I had to learn to keep my heels down when I'm on a horse, for balance."
There was plenty to learn, but it quickly became apparent to her parents that Abigail had a knack for the craft.
"The horse thing was natural," Maria said. "She's got some natural talent there, and her skills with animals are really good, too."
Friends of the family would speculate whether Abigail was going through a phase — as children are known to do — but six years later at age 13, Abigail is as serious about it as ever.
"Everybody said that (it was a phase), but she's pretty competitive," Maria said. "Once she's started something, she has always finished."
Abigail, who plans to attend Bishop Moore Catholic High School once she graduates from Holy Family, said she is proud of how far she has progressed as an equestrian. She now trains with Natalie Johnson Russell (trainer/owner) and Jessica Arnold at Oakmore Equestrian Center in Apopka.
Although she's eager to see where the sport will continue to take her, Abigail is not putting all of her eggs in the equestrian basket — though her love for horses still guides her dreams.
"I want to help people learn how to ride and become a horse trainer," Abigail says.
In the meantime, she'll continue to compete and ride Brandy around her family's property — sometimes reaching speeds in excess of 25 mph.
And much as she was when she was a toddler handing horses carrots, Abigail is fearless.
"I love them too much to be scared," Abigail said. "I try to enjoy the moment."
Contact Steven Ryzewski at [email protected].