Students at Gotha Middle School know they're going digital this year with the district's one-to-one digital learning program.
But what they might not know is that they'll also have access to technology that allows them to build chess pieces, sculptures and more: 3D printers.
21ST-CENTURY TECH
Media specialist Trina Labaw is entering her fourth year working at Gotha Middle's media center, and she has been wanting to have digital printers for the students for years.
"One of the things that I do is I try to stay with what's the most current trends, and making and makerspaces (are) the up-and-coming thing, and it's in a lot of schools already," Labaw said. "In our district we have a lot of media centers who already have 3D printers. It's one of those things where it's the future of what we're doing. The schools have to give the kids what is going to be their futures, and we can't just wait for them to catch up to it. 
"You've got to bring it to them, so when we have the opportunity to have a few extra dollars that I was able to procure this, I jumped on it," she said.
The school now has two 3D printers, one an "XYZprinting da Vinci Jr." model and the other by Dremel. After school and licensing fees, Labaw estimates the printers cost around $500 and $1,600, respectively. They arrived shortly after the most recent school year ended.
Students will be able to use programs from Dremel or Tinkercad, both of which are user-friendly 3D design tools, to turn their ideas into models that can then be printed. Tinkercad has built-in tutorials, and students will be able to save their creations to a USB drive, plug it into the printer and print directly from there.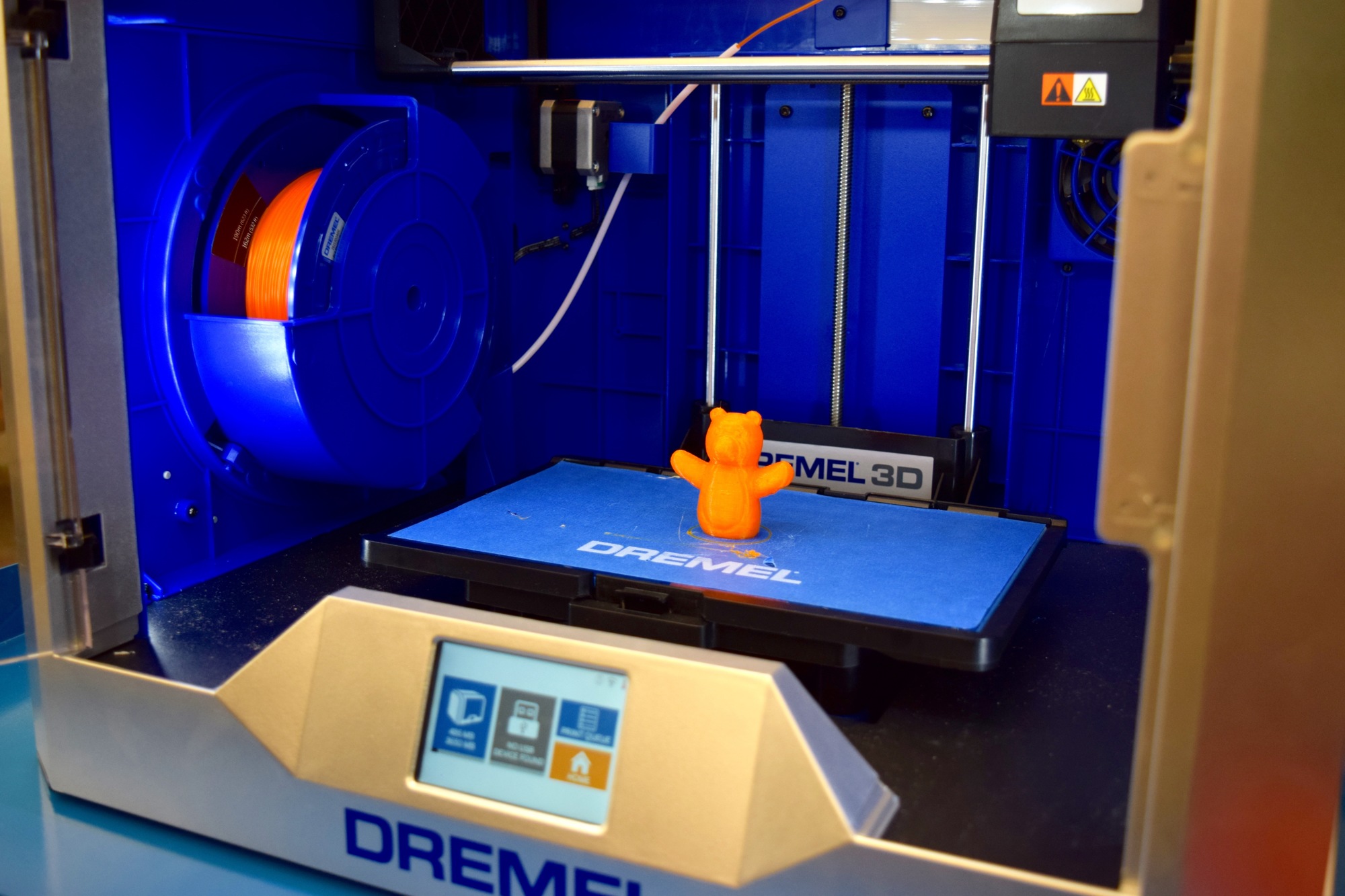 Both printers use spools of plastic filament, which they heat up similar to a hot-glue gun. The process of printing takes time — anywhere from a few minutes to a few hours, depending on the size and scope of the project at hand.
"(The printer) makes a honeycomb pattern at the bottom (while building) and that's what I want the kids to pay attention to as it builds," Labaw said. "You'd think it would just be concentric circles, but … the honeycomb pattern is for strength and you don't need to fill in every little hole, so it saves (filament). That's part of how these pieces can be strong but fairly inexpensive — each spool is about $30, and you don't need much to make what you're making.
"I'd like to see our guitar students make guitar picks of their own, I'd like to see our art students make their 2D objects into 3D objects, and I'd love to see them take their sculptures from handmade to 3D so they can compare and contrast what they've done," she said.
Labaw also has other new technologies, such as 3D doodling pens and tools and sets made for tinkering around. Since students will have their own portable computers, the plan is to move the desktop computers from the media center to the classrooms to create more room for makerspaces.
"It's good (because) we offer six different STEM courses, so they'll be able to really work out with (Labaw) about how we can incorporate this more into their STEM classes, as well as the computer-science and digital-art classes," said Assistant Principal Matthew Owens.
COLLABORATE TO COMPETE
One point the school administration hopes to emphasize with the 3D printers is that the schools of today are not the ones people have attended in the past — it's full steam ahead with technology now.
"We're looking for more things to get for kids in that digital mindset and the 21st-century world," Owens said. "A lot of our kids talk about wanting to go into engineering or a STEM field, so we say, 'Well, what would you be using?' … We now live in a global society and marketplace, so our kids have to be able to compete globally with other kids around the world, not just kids in the Gotha and Windermere area. 
"For us as an administrative team, it was just very important that if we can find things to make it work and make it happen, we want to make sure that we can do that," he said. "It's hands-on experience, which is what we want our students to do. We want them to experiment and collaborate because in the workforce today you have to do those things."
Labaw added that students will be able to learn through trial and error as they create and discover what does and doesn't work.
"The beauty of these is that it allows the students to problem solve — they have to think the design from beginning to the end, that what-ifs and the 'how do I fix it?'" she said. "It's a very good experience trying to troubleshoot and figure it all out. The collaboration that the kids are going to do together in order to make these projects work is what I'm most excited about, because the conversations are going to be, 'Well, how do we get this to work?' … It's going to be great."