OLD TIMES
85 years ago
Two winter visitors, the Louden brothers of Montpelier, Ohio, outsmarted the jinx that hovered over fishermen. In a time when "fish were not biting" at Lake Apopka, the two brought in a string of 19 with a 10-pound bass the leader.
The Albany (New York) Senators began arriving in Winter Garden for spring training. The majority of the baseball players were arriving by bus from Baltimore. The Winter Garden location was considered one of the most beautiful, as well as one of the best training centers in the state.
An ad for a 40-acre land tract read as follows: "To responsible party who will begin improving immediately — will sell for $240 cash and $2 per acre annually for six years, then $10 per acre for 10 years at 4% interest per annum beginning the sixth year, secured by purchase mortgage."
80 years ago
Mrs. Sterling Hunter, Mrs. W.S. Ervin, Mrs. C.L. Stanford, Mrs. F.W. Ross and Mrs. Fred Cross enjoyed a picnic at Homosassa Springs.
Winter Garden boys leaving for training at Camp Blanding were Carl Hall, Robert Herrington, George Gregory Thompson, Paul Coleman, Oscar Roper, Clyde Norwood, Howell McEachern and Luther John Hogsett.
Mrs. Billy Tilden was guest speaker at the Rotary Club and gave an interesting report on the Winter Garden Welfare League's major project, the Winter Garden Nursery School. This school has provided underprivileged children with schooling, food, medical attention and even toys.
70 years ago
The city of Winter Garden made plans to open Dillard Street to the Cross State Highway (Highway 50).
Lakeview Hi-Y Club organized the Gray-Y for fourth-, fifth- and sixth-graders of Winter Garden Elementary.
THROWBACK THURSDAY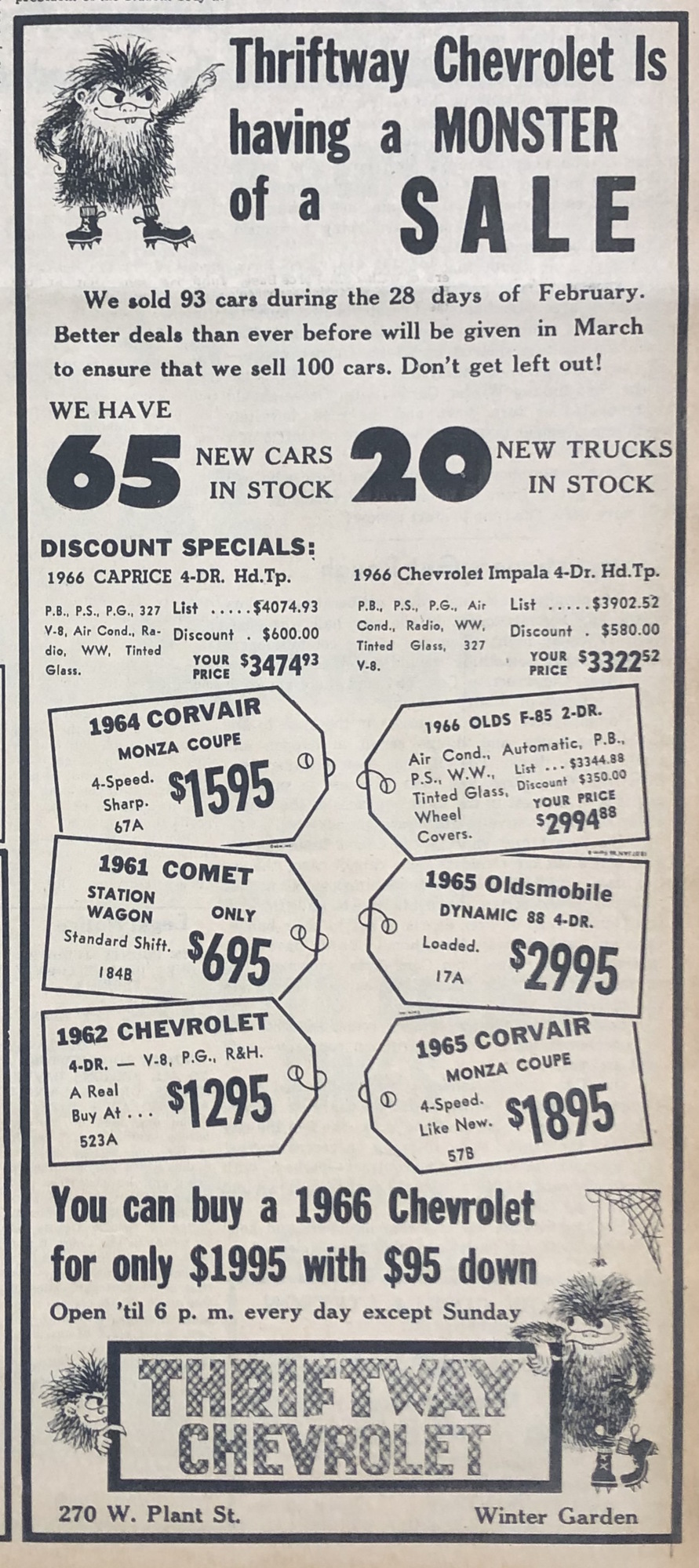 March 3, 1966
After selling 93 vehicles in February, Thriftway Chevrolet set a goal of selling 100 in March and even put it in print in an advertisement in The Winter Garden Times. With 65 new cars, 20 new trucks and a lot full of used vehicles in stock, West Orange County residents could be driving around town in style: 1964 Corvair, $1,595; 1961 Comet station wagon, $695; 1962 Chevy, $1,295; 1965 Oldsmobile, $2,995; and 1965 Corvair, $1,895. The dealership was located at 270 W. Plant St., Winter Garden.
FROM THE WINTER GARDEN HERITAGE FOUNDATION ARCHIVES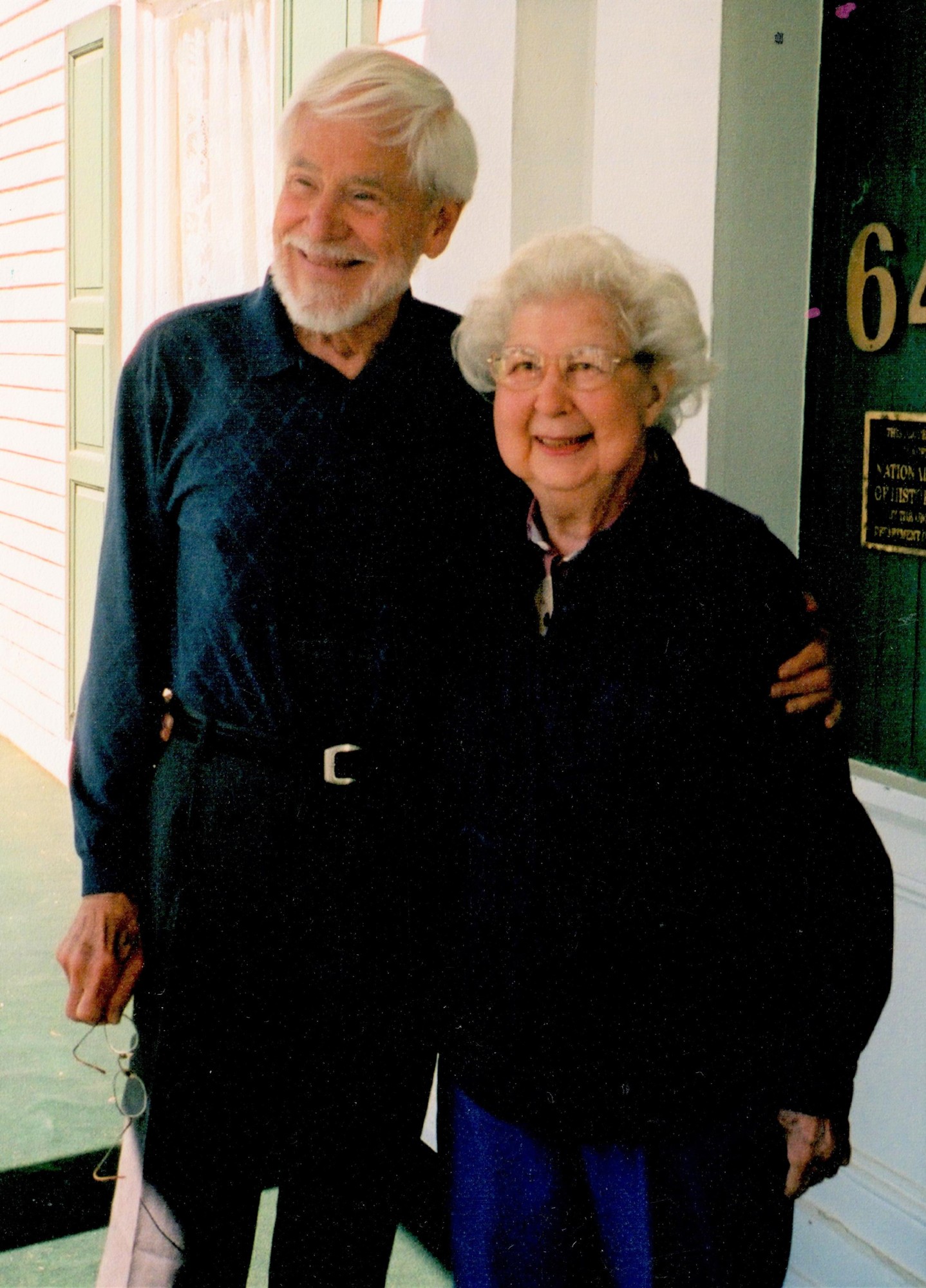 Mae Jones Reeves (1913-2007) worked for Florida Telephone in Winter Garden. Her husband, Dock, was one of three Reeves brothers engaged in barbering at various Plant Street locations for many decades. Mae Reeves revealed an untapped talent for drawing after largely recovering from a stroke in her later years. Her son, Rod Reeves, served as the Winter Garden Heritage Museum's founding director. They often traveled back to her home state of Georgia, where this photograph was made in 2004. Taken in Barnesville, it shows Mae Reeves standing with actor Fred Crane, who portrayed Brent Tarleton in "Gone with the Wind."