Dr. Phillips boys cross country team earns 4th at FSU Invite
Dr. Phillips cross country's boys team placed fourth and its girls team placed sixth at the FSU Invite on Oct. 3.
Jean D'Haiti placed 11th to lead the boys team with Bo Ivey placing 13th. 
On the girls side, Annika Sison ran the seventh fastest time in school history and placed 14th to lead the way.
Recruiting roundup
Olympia volleyball senior setter Lorissa King announced Oct. 3 she had committed to play her college volleyball for Wofford College in South Carolina. 
Titans baseball outfielder Drenis Ozunahas verbally committed to play for South Florida State College. 
MacKenzie Loos, a senior guard for the Olympia girls basketball team, has committed to play for the University of Charleston.
West Orange baseball pitcher/first baseman Nate Schreckengost committed to play his college baseball for Lander University in South Carolina on Sept. 24. The Bearcats compete in the Peach Belt Conference.
Lakers middle school team undefeated
The middle school football team for Windermere Prep defeated Seven Rivers Christian on Oct. 1, 26-20, to continue its undefeated run. 
The Lakers are now 5-0.
Titans baseball alum earns accolade
Connor Lien, a 2012 graduate of Olympia High and outfielder in the minor league system for the Atlanta Braves, was named the top non-pitcher prospect for the franchise's Single-A Carolina Mudcats.
Ocoee bowler sets record
Ocoee junior bowler Wanya Mitchell set a school record Sept. 30 with a 718 series in a victory over Evans. 
His second game of the match saw the standout roll a near-perfect 299. 
The Knights are 5-2 on the season.
West Orange swim teams sweep
The boys and girls swim teams for West Orange High each defeated Timber Creek Sept. 24.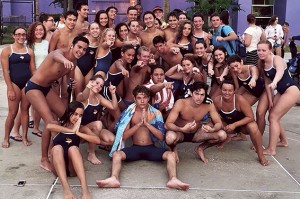 The boys team's 175-109 victory was especially significant, because Timber Creek is defending champion in its district.
The Warriors boys 200-meter medley and 400-meter freestyle relay teams won, as did Alex Robinson (200-meter medley),
Abelardo Conde (200-meter freestyle), Jon Nadeau (50-meter freestyle), Alfredo Meyer (100-meter freestyle and 100-meter breaststroke) and Miguel Baca (500-meter freestyle).
West Orange's girls won 177-109 and are 3-1 on the season.
The 200-meter medley relay team placed first, as did the 200-meter and 400-meter freestyle relay teams. Individually, Linnea Holmgren (200-meter medley), Sarah Passilla (50-meter freestyle, 100-meter fly) and Elizabeth Cottle (100-meter freestyle and 100-meter breaststroke) also won their respective events.