GAME OF THE WEEK
West Orange 41, Dr. Phillips 34
A touchdown run and two-point conversion — both by senior quarterback Woody Barrett — put the Warriors (3-0) ahead 35-34 with 23 seconds to play. An interception by Ben Bollinger sealed the thrilling win and returned the Ol' Orange Crate to Winter Garden. Loss ends 35-game regular season win streak for DP (2-1).
—
Olympia 27, Colonial 8
Titans defense impresses again as Olympia improves to 2-1 on the season.
—
Windermere Prep 49, Canterbury 7
Eerily similar scores to the Lakers' 48-8 win a week ago means Windermere Prep has outscored opponents 97-15 since losing to St. Stephen's Episcopal in Week One. Lakers are 2-1.
—
Legacy Charter 34, Ocala Christian 0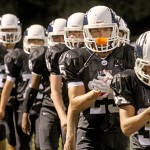 Eagles improve to 3-0  with dominant showing on the road in Ocala.
—
CFCA 18, Orangewood Christian 13
Defense anchors victory as Eagles improve to 2-1. Big interception by Luke Noah late in the game helped seal it for CFCA.
—
Carrollwood Day 20, Foundation Academy 0
Lions fall to 0-3 as they continue along tough stretch to open season and lose some of the positive momentum accumulated from a strong showing against The First Academy in Week Two.