DR. PHILLIPS  Dr. Phillips residents packed the Southwest Middle cafeteria to show their distaste for plans to put up to 325 multi-family residential units near Spring Lake in Dr. Phillips.
The community meeting, held Tuesday, Sept. 13, was heated from the start as residents grilled applicant Jim Hall of VHB, Inc. on the project. 
This particular project, part of the Majorca Planned Development (PD), has been in the works for a while now. It consists of plans to build a luxury apartment complex called Rialto II which would complement neighboring property Rialto I, northwest of the intersection of Sand Lake and Turkey Lake roads.
It previously came before the county last year and met immediate protest from Dr. Phillips residents head on. VHB, Inc., pulled the application after it became apparent that the likelihood of the project's approval was slim.
Since then, the City of Orlando took interest in the parcel and has been considering possible city-initiated annexation. Hall is back at the county once more in a last request for approval; should the county deny the request, the Majorca PD could be annexed into Orlando's jurisdiction.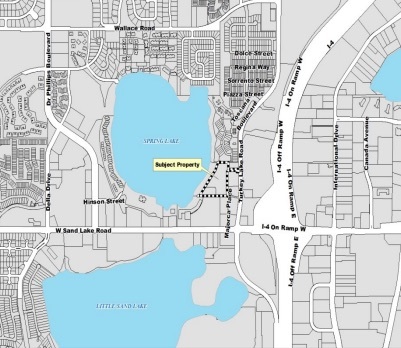 Currently, the 6.5-acre area is zoned for commercial development, but Hall is requesting a zoning change to high-density residential. If approved by the Board of County Commissioners, this would allow for the development of up to 325 multi-family residential units. Rent prices for the units could range anywhere from $1,800 to $2,800, Hall said.
"There's nothing different, it's the exact same footprint, same building height, same location," Hall told residents when asked how plans have changed. "All the facts we've tried to provide you all are still the same. The developers are same developers that built Rialto, it's the same density, look and height as Rialto, five stories and 200 units."
Orange County District 1 Commissioner S. Scott Boyd told residents he was hosting the community meeting to keep them updated and express how time sensitive the project is.
"The City of Orlando's representatives do not represent you," Boyd told residents. "Given the fact that there's so much attention and issue with Turkey Lake and Sand Lake roads, we tried to shut down this issue. There's a very tight time constraint currently underway on this project and the only way to get the community together to understand why this came back to the county was to do this."
Roy Messinger of the Dr. Phillips Homeowners Coalition attended and expressed his displeasure with the proposal.
"The applicant himself was very clear (last year) that if they didn't get what they want they were going to go to the city," Messinger said. "It's a loophole they're trying to drive a Mack truck through."
Another resident, citing already-problematic traffic conditions in Dr. Phillips, said that the community is not self supporting, but rather a bubble trapped by the tourist districts. Adding more traffic would only further complicate residential life, making it more difficult to get in and out of the area.
Hall told residents that from the studies and currently approved plans, traffic would be reduced, to which residents scoffed. 
"The county has two options here: One, they can fight the legal avenue, and two, the county can use their muscle for the tax dollars you've already invested," Messinger said. "What I haven't heard is that no one in Orange County government is here to protect us. It's all about the blackmail that very powerful lawyers and planners have in this county. We should demand that county government fight this every single day."
Boyd responded by telling residents that annexation is looming and that they as a community needed to make sure they get their voices heard by as many people involved in the process as possible.
"You as a community are going to need to make sure you email everyone in the Planning and Zoning Commission, the county commissioners and Mayor Dyer and other city commissioners in Orlando, as well," Boyd said. "I have a good working relationship with them. Right now, City of Orlando is my opponent as far as trying to figure this out. 
"What's going to end up happening is if the city decides to annex the property in, they could probably go in with twice the amount of units," Boyd added. "It's up in the air."
Since the meeting, the project was heard by the county's Local Planning Agency (LPA) on Thursday, Sept. 15, and rejected 4-2. Next, it will go in front of the Board of County Commissioners on Tuesday, Oct. 4, at 2 p.m.
If it is not approved by the BCC, Boyd said, it very well may be going to the City of Orlando; however, there is no confirmation from the city as to whether or not it will annex. The city's second reading for the voluntary annexation of Majorca will be Oct. 24.
For more information on the project, contact county Case Planner Jennifer DuBois at (407) 836-5396 or at [email protected].
Contact Danielle Hendrix at [email protected].