ORLANDO  Next week, models are set to hit the runway at SeaWorld dressed in extravagant outfits — made from things such as plastic bags, old newspapers and scratched CDs.
Turning trash into something wearable and trendy is not your typical Michael Kors-infused fashion show, but that's just the point. 
Trash 2 Trends is a fundraiser for Keep Orlando Beautiful Inc., a nonprofit organization and branch of Keep America Beautiful Inc. Its goal is to fund and implement beautification projects around the city of Orlando, as well as educate the public on environmental sustainability. 
"Our mission is to engage the community to take more responsibility for the local environment and keeping it clean, green, beautiful and sustainable," said Jody Buyas, Keep Orlando Beautiful's coordinator. "We get out there and do painting, tree planting, landscaping and education in the schools. … Keep Orlando Beautiful in itself, we're really about the only program of its kind in Orlando. The funds we raise go right back into the community in beautification projects."
Keep Orlando Beautiful began when the city noticed people were looking for more ways to recycle beyond their homes, Buyas said. She and other Keep Orlando Beautiful proponents agreed, and the nonprofit was born locally. One of its most recent projects was placing 40 recycling bins in public spaces such as Lake Eola and recreational ball fields.
But funding is necessary to complete such projects. Enter Trash 2 Trends.
"Trash 2 Trends is an upcycled runway show where everything that the designers create has to be from end-of-life materials or items going to the landfill," Buyas said.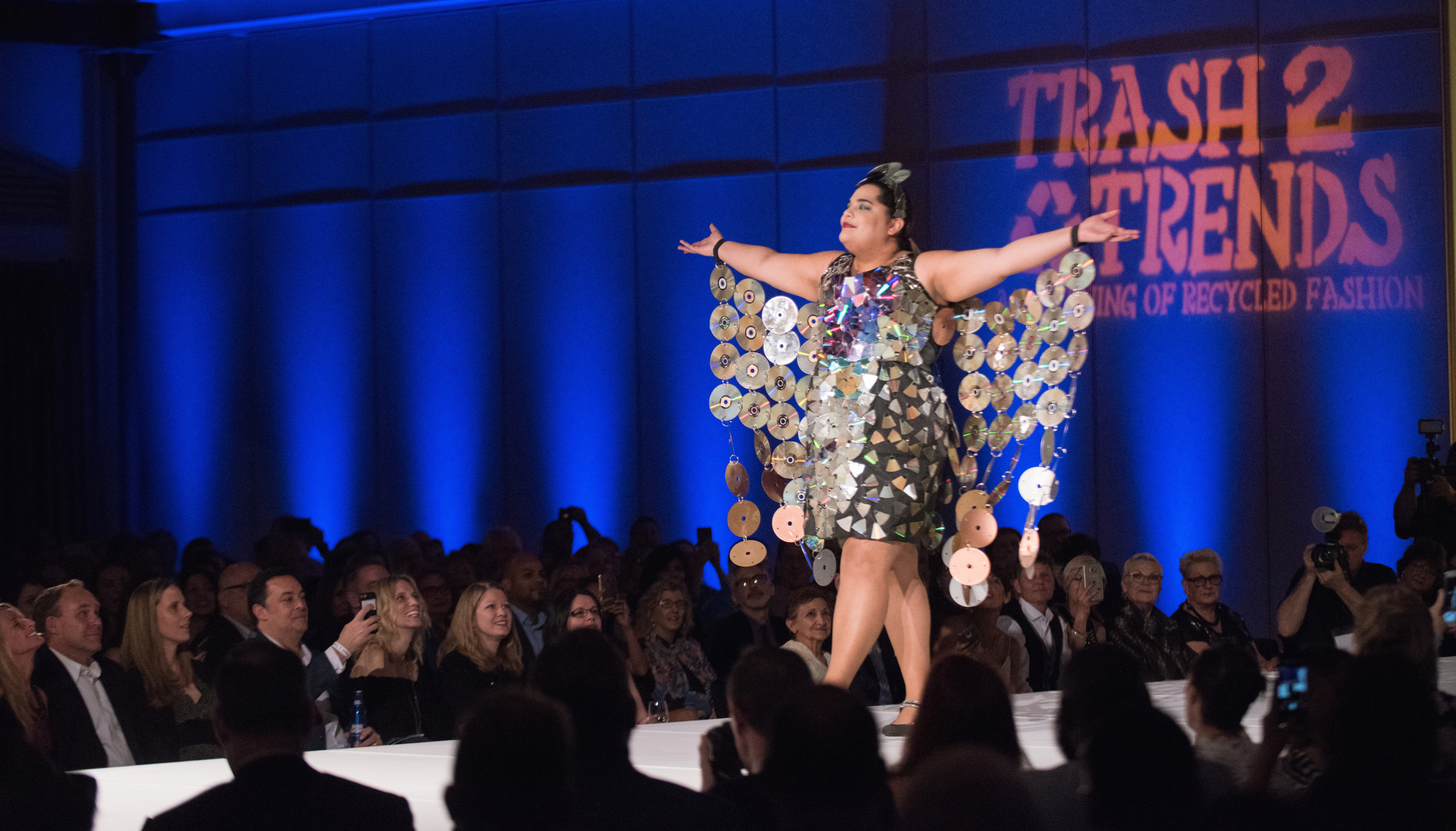 The outfits and those modeling them are essentially educational art pieces that walk a runway, she said. This year, there are 35 designers participating, and all will be using a variety of interesting materials such as plastic bags, records and expired technologies, old instruments and even debris from Hurricane Irma.
"We have a girl making a piece with a lot of cassette tapes that actually aren't even playable, as well as vinyl records that are scratched or warped," she said. "Some people are actually using wood and torn screens from their pools and things like that. … Almost all of us dealt with Irma in some way or form. … It's the thought of how much waste we created and what we are doing with that."
One aspect of the show is turning waste into something wearable, and the other part is raising an awareness. 
"A lot of times, we have the designers who will naturally look up stats themselves," Buyas said. "It's (raising) an awareness of what we do in our society and what we throw away, and it just gets people thinking about it. It's also, of course, to keep Orlando beautiful. Anything we do we try to keep that education element in it. Even though it's a fundraiser and it's fun and beautiful on the runway we also educate our audience, as well."
Five years ago in its inaugural show, Trash 2 Trends raised $11,000 for Keep Orlando Beautiful. Last year, it doubled that to $22,000, and Buyas hopes to keep the trend going and to put on another awe-striking show this year.
"They (guests) can expect another incredible show; it just gets better year after year because I think the designers challenge themselves more and more," she said. "We incorporate, as we've gone on, more of the education (aspect), so guests can expect to be wowed by the designs and also learn a lot about waste or be inspired to rethink some of their habits."