As Bridgewater Middle School counselor Claudia Lunn read the names of the 17 victims killed in last month's shooting at Marjory Stoneman Douglas High School, hundreds of Bridgewater students stood in somber silence.
A few select students stood behind Lunn and released butterflies as each name was read. What followed was another 17 seconds of silence as the students reflected on the tragedy that occurred in Parkland, Florida.
Bridgewater students gathered at the school's track field for a memorial in honor of the 17 Parkland students and staff who lost their lives when a gunman opened fire at their school last month. The memorial was Bridgewater's way of participating in National Walkout Day – a nationwide event conducted in honor of the victims. 
Lunn was chosen to read the 17 names due to her personal connection with MSD, as she attended the school from 1998-2001.
"I got the best education at Douglas," Lunn said. "(The) teachers taught almost like at a college level and really taught you how to argue and debate and think. It's interesting seeing all that coming back now, because I don't think I realized what I received (from Douglas) until everything happened."
Lunn said she has some family members in Parkland with children who attend MSD, but none of them were harmed. She also added she traveled to Parkland the weekend after the shooting and described her visit to the town as surreal.
"It just didn't seem real," Lunn said. "We drove by the school, and that was the first time I'd (been to) the school in quite a while. … I saw students who were there crying. Their lives changed forever. That's a place that they don't feel safe anymore. I felt sad that that is the memory that they have of that school now whereas I have the privilege of having really happy memories there."
Seventh-grader Nailah James, who holds the role of student body vice president, weighed in on their school's memorial in honor of the 17 victims. She said rather than focusing Bridgewater's walkout event on protesting gun violence, the school's event brings more focus to school safety. 
"We want to give awareness to schools' protection," James said. "We want our school protected."
Eighth-grader Amanda Chambers, who serves as the school's student body president, also chimed in with her thoughts.
"With everything going on, we think that some people are protesting and trying to bring up guns and violence into it, but we want to focus on something positive by having a memorial and being more peaceful,"  Chambers said. "(We're) more focused on safety more than just guns."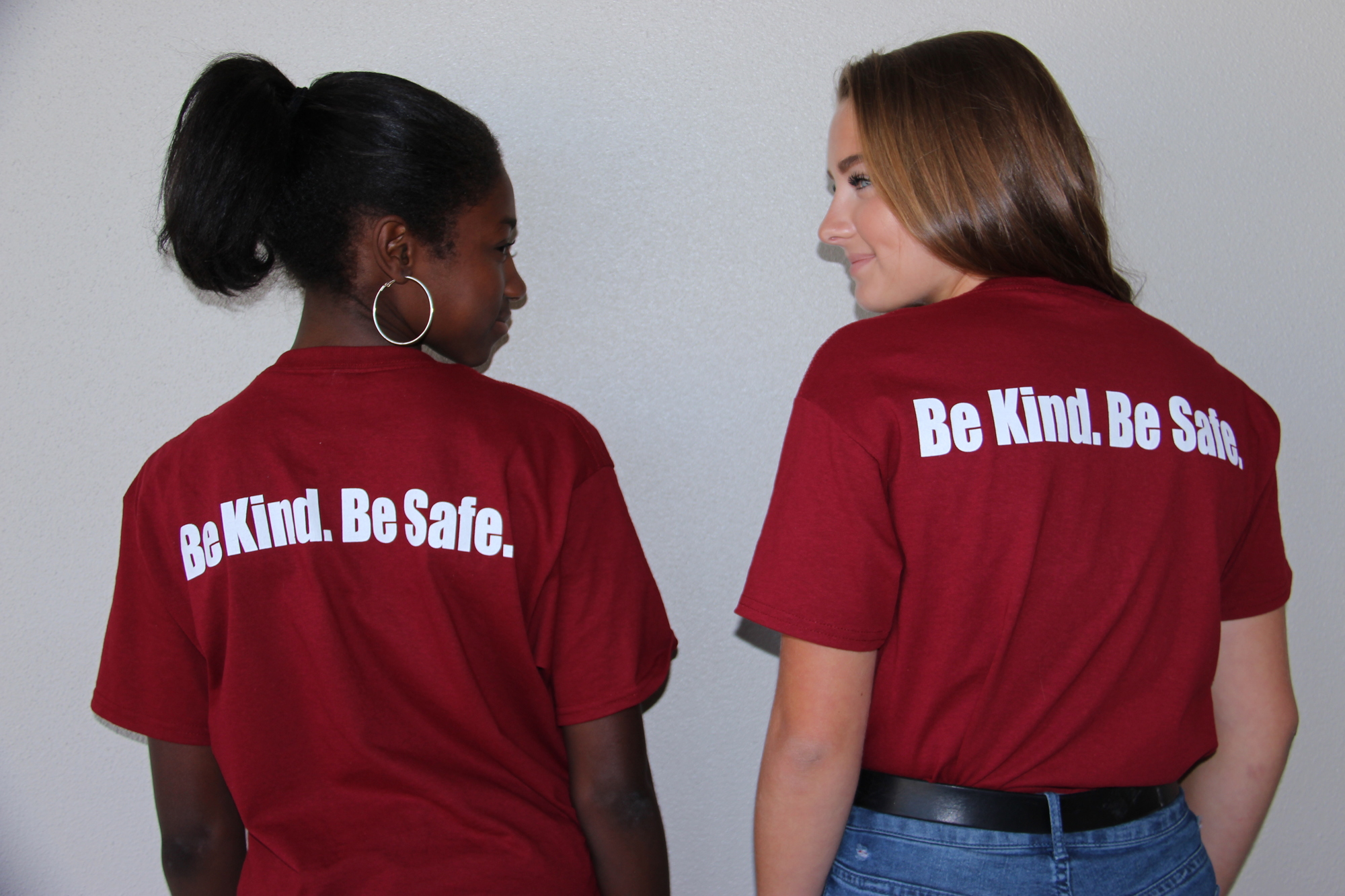 Chambers said the memorial's theme lines up with the school's theme this year: Kindness. Many of the students at the memorial, including James and Chambers, wore matching shirts that read "Be Kind. Be Safe."
"Our theme for the entire year is: Choose Kindness," Chambers said. "If you're kind to one another, everyone is connected. If something does happen, you always have someone to lean on and talk to because you have that connection with them. The back of our shirts say, 'Be Kind. Be Safe.' That's what we mean. Kindness can lead to being more safe."
Lunn emphasized that kindness could lead to building stronger connections in a community because  human beings "want and crave connection at any kind of level."
"The phrase, 'it takes a village,' is still so very pertinent today," Lunn said. "I think creating that 'village' component – that connection where you always have someone to turn to – is important to making sure we all feel welcomed, loved and safe."
Lunn also said Bridgewater's memorial event is important to let their students know how to peacefully organize towards a goal.
"The students really want to make the world a better place, and I think it's good for them to know that they do have a lot more power because I think sometimes we don't give them the credit they deserve as kids," Lunn said. "It's good for them to know that they can peacefully organize and put their heads together to create something positive, and that's the goal."