In 2019, West Orange — and specifically Horizon West — welcomed three new schools.
Horizon West Middle relieved Bridgewater Middle, while Castleview and Water Spring elementary schools did the same for Bay Lake, Sand Lake, Keene's Crossing and Independence elementary schools.
Having nearly 214,000 students enrolled, Orange County Public Schools is the eighth largest school district in the nation and the fourth largest in Florida — behind Miami, Broward and Hillsborough counties. That figure includes the district's projected increase of 4,000 students for the 2019-20 school year.
For the 2020-21 school year, one new elementary school will open to help accommodate the West Orange area's growing student population. Another coming to the International Drive area will affect zoning for Sand Lake Elementary in Dr. Phillips.
Other schools, such as Dr. Phillips and Windermere high schools, still have a bit longer to wait for relief and are being creative with temporary solutions to ease the impacts of overcrowding. 
SUMMERLAKE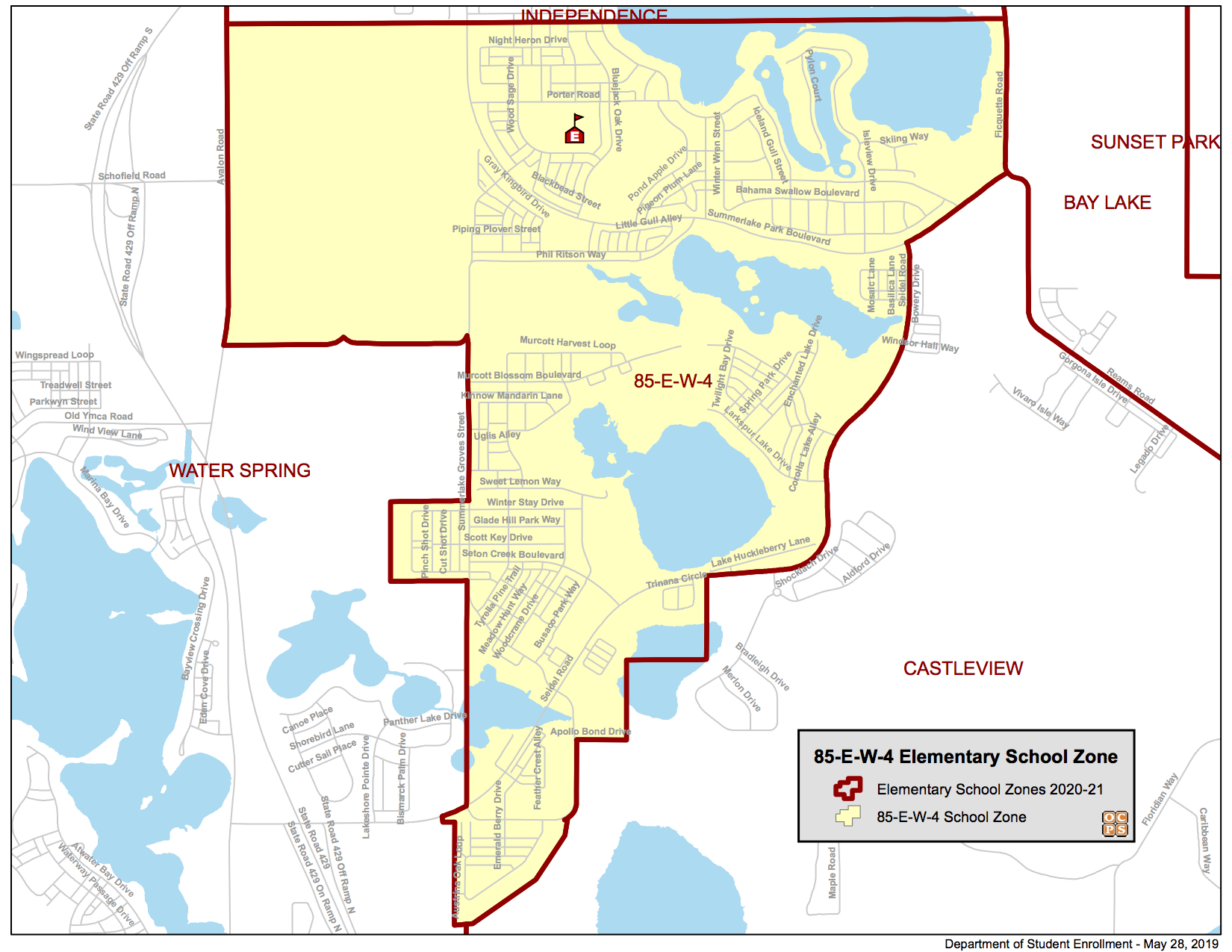 Students in the Summerlake neighborhood and surrounding area will attend their new school once the 2020-21 school year begins in August. 
Site 85-E-W-4 is located at 15450 Porter Road, Winter Garden, and will relieve Independence, Keene's Crossing and Water Spring elementary schools. The $24.3 million school is situated on 14.8 acres just east of Summerlake Park Boulevard, with Orange County National Golf Center and Lodge to the west.
According to site plans, the two-story building totals 92,142 square feet. There is room for 116 parking spaces and a car queuing area that can hold 176 cars. Parents, staff and visitors will enter off Porter Road, while the buses have a separate entrance off Wood Sage Drive.
The school includes an administration office, a multipurpose/cafeteria room, a media center, art and music labs, multipurpose labs, classrooms, a covered play area, an expanded parking lot and student drop-off loop, and more. 
There is a capacity of 837 students, and OCPS projects an enrollment of 1,087 upon opening in fall 2020. In December, all of the school's walls were up and structural steel installation was underway. Additionally, all the roofs are on. The school is slated to be completed in June.
As of mid-December, according to OCPS enrollment documents, the three schools surrounding site 85-E-W-4 all are overcrowded. As the fourth elementary school in the area, the new site will help accommodate the rapid growth that is causing overcrowding challenges in Horizon West.
Independence Elementary has a capacity of 786 students, Water Spring Elementary can serve 791 and Keene's Crossing is capped at 812. Mid-December enrollment numbers have Independence at 1,131 students, Water Spring at 979 and Keene's Crossing at 1,211. 
REZONING NEAR SAND LAKE
While another new elementary school — site 20-E-SW-4 — off International Drive is just outside of West Orange's borders, Dr. Phillips' Sand Lake Elementary will be affected by its opening in the form of students being rezoned from nearby Tangelo Park Elementary.
Located at 13225 International Drive, Orlando, this school will impact zoning for seven nearby elementary schools — Sadler, Sand Lake, Shingle Creek, Tangelo Park, Waterbridge, West Creek and Winegard. Orange County District 4 School Board Member Pam Gould said although the Dr. Phillips and International Drive areas are not growing at as quickly a pace as the Lake Nona and Horizon West areas, the growth is still there.
"If you go back to county planning and look at residences, all of that originally was going to be timeshare and hotels — (almost) all of it is converting to residences," Gould said. "There are large chunks … that (were) converted into residential, so we were already getting crowded with a lot of the new development and generational changes happening along the Central Florida Parkway area."
Sand Lake Elementary has a capacity of 768 students. And although it currently only has 517 as of mid-December, part of that is because Castleview Elementary contributed to some of the relief for the 2019-20 year. Lauren Roth, senior manager of of facilities communications at OCPS, said that some Tangelo Park students will be rezoned to Sand Lake to redistribute enrollment and prevent site 20-E-SW-4 from opening overcrowded.
OCPS projects an enrollment of 625 at Sand Lake and 935 at site 20-E-SW-4 for 2020-21.
GROWING PAINS
Although Windermere High opened just two years ago, it already has been facing the issue of overcrowding exacerbated by Horizon West's rapid rate of growth.
The school was built with a capacity for 2,776 students, but as of mid-December had an enrollment of 3,943. Dr. Phillips High, with a capacity of 2,798, currently serves 3,785 students.
Both have relief high schools on the way — and both relief schools already have been pushed up to 2021. However, it means another one-and-a-half school years of managing overcrowding.
At Dr. Phillips, there is the benefit of the old ninth-grade center to help offset overcrowded lunches. The center provides another cafeteria space, alleviating the issue of students not having adequate space to eat. Additionally, the campus also had room for more core structure.
"Because of the way that school was originally laid out — how old it is and how it expanded its footprint over time — it's just been more manageable," Gould said. "We added an administration building there when we did the renovations, so they ended up with more core structure there. Of course it's (also) more of a spread-out school — it doesn't go vertical like Windermere High does — so you have a larger footprint for the school there."
But for Windermere High, staff and administration have to get a little creative to find temporary solutions. Even with adjusting the schedules, students at the school still experience the effects of overcrowding at lunchtime.
Gould said the same issue occurred at West Orange High before Windermere opened. Solutions included adding more tables and places where students could eat lunch, as well as expanding lunch hours and even bringing in food trucks.
In general, Gould said, managing the student population until relief arrives includes adding staff, portable space and more choices in extracurricular activities.
"You just keep on delivering programs wherever you can and you have a really good team, as we do at Windermere High, to manage the crowds," she said. "Then everybody feels like they're getting what they need. … The other thing that Windermere had, which will be nice to get back to, is that collaborative space."
OCPS can only build schools when enrollment is sufficient to support an additional school and when fiscal resources are in place. There is no specific rate or formula that determines when a school will be relieved.
"OCPS does not have adequate funding to build schools before they are needed, but aims to make the best use of available dollars by opening new schools when there are enough students to fill them," Roth said.
Since Gould was elected, the growth in Horizon West has spurred the need to push up multiple relief schools in District 4. The half-penny sales tax has made much of this possible. Things are moving fast, Gould said, but it's still not fast enough.
"We are moving as fast as we can with the money we have," Gould said. "People don't recognize the really incredible amount of schools we've built compared to any other county in the state."