The Friends of Lake Apopka organization has spent nearly 30 years advocating for Lake Apopka, once considered one of Florida's most polluted lakes. Consistent dedication from this and other groups has led to an improved lake quality and the return of wildlife to its shores.
With the improvements comes the community's desire to get outside and enjoy the lakefront amenities.
Orange County District 1 Commissioner Betsy VanderLey has been instrumental in helping connect the West Orange Trail to a new trail that will loop around the lake.
For her work and her support, FOLA honored VanderLey with the Jim Thomas Environmental Hero Award for 2020 at the organization's Nov. 12 meeting at the Oakland Nature Preserve.
The award — in its second year — recognizes a resident who exemplifies the passion and commitment of FOLA founder Jim Thomas and who contributes to the continued restoration of Lake Apopka. Jim Peterson received the inaugural award last year.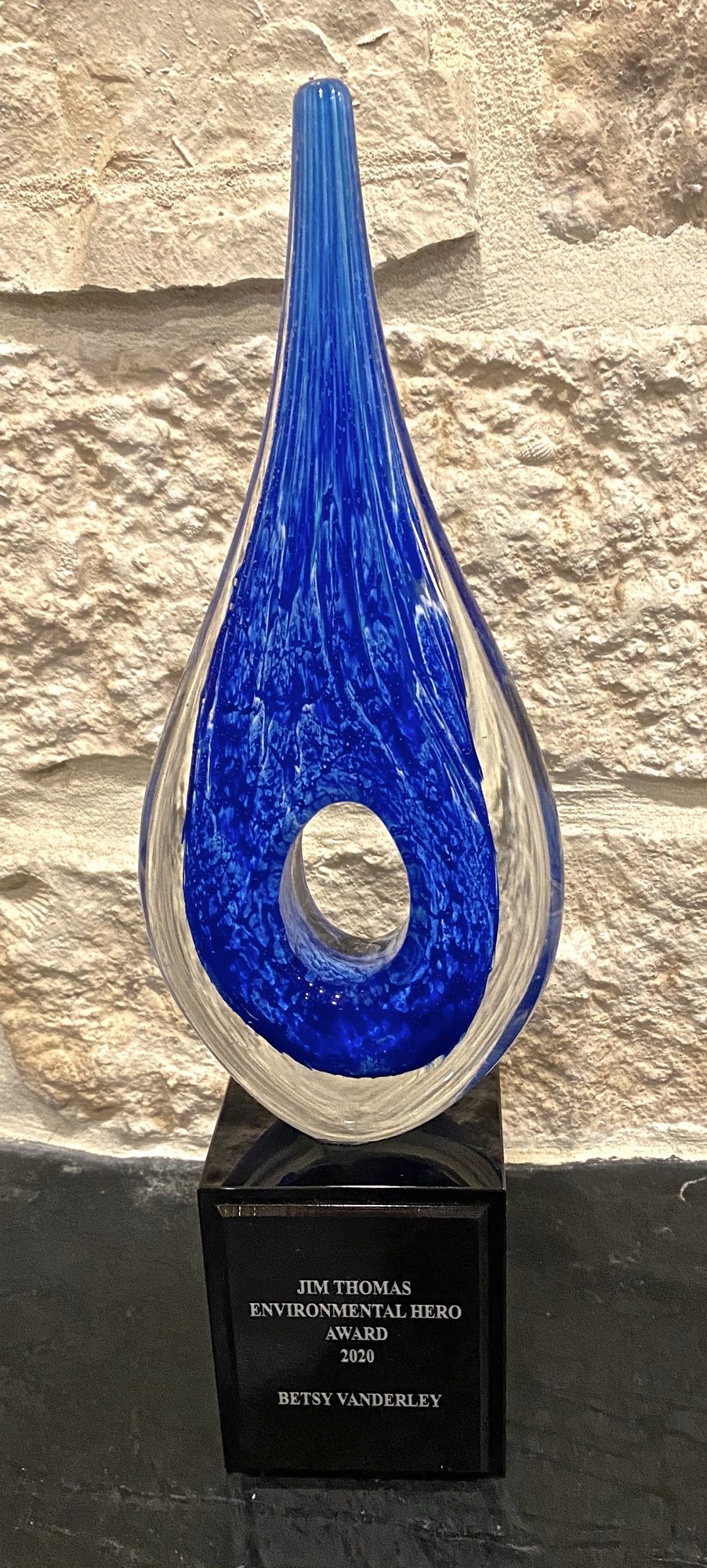 Immediate past president Joe Dunn presented VanderLey with a blue, glass sculpture and a framed description of the honor.
VanderLey led the effort to connect the West Orange Trail to Magnolia Park on the lake's shore northeast of Winter Garden.
"She helped facilitate the annexation and purchase of a key land parcel to enlarge Magnolia Park and facilitate the rights of way for the new trail," according to the framed certificate. "Her leadership on the board of MetroPlan Orlando helped create a critical component of the 40-mile cycling path around Lake Apopka. Betsy didn't just talk about the need for the trail. She went out and rode her bicycle from Winter Garden to Magnolia Park so she could understand the issues first hand."
VanderLey said she is proud to continue the work started by her father, the late Jon VanderLey, former town of Oakland mayor.
"I'm particularly honored to receive this award as my dad was very involved with the Friends of Lake Apopka at its inception and one of his dreams was to have a loop trail around the lake. I'm grateful that I get to further his dreams — and we are one step closer to the reality of that trail — and that I have been able to play a part in the ongoing efforts to restore our lake."
"Betsy's family has been protecting Lake Apopka for many years," the certificate read. "Her father, as mayor of Oakland, was instrumental in the creation of Oakland Nature Preserve. She continued the family passion for our local environment as the Orange County District 1 commissioner."
Among VanderLey's work, she reached out to her colleagues in Lake County to encourage them to "Connect the Trails" between Green Mountain and Hancock Road Trail.
"In just a few years we will have a safe cycling trail around Florida's fourth-largest lake, and Betsy was instrumental in making that happen," FOLA official said. "Betsy has also been active in supporting SJRWMD efforts to further restore Lake Apopka, including the 'Pay by the Pound' phosphorus removal project and dredging initiatives.
VanderLey's family joined her at the award presentation; as did FOLA board members Joe Kilsheimer, president, and Peterson, 2019 award winner and ONP president.
Other community leaders present were Scott Boyd, former Orange County commissioner; Pam Gould, CEO of Shepherd's Hope; Bryan Nelson, mayor of Apopka; Rick Polland, town commissioner, and Steve Koontz, town manager, of the town of Oakland; Krista Carter, vice president of the West Orange Chamber of Commerce; and Jennifer Hunt, Oakland Nature Preserve director.
Thomas is an environmental biologist who helped organize FOLA, a citizen advocacy group, in 1991 to improve the area's environmental health and restore Lake Apopka to its once-pristine condition.
Once a fishing paradise, Lake Apopka endured nearly five decades of pollution along its shores, creating one of Florida's most polluted lakes.
FOLA appealed to agricultural interests to change farming practices and sough public support to restore the lake. today, the group continues actively advocating for a healthy lake by supporting efforts for recreational trails and access to the lake.