The Oakland Town Commission approved the final budget for Fiscal Year 2020-21 at its Sept. 22 meeting. For the next year, which began Oct. 1, the town will operate with a budget of $21,460,631.
Three funds make up the town's budget: the General Fund, approved at $6,303,364; the Impact Fees fund, at $5,334,728; the Utility Fund, at $4,024,156; and Oakland Avenue Charter School, at $5,798,383.
Town Manager Steve Koontz said in a previous memo to the commission: "The budget is intended to be a status-quo budget to the extent possible. There is much uncertainty with the health of the U.S. economy, and this budget includes a decline in sales tax revenues from the previous year. … It is a staff priority to continue to reduce the millage, and there should be opportunities in coming years to do so as the economy stabilizes and commercial development moves forward in the town."
MILLAGE RATE
The approved millage rate for Fiscal Year 2020-21 is 6.5, which is the same millage rate as the previous fiscal year but less than the year before.
In recent years, the town has worked to lower the millage rate yearly, but the Town Commission took precautions for the upcoming fiscal year.
The 2018-19 millage rate was 6.65. For nine years prior to that, it held steady at 6.75.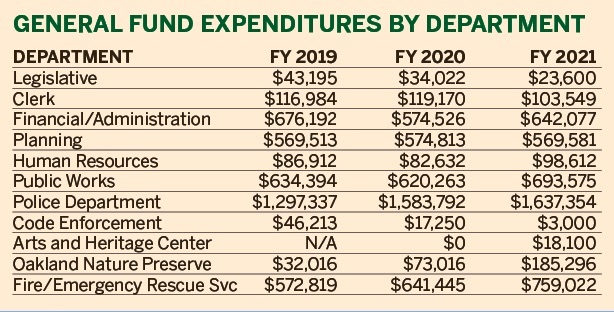 OAKLAND NATURE PRESERVE
The 128-acre Oakland Nature Preserve is a 501©3 nonprofit organization that is owned by the town but operates under its own budget.
Compensation dollars last year were $60,000, compared to $123,960 this year. Payroll taxes, retirement, group health insurance and Workers' Compensation insurance were at zero last year, compared to $9,484, $5,002, $30,000 and $350, respectively.
Another rise in rates occurred in the general liability insurance, going from $4,916 last year to $8,000 this year.
IMPACT FEE FUND
A number of capital improvements totaling $5,334,728 are in this year's budget. The major ones include:
• Water system — water well No. 3 design, $100,000; alternative water design, $100,000; reserves for future projects, $429,019
• Wastewater system — Longleaf at Oakland wastewater expansion per developer's agreement, $212,000; reserves for future projects, $55,725
• Parks and recreation — Speer Park Phase 2, sports courts, $85,000; Speer Park playgrounds, $180,000; Sadler Avenue trail extension, $100,000; Jake Voss Pier ADA improvements, $35,000; reserves, $267,868
• Law enforcement — body cameras, $75,000; reserves, $198,609
• Transportation — Oakland Avenue roundabout, $1,000,000; Starr Street/West Colonial Drive development, $100,000; reserves for future projects, $1,596,766
• Administrative facilities — facility and town center plan, $25,000; reserves for future projects, $153,734
• Fire protection — hydrant upgrades, $25,000; reserves, $76,007.
OAKLAND AVENUE CHARTER SCHOOL
The Oakland Avenue Charter School is owned by the town of Oakland and operates under its own budget. For Fiscal Year 2020-21, the school's total expenses are budgeted at $5,413,207. The net operating income is -$85,058. The estimated beginning fund balance is $470,234. Estimated reserves are $385,176.
The basic instructional costs are among the biggest expenses at OACS: salaries, at $1,682,835; Social Security, at $121,727; and group insurance, at $355,200. Other major expenses include salaries for ESE and ESOL instructors, at $100,657; VPK staff, at $121,420; school administration, at $175,114; the custodial team, at $121,358; and food service employees, at $75,000.
Management fees are $151,000, repairs and preventative maintenance costs are $135,000, and electricity fees are $140,000. The cost to rent the school facility is $720,000.