Ocoee city officials made the short trek from City Hall to the intersection of Bluford Avenue and McKey Street Tuesday, May 4, to celebrate a ceremonial beam signing for the new City Hall that is currently under construction.
Inside the steel infrastructure that currently takes up most of the construction site, Mayor Rusty Johnson, the city's commissioners, city staff and Wharton-Smith Inc. — the city's contractor — gathered for the moment.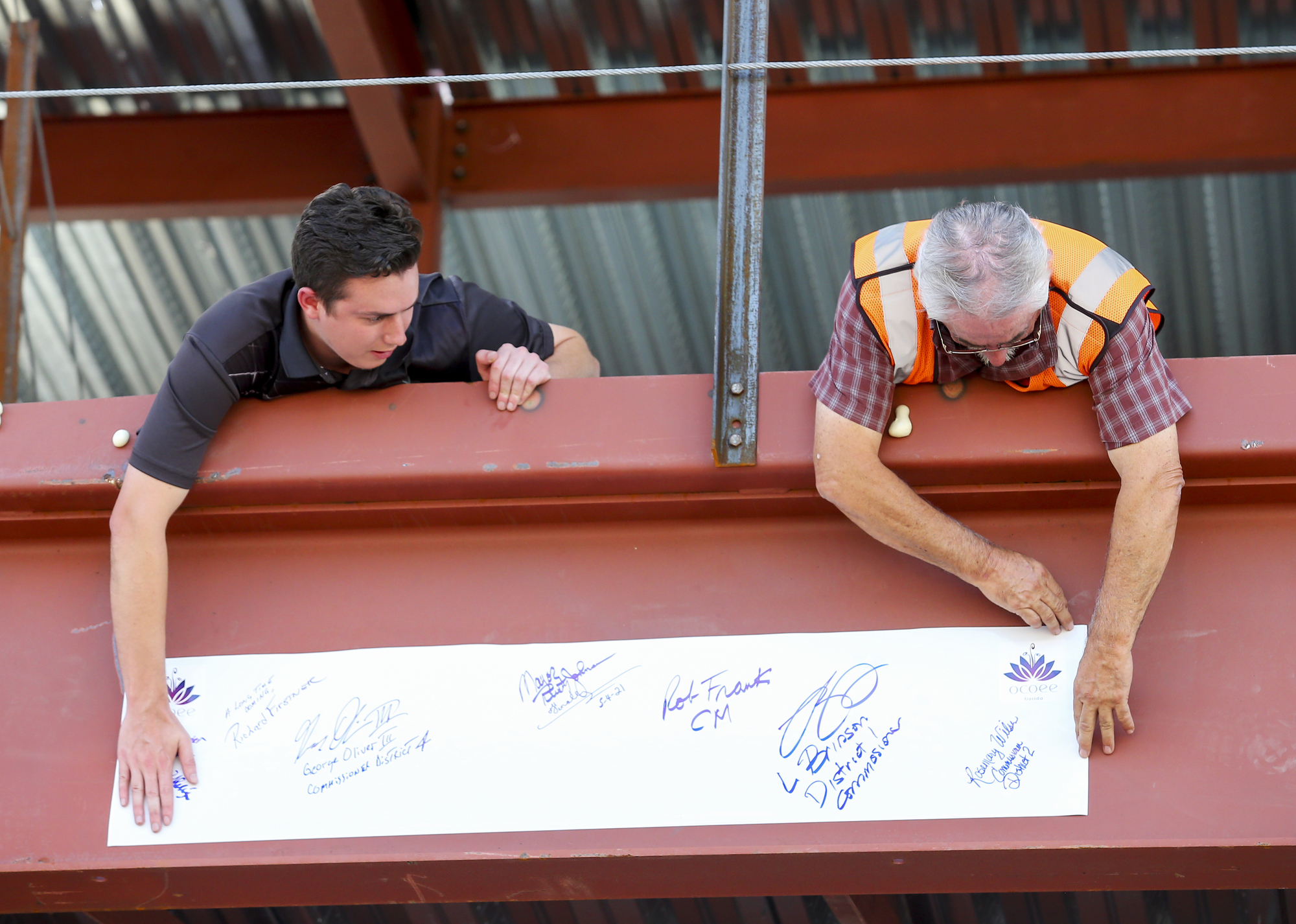 "We've been waiting a long time to get to this point," Johnson said. "I ride by every morning, and I say, 'Finally,' so we're glad that it looks like everything is going great and everyone is doing good. We're looking forward to when it's finished (and) when we can get in it.
"I think all of the commissioners are here — Commissioner Firstner, Commissioner Oliver, Commissioner Wilsen and Commissioner Brinson — so I don't want to speak for them, but I can tell you that I'm real pleased to see this," he said. "It's been a long time coming, and we're glad to be here."
Following Johnson's speech, commissioners and city staff members picked up their markers to sign a piece of white vinyl that was then placed onto a beam facing McKey Street.
The new City Hall — located just two blocks south of the current building — will be 46,552 square feet and stand at three stories. The new facility also will bring city services under one roof, with extra space to accommodate future growth.
Overall, the new structure will cost $21,993,942 — construction ($17,255,537), furniture/fixtures/equipment ($2.6 million), miscellaneous ($603,944) and project contingency ($1,534,461).
The beam signing was the latest ceremony for the new facility; the city hosted a ceremonial groundbreaking in November 2020.
Construction is scheduled to be completed in May 2022.