As the west and southwest portions of Orange County continue to grow in population, the need for more schools increases. For the 2021-22 school year, two high schools, Horizon and Lake Buena Vista, and one middle school, Water Spring, opened in the Horizon West area of the county to alleviate overcrowding in neighboring schools.
It's happening again later this year when three more relief campuses open. Two elementary schools and a middle school currently are under construction in the Horizon West area of Winter Garden. All are in the West Learning Community in Orange County School Board member Pam Gould's District 4.
"We continue to plan for the growth in West Orange," Gould said. "We're very blessed and lucky to be able to open three new schools when many districts can't do the same kinds of things that we've been able to do. It's partly because of the half-penny sales tax — and good planning.
"It's never as fast as we want it to be, but at least we have things in cue and they keep steadily opening," she said.
Lauren Roth, senior manager of Facilities Communications with Orange County Public Schools, said the 2022 schools will build on recent improvements and innovations and include low-flow water fixtures; Xeriscape landscaping; reduced heat island effect by using reflective roofing membranes; energy-efficient HVAC systems with high-efficiency air filtration; and Low E glazing window systems.
These schools will continue the traditional 1-1 digital education with every student having his or her own device.
The opening of the two elementary schools will alleviate crowding at several area schools. The projected student body numbers are: Water Spring Elementary, 995, when both new elementary schools pull from its attendance zone; Whispering Oak, 890; Independence, 1,045; Keene's Crossing, 1,095; Summerlake, 725; and Castleview, 765.
Although the two new elementary schools will be similar, there will be differences between the two campuses because two architects were used. They both will have administration offices, multipurpose/cafeteria space, kitchen, media center, art and music labs, computer and multipurpose labs, classrooms, a covered play area, hard courts and playgrounds, covered walkways, expanded parking lot and student drop-off loop, and a secure campus with one public entrance.
The middle school will open with a projected 915 students. The surrounding middle schools will see a change in their projected student body numbers: Bridgewater, 1,235; Horizon West, 1,255; and SunRidge, 1,235.
The middle school will share land with one of the elementaries. This campus will have all the same amenities as the new elementary schools with the exception of a track and field area instead of a covered play area and playgrounds.
SITE 89-E-W-4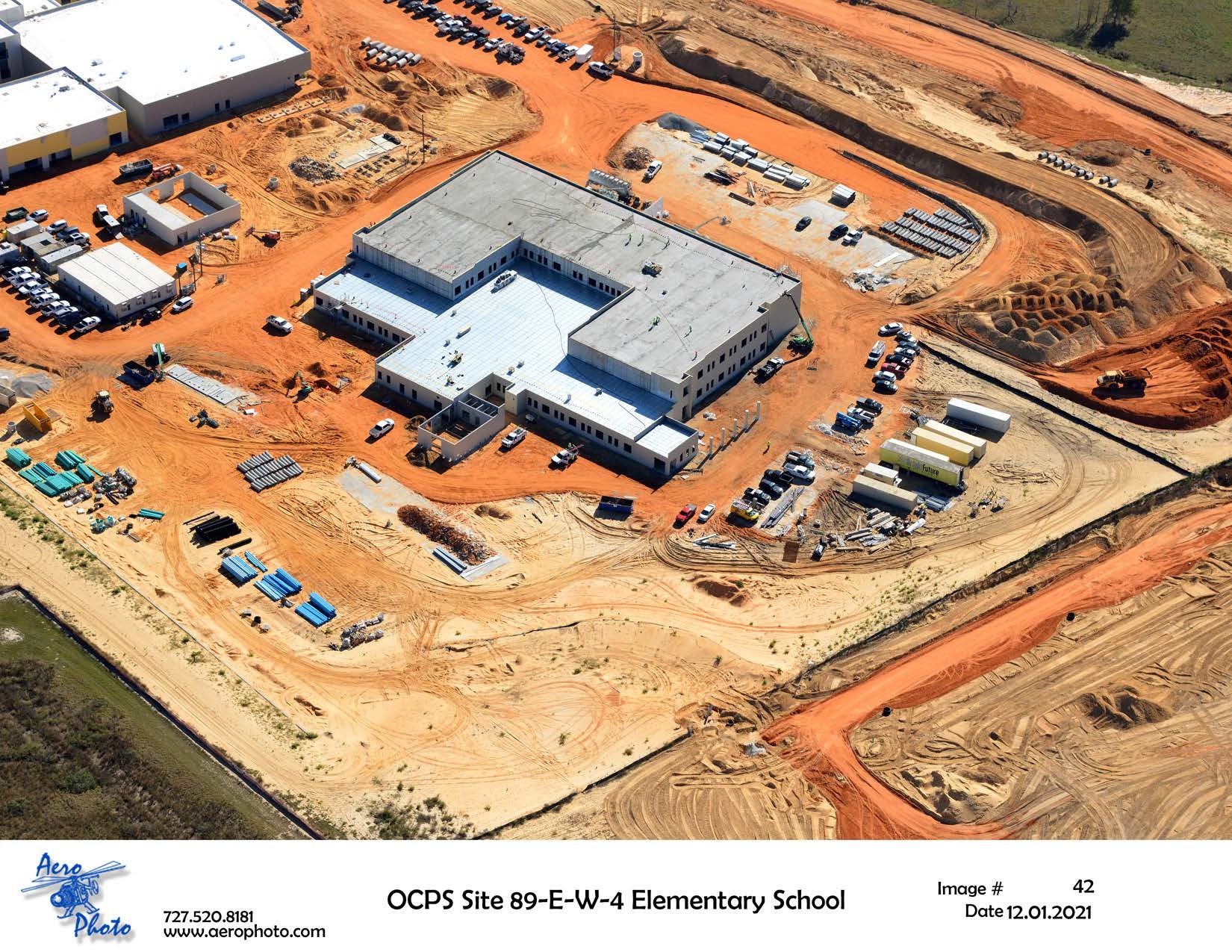 An elementary school, temporarily called Site 89-E-W-4, is being constructed in the Town Center area of Horizon West. It is located at 16145 Silver Grove Blvd., Winter Garden, and will reduce overcrowding at Water Spring and Whispering Oak elementaries and is expected to open with about 515 students.
SchenkelShultz is the architect for the project, and this prototype also was used at Water Spring, Bay Lake, Independence and Keene's Crossing elementary schools.
Construction continues with exterior painting, lightweight concrete for the roofing system, layout of interior walls, fireproofing of interior structural members, concrete pours in stairwells and installation of upper-level roofing membrane.
The construction is slated for completion in June, in time for the first day of school in August. The 88,900-square-foot school sits on 13.5 acres and will have a student capacity of 837.
The SchenkelShultz-designed school is being built by contracting company Welbro with a budget of $23.2 million.
This elementary school and the new middle school are being built on one large tract of land north of Lake Ingram Road in the Silverleaf Planned Development.
SITE 114-E-W-4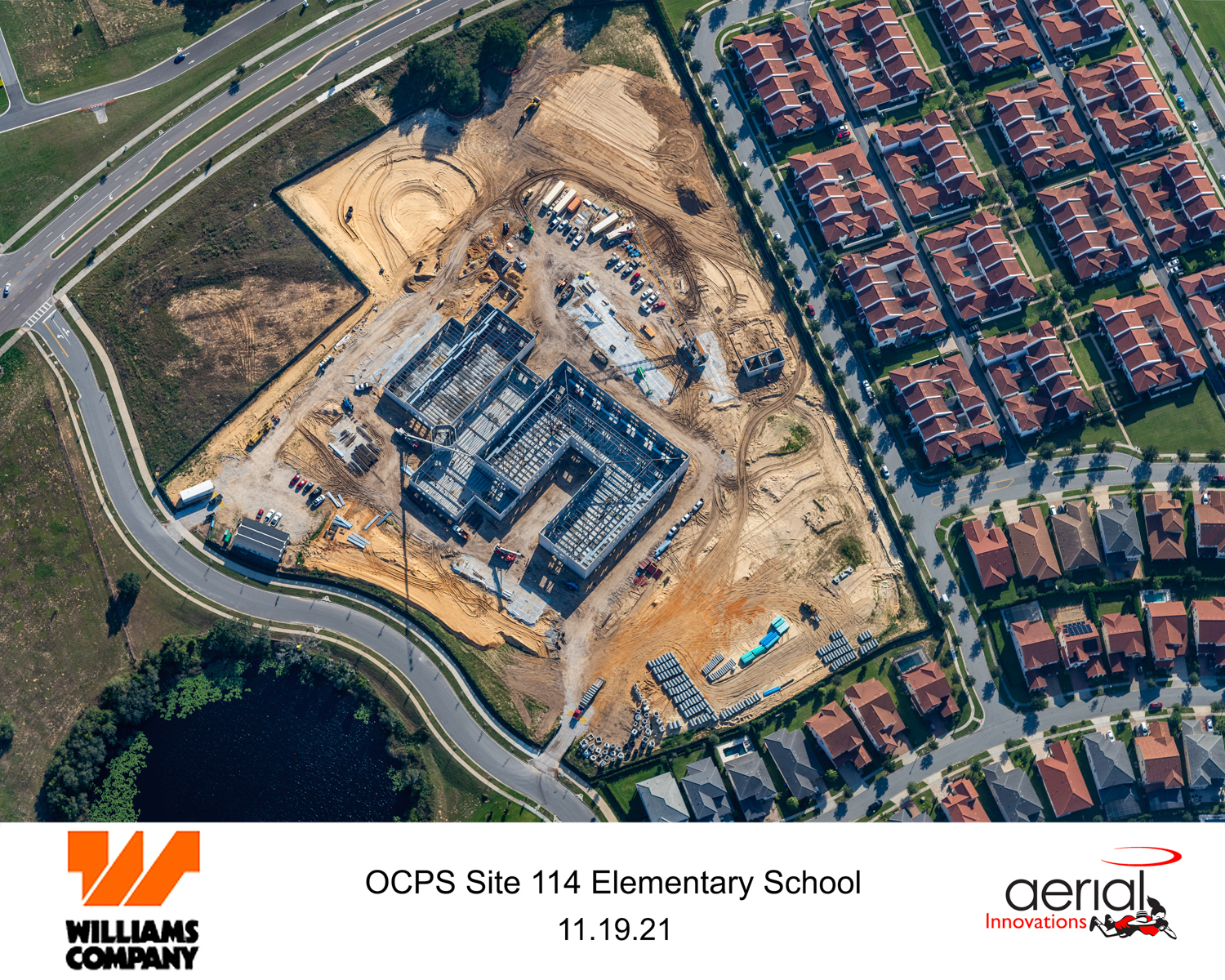 The second elementary school coming to the Seidel Road area of Horizon West is currently being called Site 114-E-W-4. It is under construction at 1051 Summerlake Groves St., Winter Garden — across the street from Horizon High School.
This school will pull its students from Water Spring, Summerlake and Castleview elementary schools. It is expected to open with about 765 students.
Construction continues, as tilt panel walls have been set in place and exterior painting is underway. Underground storm and site electrical, as well as installation of the roof membrane, was in progress at the end of last year.
The project is on target for a June completion date, ahead of the start of the school year. The school is on 13.5 acres with a gross floor area of 94,369 square feet and a school capacity of 837.
The architect is BRPH, and the contractor is Williams Co. The budgeted amount was $28.2 million.
SITE 132-M-W-4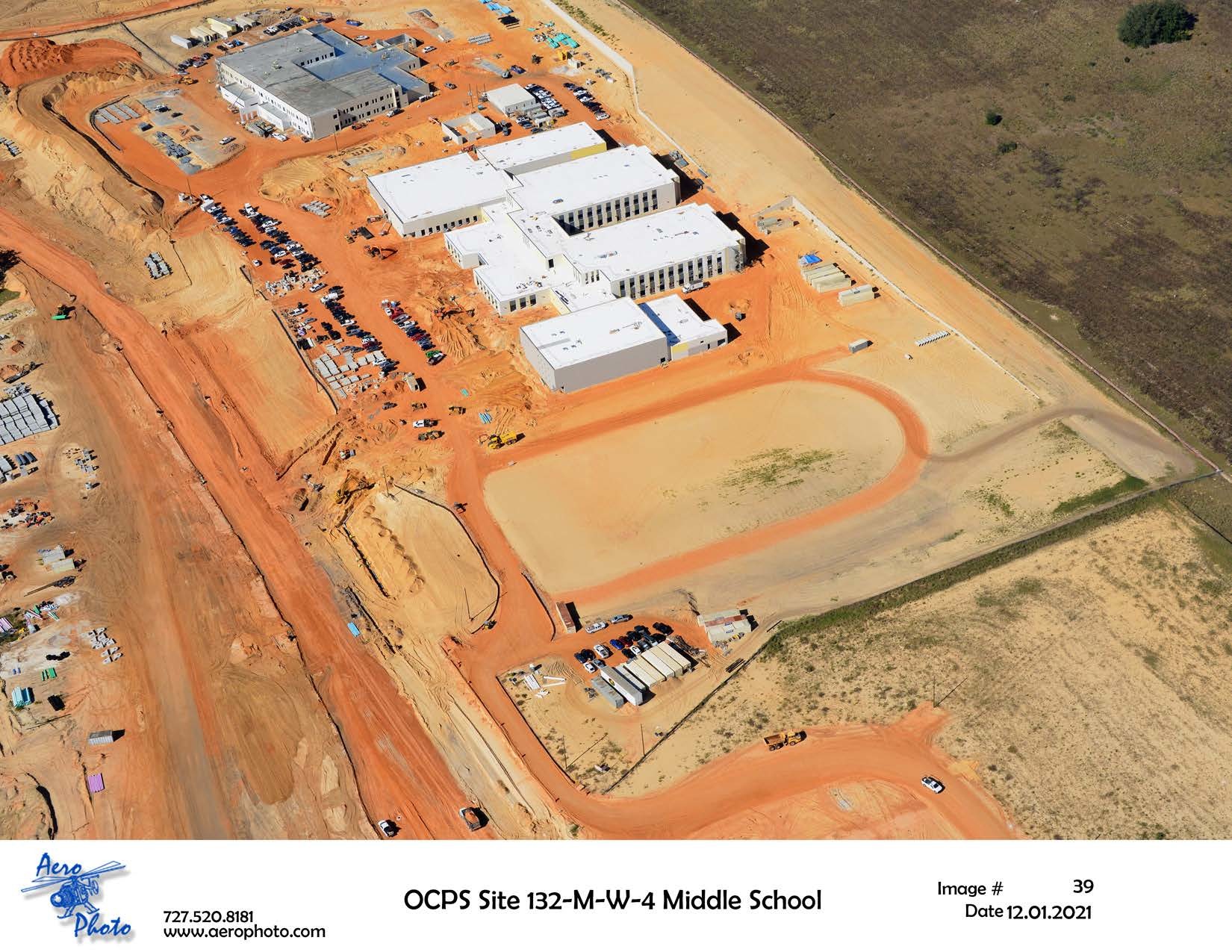 Southwest Orange County is getting a new middle school, too. Site 132-M-W-4 will be located at 16025 Silver Grove Blvd., Winter Garden, in the Horizon West/Town Center area — sharing a piece of property with one of the new elementary schools.
The middle school is being built to relieve overcrowding at Bridgewater and SunRidge middle schools by about 500 and 100, respectively.
Construction is expected to be finished by May, and the school will open in August with a student capacity of 1,215. The school sits on 20 acres and will encompass 192,408 square feet. The middle school was budgeted for $41.3 million. The contractor is Welbro, and the campus will look similar to Horizon West and Innovation middle schools.
WATER SPRING MIDDLE
Water Spring Middle School opened August 2021 — not on its own campus but in one wing of Horizon High School.
A permanent facility will be built at 17000 Water Spring Blvd., Winter Garden. Construction on the campus will be completed and ready for students and staff in August 2023.
A virtual 100% project design meeting will be held from 5:30 to 6:30 p.m. Jan. 18. Gould invites the community to attend via WebEx to hear details about the completed design and the construction plans for the campus.
To register for and connect to the meeting, visit tinyurl.com/WSMS100. For information, call Roth at (407) 317-3774.
Currently, Andrew Jackson is principal of both Horizon High and Water Spring Middle; a separate principal will be hired for Water Spring when it moves to its own campus.
THE NEXT STEPS
The three principals' positions were advertised last month, and interviews were planned. After the area superintendent sends recommendations to Superintendent Barbara Jenkins, she will recommend the top candidates to the School Board for approval this month. The new principals also will start the interviewing process for teachers from feeder schools in January. In the spring, the schools' name, mascot and colors will be decided.
According to OCPS' Long Range Capital Improvement Plan for Additional Schools, which was updated July 27, other District 4 schools planned for the future are Water Spring Middle, whose campus will open in 2023; two elementary schools on the west side in 2024 and 2027; a middle school to the southwest in 2028; and an elementary school to the southwest in 2030.
Through the 2021-22 school year, the district has opened 59 new schools and renovated or replaced 132 schools.
This long-term construction plan is possible because of the half-penny sales tax voters approved in 2003 and extended in 2014, plus residential development impact fees.