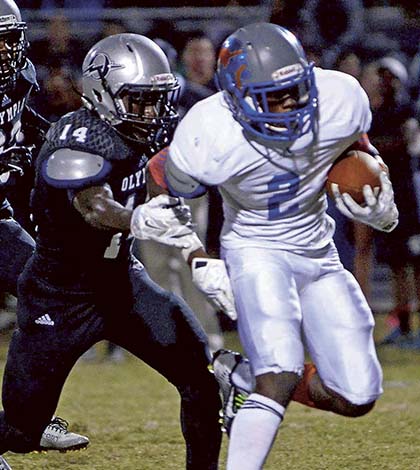 The Florida High School Athletic Association released its tentative reclassifications and redistricts for football on Dec. 15 and, as things currently stand, the new-look districts will affect four of the five area programs that compete in district competition.
The classification and district cycle is reset every four years and teams have until Jan. 15, 2015, to appeal.
The most significant change for area programs was the move of Olympia — which had formerly competed in Class 8A's District 4 with West Orange, Evans and Apopka — to Class 8A District 5. That move essentially substitutes one rival for another, with the Titans swapping the Warriors for Dr. Phillips as district rivals.
Olympia's departure from 8A-4 was met with two additions. Wekiva, formerly competing at the Class 7A level, joins West Orange, the Trojans and the Blue Darters, as does West Port, a school in Ocala.
The addition of West Port, a school that is an estimated hour and a half's drive from West Orange's Winter Garden campus, could create travel concerns.
Joining the Titans in 8A-5 are Dr. Phillips — which has utterly dominated the district in recent years — Cypress Creek and Freedom, who were previously in the district, as well as Oak Ridge, a new addition.
Oak Ridge was the district champion in Class 7A District 4 this past season and figures to be an immediate challenger to the Panthers' supremacy. Departing from 8A-5 after an annual rivalry match with DP is Boone, which moves over to 8A-3.
One of the goals of reclassification and redistricting is to reduce oversized and undersized districts, and that goal was met for Ocoee. The Knights will continue to play in Class 7A District 4, but the district will no longer be bursting at the seam with seven teams. The new 7A-4 has five teams — Ocoee, East Ridge, Lake Howell, Hagerty (moved down from Class 8A) and Lake Minneola (moved up from Class 6A).
Even more intriguing than the Knights' district schedule being reduced from six games to four is that last year's champion (Oak Ridge), runner-up (Wekiva) and almost-runner-up (Winter Springs) from 7A-4 are all no longer in the district — giving the district a very new feel.
"I think it's very wide-open," Knights athletic director Steven McHale said. "I think it's going to be a really good, competitive battle."
Ocoee had a disappointing outing in 2014, winning just two games and seeing coach Dale Salapa resign at season's end, but 2015 already is looking favorable. The two district opponents that remained in 7A-4 just happen to be the two district opponents that the Knights defeated.
Also, with the reduction in district games, Ocoee can open up its scheduling to more nearby opponents to cut on travel costs. Last season's 7A-4 was one of the more sprawling districts in the state, with teams in three counties (Orange, Seminole and Lake).
"We'll probably pick up all Metro teams and we'll try and stay local," McHale said.
Foundation Academy, the only other local team that competes for a state championship (the other three teams — CFCA, Legacy and Windermere Prep compete in the Sunshine State Athletic Conference), saw its district remain unchanged. Class 2A District 4 still consists of the Lions, Agape Christian and Victory Christian.
Mixing it up
Though the new districts are not final for the 2015 season, pending appeals, this is what the high school football landscape figures to look like next fall:
Class 8A District 4
Five schools — Apopka, Evans, West Orange, Wekiva, West Port
Newbies: Wekiva, West Port
Departures: Olympia
Class 8A District 5
Five schools — Olympia, Oak Ridge, Cypress Creek, Dr. Phillips, Freedom
Newbies: Olympia, Oak Ridge
Departures: Boone, Colonial
Class 7A District 4
Five schools — East Ridge, Lake Howell, Ocoee, Hagerty, Lake Minneola
Newbies: Hagerty, Lake Minneola
Departures: Oak Ridge, Wekiva, Winter Springs, East River
Class 2A District 4
Three schools — Agape Christian, Foundation Academy, Victory Christian
Unchanged