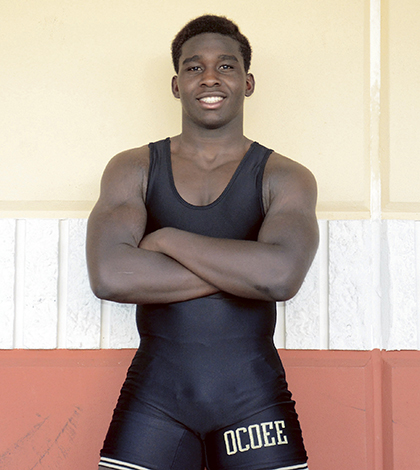 With 66 pins to his credit and a 20-4 record this season, Ocoee junior Jules Joseph has been a force for the Knights. Joseph, who came to Florida from Haiti when he was in elementary school, won by pin Jan. 28 when Ocoee hosted Oak Ridge and, in doing so, helped coach John Parmenter record his 200th victory.
You have compiled an impressive 20-4 record so far this season. What's your impression of how you've done so far?
I've done all right, considering where I was last year. I could have done a lot better, could have pushed myself a little more. There's always something you could do to get better.
Where did you improve the most between this year and last year?
This year, I'm more of a physical type of wrestler. More aggressive offensively. I got better technique-wise.
What led you to getting involved with the wrestling program at Ocoee?
I transferred (to Ocoee) from another school in the middle of football season, so I couldn't play football. I was looking for something that would keep me busy, keep me focused and keep me in shape. I started doing wrestling. I wasn't that serious about it, at first, but I fell in love with the sport.
How do you think the team has done so far this season?
This year we're doing a lot better than we've done in the past couple of years. This year, we have new guys stepping up into roles they've never done before, and it's really amazing, because we're more of a team and more of a family now. In the long run, that makes everybody better.
What aspect of competition do you enjoy the most when you're out on the mat?
I like how it's basically like a war; it's like a full-on battle between two guys. At the end, it's not about who's stronger and who has more technique — it's about who has more will and who wants it more.
What's your personal goal for the rest of the season?
My goal is basically the same as most wrestlers — win states. And I'm not going to stop until I do it.
What's your hope for the team the rest of the way?
I want the team to win titles — I want us to win the Metro Title, the district title, regionals, states. Even if I don't win states, I want the team to be good to a point where we can win states as a team.
How happy are you for coach Parmenter getting his 200th win?
It was amazing. I'm just glad I got to be a part of that. 'Coach P' is really good.
What's it like balancing wrestling, football and weightlifting along with your classwork?
Sometimes, it can be a little challenging, focusing on school and three different sports, but when you have a passion for it, it becomes easy.
What's your favorite sport to watch on television?
My favorite sport would probably have to be between football and college wrestling.
Do you see yourself being able to wrestle in college?
I can if I can focus and have a really good season; finish strong. That would be something I would love to do.
What's your favorite school subject?
I love English. I really like reading. When I first came in from Haiti, I couldn't speak any English, so that's my main focus, and I just fell in love with it.
So what is the last book you read?
"Forgive Me, Leonard Peacock." It was a really good book about a teen and bullying issues.
What do you think you'd like to do for a career after college?
I want to be a lawyer. I want to be a defense attorney.
What's a movie you have been wanting to see?
A movie I want to see is "Selma." Growing up as a kid, he really inspired me because he stood up for what he believed in.