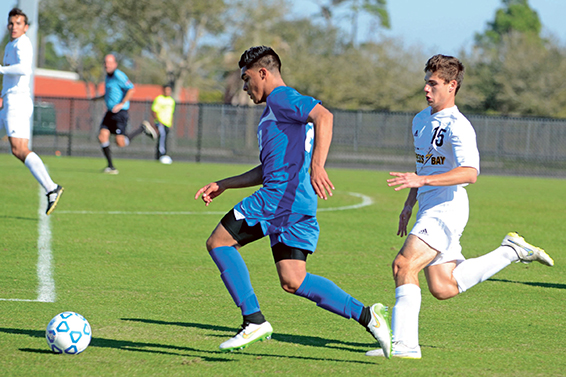 MELBOURNE — It was supposed to be a rebuilding year.
After graduating 13 seniors from the 2013-14 team's roster, West Orange boys soccer was supposed to be rebuilding this season. District rivals saw an opportunity on which they might capitalize.
Of course, that's not how it played out.
The Warriors made it all the way to the FHSAA Class 5A State Championship match over the weekend, falling in a game that took all 80 minutes of regulation, 20 minutes of overtime and penalty kicks to settle.
Sure, the young men on the team and their supporters were bummed about a 2-1 (4-1 PKs) defeat at the hands of Cypress Bay — a dynastic program in Class 5A that has won four of the last five state titles and also beat West Orange in its only other state championship appearance in 2013.
But everyone — from the players to the parents to the coaches to the community at large — should be proud. 
This program has achieved one of the most valuable things you can achieve in high-school sports, and it's not a state-title banner. It's a winning culture — a consistency of success. 
Here's all you need to know about the Warriors boys soccer program over the past six seasons: The Warriors have made the state playoffs every year since the 2009-10 season, have won five consecutive district championships and have played for two state championships. 
For a school that previously had never had a boys team sport play for a state championship, that's impressive.
Sure, both this year's team and the 2012-13 team would love to have a ring. 
But the one thing I like to remind everyone about with high-school sports and the playoffs for each respective sport is the fickle nature of single-elimination tournaments. So often, games between two evenly matched teams can go either way, and this weekend was no exception.
Saturday's state championship could have gone either way — but, then again, so could have Friday's state semifinal against Freedom, a game the Warriors won in penalty kicks.
State titles are a funny thing, and sometimes, the ball just doesn't bounce your way, as the cliché goes. But, what programs can control and aspire to is to be good each and every year. It's something West Orange has accomplished for the better half of a decade now, and something senior Felipe Silva, who has started in two state-championship matches, was able to put in perspective even after a crushing defeat.
"We made it this far; that's all that matters … it's a big accomplishment for our team," Silva said. "It's a great chance to be part of a team that can make it to the state finals (twice) … to be a part of a team like this, it's an honor. I'm sure our school is proud of us."
It is, and so is the West Orange community.
DP boys hoops continues streak
Speaking of winning culture and consistency in excellence, the Dr. Phillips boys basketball program extended its absurd run of 20-win campaigns to 22 consecutive seasons — and it did so in style.
The Panthers notched their 20th win of the 2014-15 campaign by defeating the No. 1 team in the state, the Evans Trojans, on the road — for the second time this season.
The string of 20-win seasons predates current head coach Anthony Long, who has been at the helm for 13 of the 22.
To my earlier point, Dr. Phillips has not won a state title in boys basketball yet. 
But that culture of being good, each and every year, and getting young men to buy into a system each and every year, is something to which every high-school program can aspire.