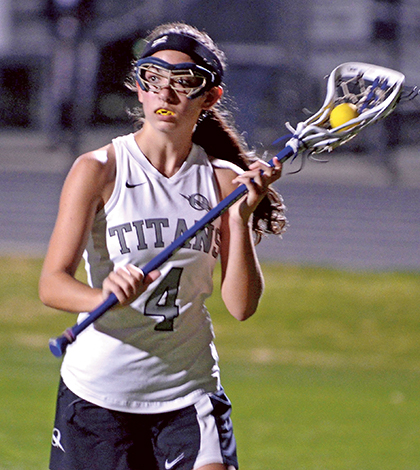 ORLANDO — Olympia senior Ashley Aken said she and her teammates have put a positive spin on their ranking near the top of the state by LaxPower.com.
As of March 2, the Titans (8-0) are No. 4 in the state and, as such, the girls never get a night where they don't get an opposing team's best shot.
"We definitely walk on the field with pride, and it's much more fun to have the energy (of a big game)," Aken said. "It's interesting to think that we always have a target on our back, but we take that as a challenge, not as an obstacle."
To that end, rather than being content, first-year coach Elyse DeLisle has succeeded in motivating her girls to want more; with Olympia's defense, in particular, being one area that the Titans are improving in — as evidenced in an 18-2 victory over Winter Park last week.
"We really preach little things — communication, ground balls," DeLisle said. "All those things were on point (against Winter Park), and I think that's kind of what kept us going, kept our momentum up. Our defense, this was probably our best game we've seen out of them so far."
Moving forward, DeLisle — who played her own varsity career at Olympia before playing at Rollins College — said her team, which certainly does not want for talent, will have to continue to grow in its ability to make adjustments on the fly.
"Learning how to play hard and smart has been huge for us," DeLisle said.