Some were born with brushes in their hand; others are new to this colorful world called art. But whether they were self-taught or professionally trained, the artists participating in the Windermere Art Affair all produce high-quality work.
Last year, more than 50 artists attended the inaugural fine art fair in downtown Windermere, which garnered support from the art community throughout West Orange County.
"I was in it last year, and it was wonderfully successful," said Alana O'Hern. "They did a great job pulling it all together. It's something special for Windermere, and it's needed."
The second annual Windermere Art Affair will be held from 11a.m. to 5 p.m. on Saturday, March 4, and Sunday, March, 5.
Here are three artists who will be attending the event.
Nick Seyler
For as long as Seyler can remember, he's had a pen or paintbrush in his hand. But it wasn't until 2012 that he delved deeper into the painting world.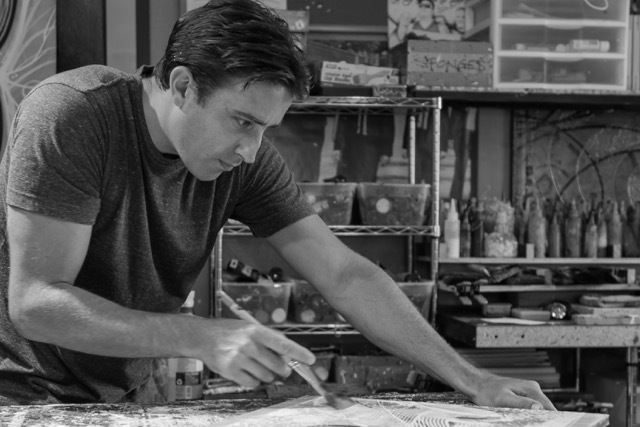 "I had a back surgery that kept me out of work for a while, so I had a lot of time to kill," he said.
Working with acrylics, Seyler began experimenting with his art, layering colors on top of each other to create abstract pieces.
"The freedom of it to do whatever I want and to put down colors, it's just having fun with it," he said. "With abstract stuff, there's no form or function to it. It's all just really colorful, and there's a lot of texture to it."
He works in layers, painting one layer of color at a time and letting it dry before adding to a piece.
But it can take him a while to finish a painting since he works as a firefighter/paramedic with the Brevard County Fire Department.
He attended the Windermere Art Affair last year, and said he is looking forward to showcasing his art again and meeting fellow artists.
"I was invited back to participate again, and I'm pretty excited about it," Seyler said. "It's going to be fun. Being around all those (artists) makes me more motivated to do specific kinds of art. It's cool to be around."
Alana O'Hern 
O'Hern's foray into art began on a family vacation. She stopped at an art store to pick up painting supplies so she and her children could paint together on the trip.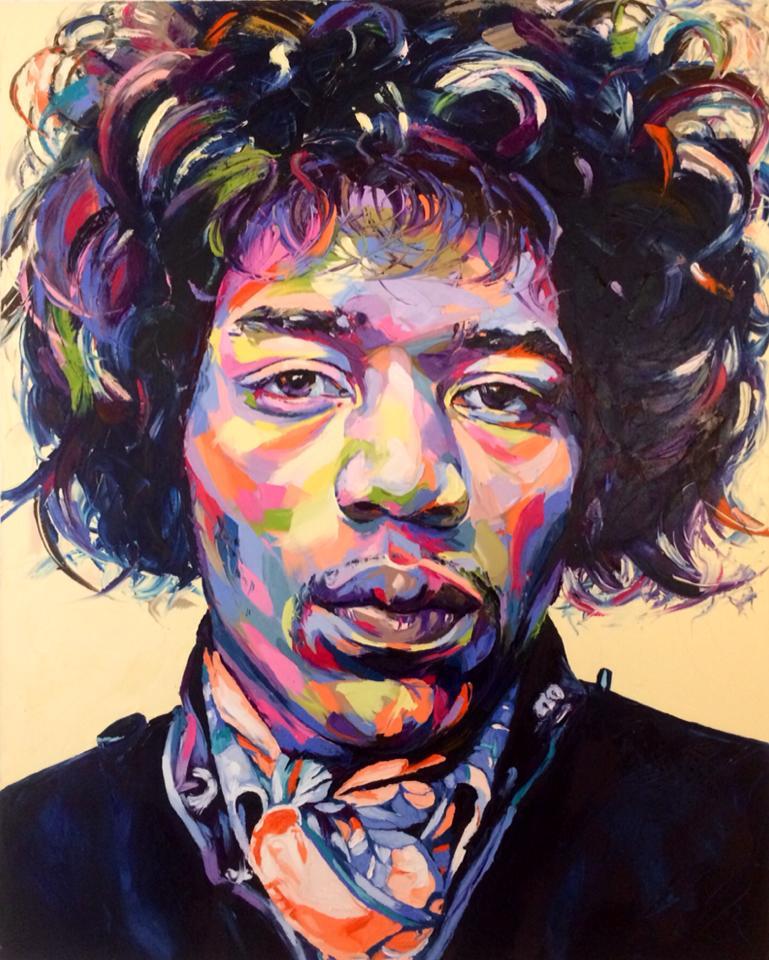 "I ended up painting this terrible self portrait, but I loved the way it felt - painting with a knife," she said. "When we came home, I started painting large portraits."
She painted 23 portraits in her first year and quickly became a commissioned artist.
"I never felt like an artist until I picked up that palette knife," O'Hern said.
Her medium of choice is oil paints, and she uses a knife instead of brushes.
"You can let it be free and follow where it takes you," O'Hern said. "When you stand up close (to one of my paintings), you can't make any sense out of it, but it comes together when you step away."
Her portraits are larger-than-life, some reaching a height of six feet tall. Lately, she has stepped away from portraits and begun painting classic cars. 
The beauty of art is all about the artistic process, she said.
"You get lost in that; it's a state you go into," O'Hern said. "I'm trying to do a jigsaw puzzle - that's how I think of it. You're not thinking of anything else but putting a puzzle together. It's grounding and you get wrapped up in where you are."
Sophia Paleotheodoros
A lifelong resident of Montreal, Canada, Paleotheodoros fell in love with art as a child and went on to study it in college. She eventually started her own business - Sophia Decor - painting faux finish effects on walls that looked like wallpaper, brick or marble. Then requests for paintings started trickling in.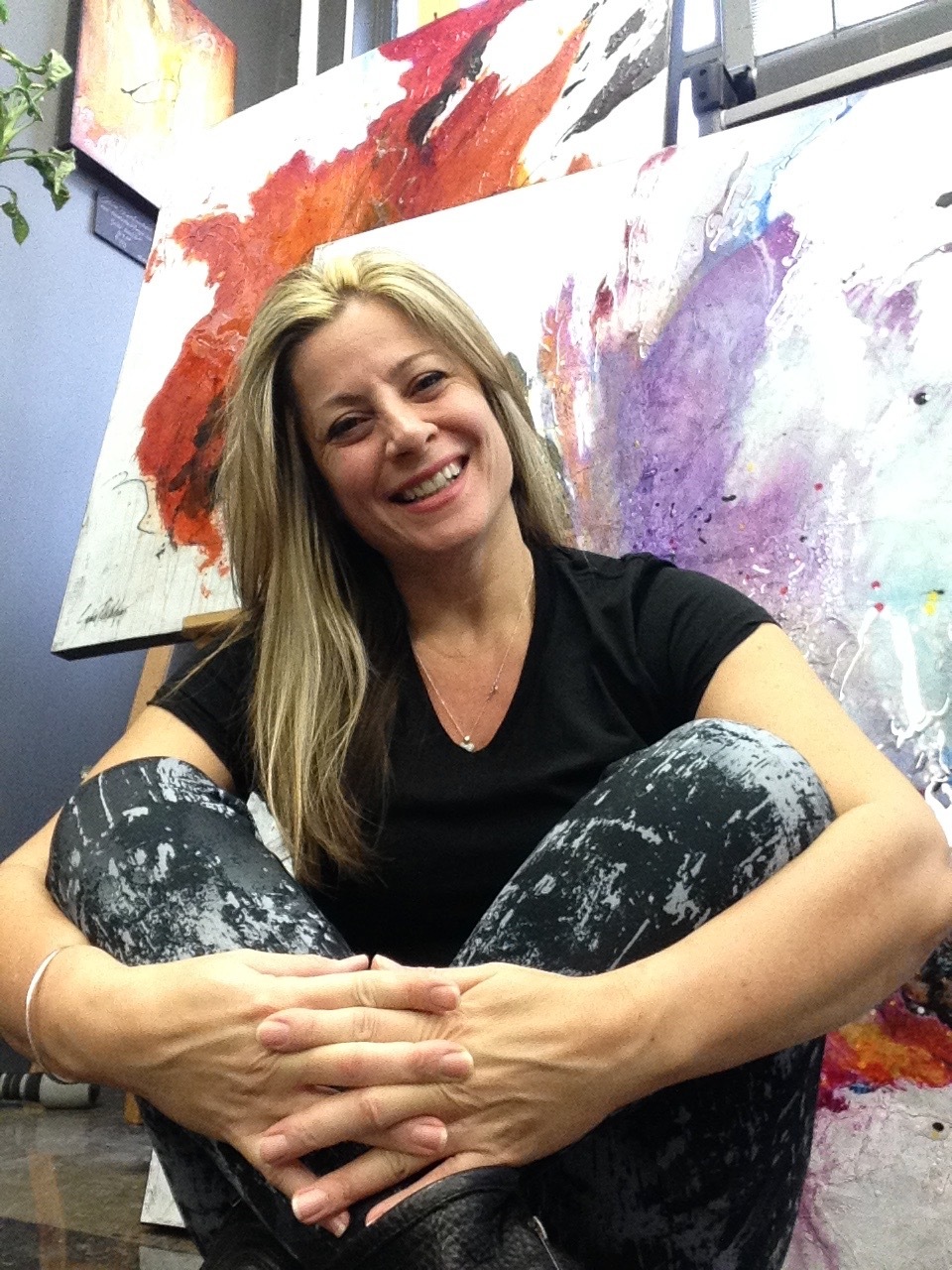 "I slowly started incorporating my techniques and colors into making abstract art," she said. "I was fascinated by the effects of high-gloss resin and lighting in some of the commercial spaces, and started to use it for my paintings."
Her work consists of mixed mediums and textures, but she does it for the people, she said.
"I love being an artist mainly because of the way I make my clients feel," Paleotheodoros said. "They sometimes text me and tell me how wonderful it was to wake up and see my paintings on their wall or they send me photos of where they put it. They are always so exited when I arrive and the way they react when I unravel their paintings, it's just priceless. How can you not love being an artist? That is where I get my inspiration. That, and a good coffee."
Paleotheodoros, who still lives in Montreal, heard about the Windermere Art Affair from a friend who lives in the Orlando area.
"We spoke on the phone recently about possibly doing something in Florida, and he mentioned the Windermere Art Affair," She said. "I thought it was a perfect idea."
Contact Brittany Gaines at [email protected].