A former local standout is testing the waters of the National Basketball Association.
Fletcher Magee, a 2015 graduate of The First Academy and standout basketball player for Wofford College, has declared for the NBA Draft, per his Twitter account.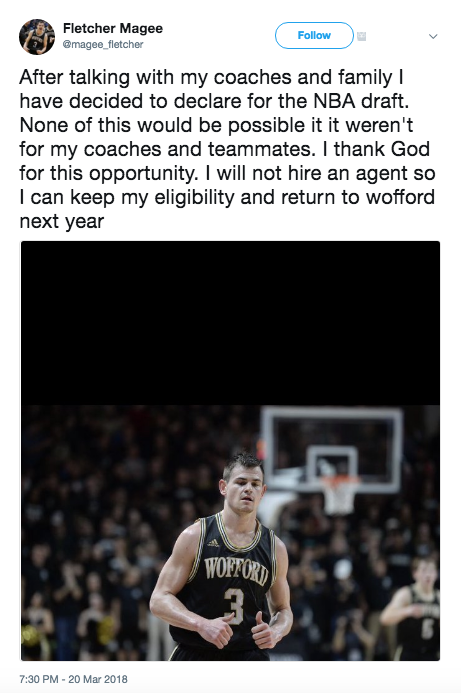 The announcement tweet read: "After talking with my coaches and family, I have decided to declare for the NBA Draft. None of this would be possible if it weren't for my coaches and teammates. I thank God for this opportunity. I will not hire an agent so I can keep my eligibility and return to Wofford next year."
As a junior at Wofford, Magee averaged 22 points per game while shooting 48% from the field and 40% from three. Given his remarkable shooting accuracy, he has been hailed as one of college basketball's best shooters, making him particularly attractive to NBA teams at a time when perimeter shooting is prized.
Because he is not yet hiring an agent, Magee will retain his amateur status for the time being and be able to be assessed by NBA franchises, giving him an idea of if and where he may be drafted.
Magee made a national splash Dec. 20, when he and the Terriers went on the road and upset powerhouse North Carolina — ranked No. 5 in the nation at the time. Magee scored 27 points during the upset.
Magee recently was profiled by SBNATION, and a December headline for Bleacher Report speculated that Magee is the "Most Unstoppable, Lethal Shooter in (College Basketball)."
He has been a First Team All-SoCon selection in each of the past two seasons, and was named the SoCon Malcolm U. Pitt Player of the Year for the 2017-18 season. Magee is a finalist for the Jerry West Award, given to college basketball's best shooting guard in the nation.
While at The First Academy, Magee played for current coach Chris Mayberry and additionally was a three-sport letterwinner in basketball, football and golf.