The West Orange Warriors entered their district opener Sept. 28 prepared to face the No. 2 team in the state in Class 8A, as ranked by the Associated Press, and the No. 32 team in the nation, as ranked by MaxPreps.
The Warriors had lost the previous two meetings with the Mustangs and — midway through the third quarter — their starting quarterback was knocked out of the game with an injury.
West Orange trailed 29-14 through three quarters and, even when Nemea Hall cut that lead to eight points on a touchdown run with 3:22 left, things looked bleak.
But then a string of improbable events happened.
The Warriors got the ball back when David Jones recovered the ensuing onside kick. A quick scoring drive ended in another touchdown for Hall with 2:26 left, and a quick three-and-out gave the ball back to West Orange with under two minutes to play.
That's when freshman quarterback Julian Calvez — who'd already led the Warriors on three scoring drives — completed one pass to Giuliano Baber and another to Hall. Then, a big run by Hall placed West Orange in the red zone, and it was senior placekicker Colton Scharfield that drilled the go-ahead field goal with 17 seconds to play.
After a last-ditch effort by the Mustangs (4-1) came up short, the Warriors (5-1) were storming the field, celebrating a season-defining 30-29 victory that gave them a crucial leg up in the FHSAA Class 8A, District 4 race.
"I couldn't be more proud," West Orange coach Bob Head said. "We were in a game like this against Rockledge, where it came down to the very end and we let it go. Tonight, they just really fought — they got an opportunity to make a play and they did it. ... They kept believing."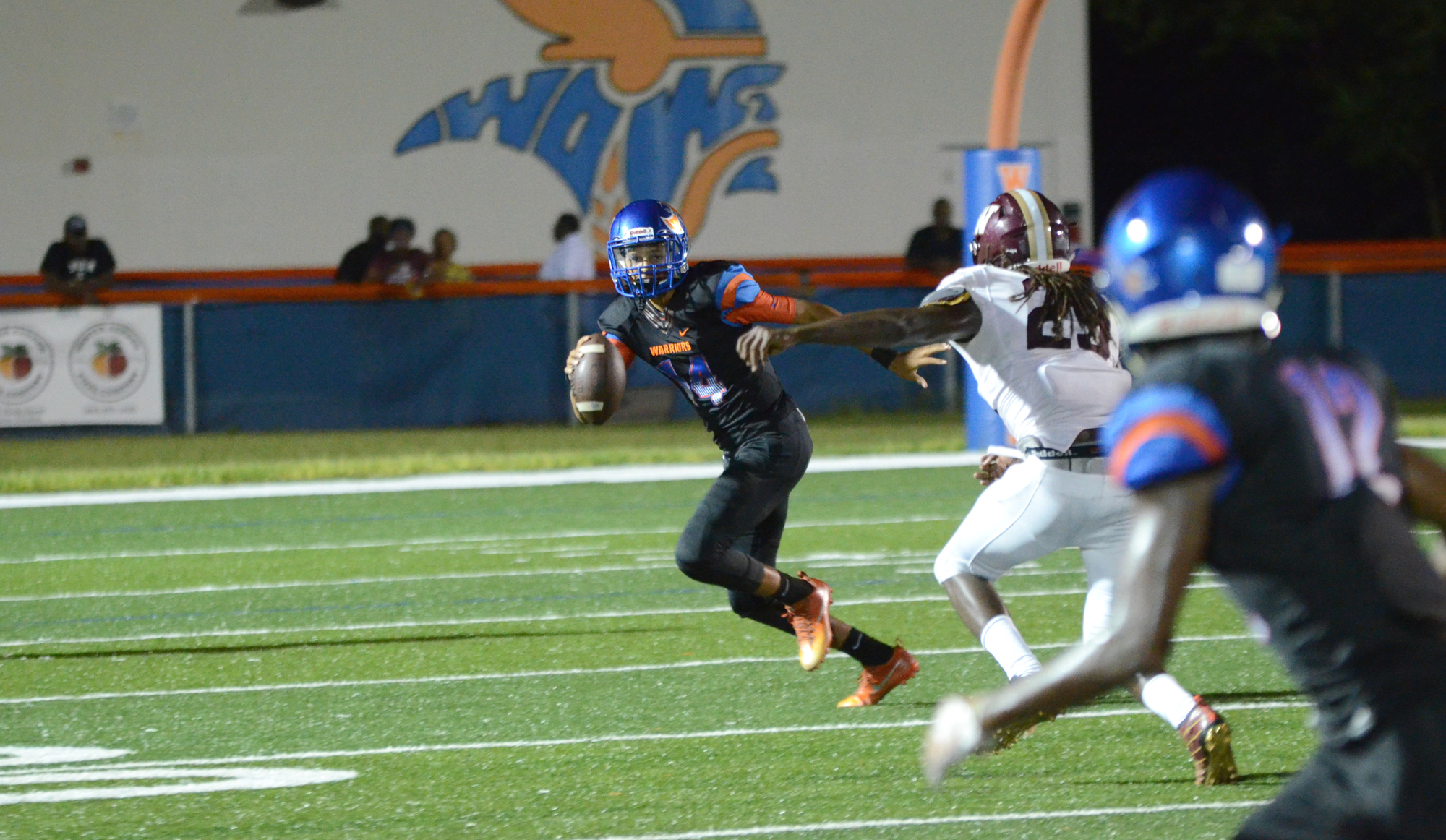 The Warriors scored first on a pick-six interception by Russell Robinson on the Mustangs' first drive of the night. Wekiva responded with a 22-point swing in its favor, though, spanning into the third quarter. 
Down 22-7, the Warriors were driving midway through the third quarter when starting quarterback Elijah Stimmell was injured on a keeper. That meant West Orange had to go to Calvez, a freshman, who now was charged with taking on one of the best defenses in the state — a unit loaded with Division I college prospects.
All the freshman did was complete the drive he was inserted into with a touchdown pass to Jaylon Carlies and lead the Warriors on three more scoring drives — include the two-minute drill that set up the winning field goal.
"It's all because of Elijah Stimmell and (offensive coordinator Vernon) Mitchell that I had the opportunity to do this," Calvez said. "They prepare me every day for this."
Two of those touchdowns were scored by Hall, West Orange's standout junior running back, who also played several snaps on defense for the Warriors in a do-it-all effort.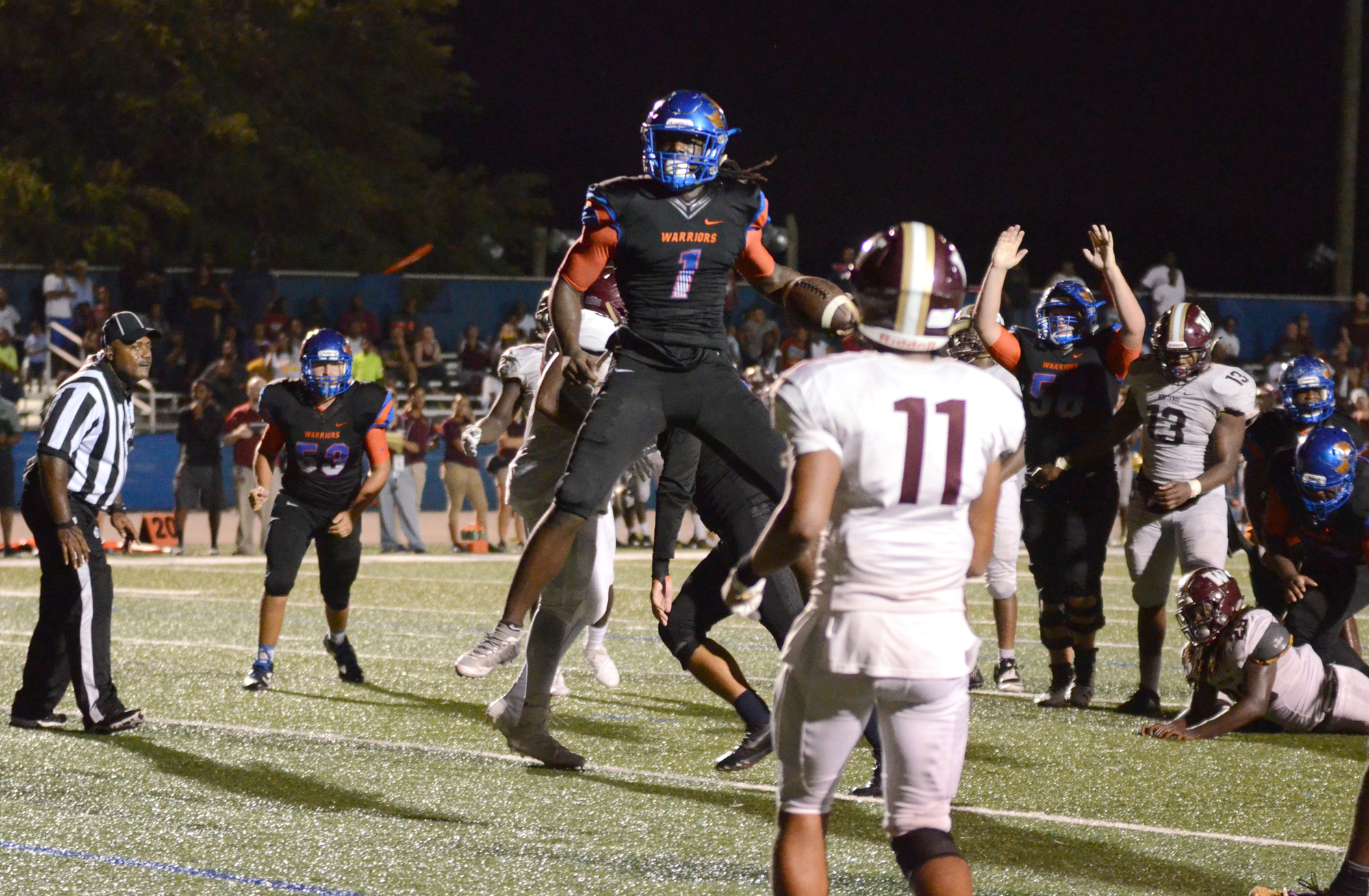 "We used Nemea mostly on defense — we felt we needed help on defense and (junior running back) Sinica Sigler really played well last week," Head said. "We let Nemea be the change-up — the pitcher — coming off the bench. He's a freak talent and when he gets in the open field, he's just going to run hard."
Wekiva scored two of its points on a safety in the second quarter and seven more on an unusual play where a West Orange interception was fumbled, picked up by Mustangs quarterback Larry Preston and returned for a touchdown. Otherwise, the Warriors' defense allowed just three scoring drives — and kept the Mustangs out of the end zone in the fourth quarter.
All of which helped to set up a memorable field goal attempt for Scharfield, who knocked it right through the middle of the uprights before being mobbed by his teammates.
"They got me in the position where I needed to be and I made the kick," Scharfield said. "It felt amazing."
Now, West Orange is 5-1, overall, and is 1-0 in 8A-4.
The Warriors will host Jones Oct. 5 in a non-district game, before a showdown Oct. 12 with rival Apopka that will likely decide the district title.