If you walk into Get Hooked Bait & Tackle on any given day, chances are you'll find owner and angler Tim Bagwell handing out advice on anything — and everything — fishing.
Looking for the right bait to catch that big bass that has eluded you, or trying to figure out the best way to fish a local lake? Bagwell has 40-odd years of encyclopedic knowledge to draw from and get you hauling in fish left and right.
In fact, for those looking to up their fishing game, stoping by local shops and taking in what local anglers know is honestly the best starting point, Bagwell said.
"People who have been in their local bait and tackle shop have been around fishing — usually — all of their life," Bagwell said. "The knowledge that you're going to (gain) to catch fish …is something that you're not going to get from watching TV or watching YouTube. This is real life — this is you having your best chance to catch fish … it really is."
While some may scoff at the notion that fishing is a complex sport, once you dive into a deep conversation with Bagwell, it becomes clear that there are complexities that often get overlooked.
Everything from the time of year to the time of day to the murkiness of the water can affect how a day of fishing goes, but there is one constant that truly matters the most: The bait.
ALL ABOUT THE BAIT
For Bagwell, the conversation about fishing almost always begins and ends with the bait an angler uses.
The importance of bait was taught to Bagwell at an early age, thanks to the influence of his grandpa — an avid fisherman himself.
"My grandfather would always invent things when we were kids — taking tinfoil, cutting little shapes … and running your line through it and the little tinfoil thing would spin," Bagwell said. "He would heat up his plastics and stuff, too — he'd melt them in a pot — and then he'd get little plates and (mold them) in whatever design of bait he wanted to do."
Now, Bagwell has his very own line of bait — Get Hooked Magic Bait — that includes 55 different types, featuring a variety of colors and shapes.
Of all the colors offered by Bagwell and any of the other bait companies, the two colors that are most popular for anglers here in Florida are watermelon red and junebug, Bagwell said.
"Those have to be in your tackle box," Bagwell said. "I don't care what bait it is — I don't care if they get my bait — but you want to make sure you get watermelon red and junebug."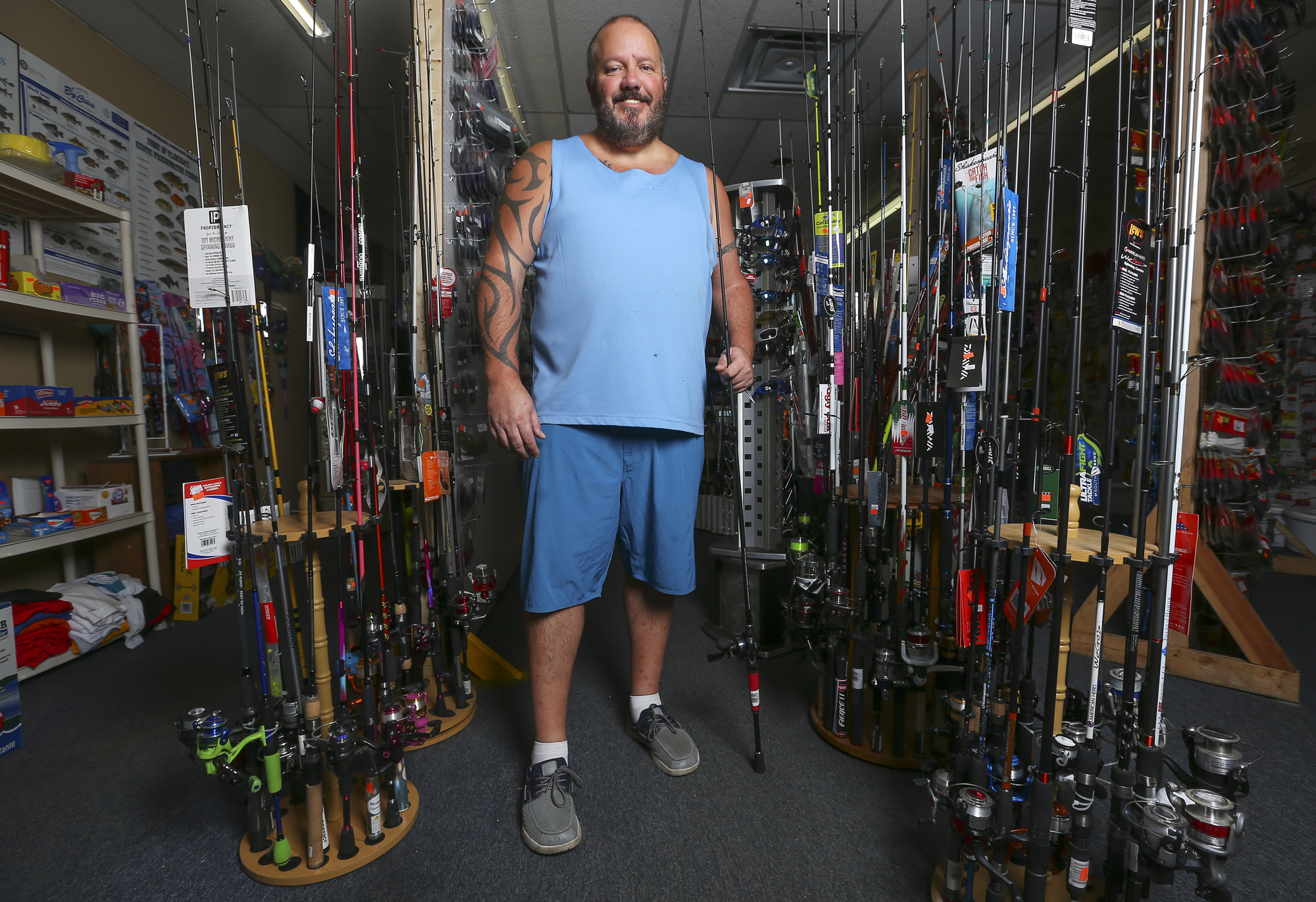 Another thing that is important to keep in mind when it comes to bait is understanding the type of water that you are fishing. 
While you'd think darker colored baits would be better for clearer bodies of water, you'd actually be mistaken, Bagwell said. Darker-colored lakes call for dark baits, while you're better off using lighter-colored baits for lakes with clearer water.
For instance, at Johns Lake in Oakland, Bagwell suggests using greens, junebugs and watermelons, while at Lake Apopka it's best to use black, chartreuse, junebug and watermelon red. Those types of baits work generally pretty well wherever you fish, but there are some local spots that require bait that is a little more real. 
Over at Starke Lake in Ocoee — a local favorite fishing hole — Bagwell and other anglers will use wild or domestic shiners to haul in bass left-and-right. 
"Starke Lake is a hidden gem right down the street — it's running 850 bass per acre," Bagwell said. "It's a hard lake to fish with artificial. Live bait is going to be the main thing to use, because you can't use cast-netting over here. You can catch some on the artificial bait, but they're so picky because they have so much food over there."
Using shiners — particularly wild shiners — basically has a perfect success rate, especially with bass and crappie seasons about to ramp up between November and March.
JUST HAVE FUN
The science behind fishing may seem like a lot, but there's one thing that sometimes gets overlooked: The simple act of enjoying your time out.
It's fun to be competitive and haul in big fish, but there's more to the sport than that and that's something that Ron Hill — a frequent customer at Get Hooked — has come to recognize over his time out at the water.
"Enjoy it," Hill said. "I don't care how good of a fisherman you are, (and) I don't care where you think you know they are —  some days they're there and some days they're not.
"It depends on your attitude when you go out," he said. "And I have found out that if you go out with the intention, 'I'm going to bring one back!' chances are you won't. But if you go out with the intention of, 'I'm just going to go out and enjoy it,' it's amazing what you can catch."