OLD TIMES
75 years ago
Everybody is invited to attend the Democratic rally Saturday night at 8:00 o'clock in Winter Garden on Main Street near the A.C.L. Railway depot. Prominent speakers will address the assembly and deliver messages of vital interests.
From all reports, canning of food by the women of Winter Garden district was a record breaker the past season. Records at the local ration board office show that approximately 20,000 pounds of sugar was used.
Frederick H. Bekemeyer, son of Mr. and Mrs. Henry S. Bekeyemer, is home on a 10-day leave prior to leaving for the University of the South in Suwannee, Tenn., where he will continue classes in the U.S. Navy V-12 program.
Consumer purchases of rationed stoves must be made with a certificate obtained at local War Price and Rationing Boards.
65 years ago
Mrs. Arthur O'Brien, leader, and Mrs. Bob Kerr, co-leader, entertained Troop 10 Girl Scouts at the Kerr home with a Halloween party.
The Orlando Transit Company bus had a freak accident in front of the Davis Pharmacy on Plant Street last evening when the bus hit the bumper of Gene Cappleman's car that was parked.
The Roper Co-Operative held its regular annual meeting at the offices, and at the conclusion of the meeting, the members went to Roper's camp on Lake Butler for a chicken supper.
County Commissioner A.D. Mims said the cost for the Avalon Road job was $15,558.06.
Twenty years ago, phone numbers went like this: Iserman & Co. (Florida Metal Craft), 1; Ned Vick Inc., 696; Highfill Dry Cleaners, 307; Davis Pharmacy, 79; Winter Garden Hardware, 208; Mask Welding & Repair Shop, 612-Green.
THROWBACK THURSDAY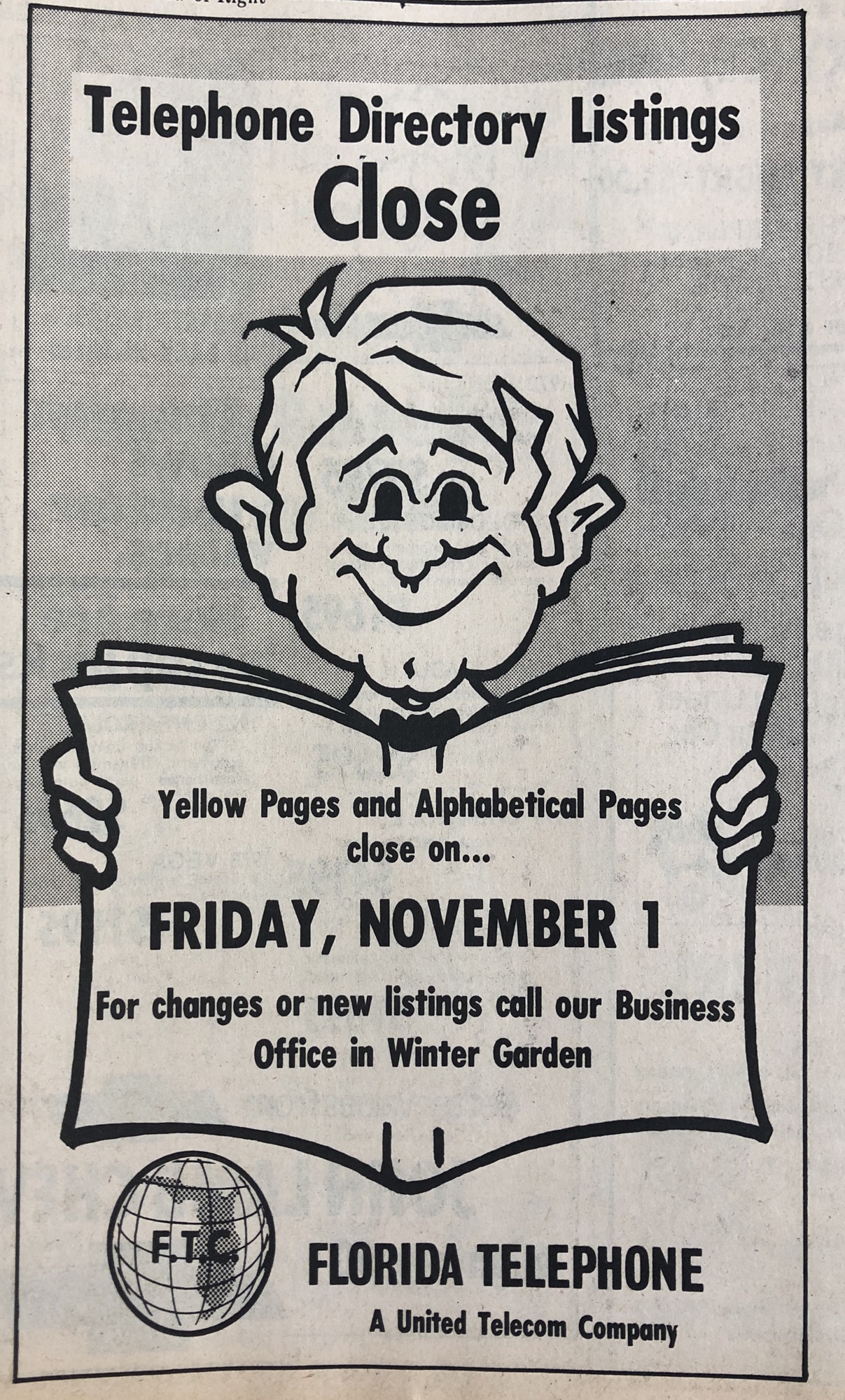 The Winter Garden Times
Oct. 24, 1974
In 1974, Messenger, Facebook, Snapchat and texting had yet to be invented for communicating with others. The only way to talk to someone was the old-fashioned telephone. The phone directory was an important book, especially for businesses who needed to get their phone numbers into the hands of customers. In the Oct. 24, 1974, issue of The Winter Garden Times, Florida Telephone advertised the deadline for submitting changes or additions to listings for the new directory, which was distributed to every home and business in the area.
FROM THE WINTER GARDEN HERITAGE FOUNDATION ARCHIVES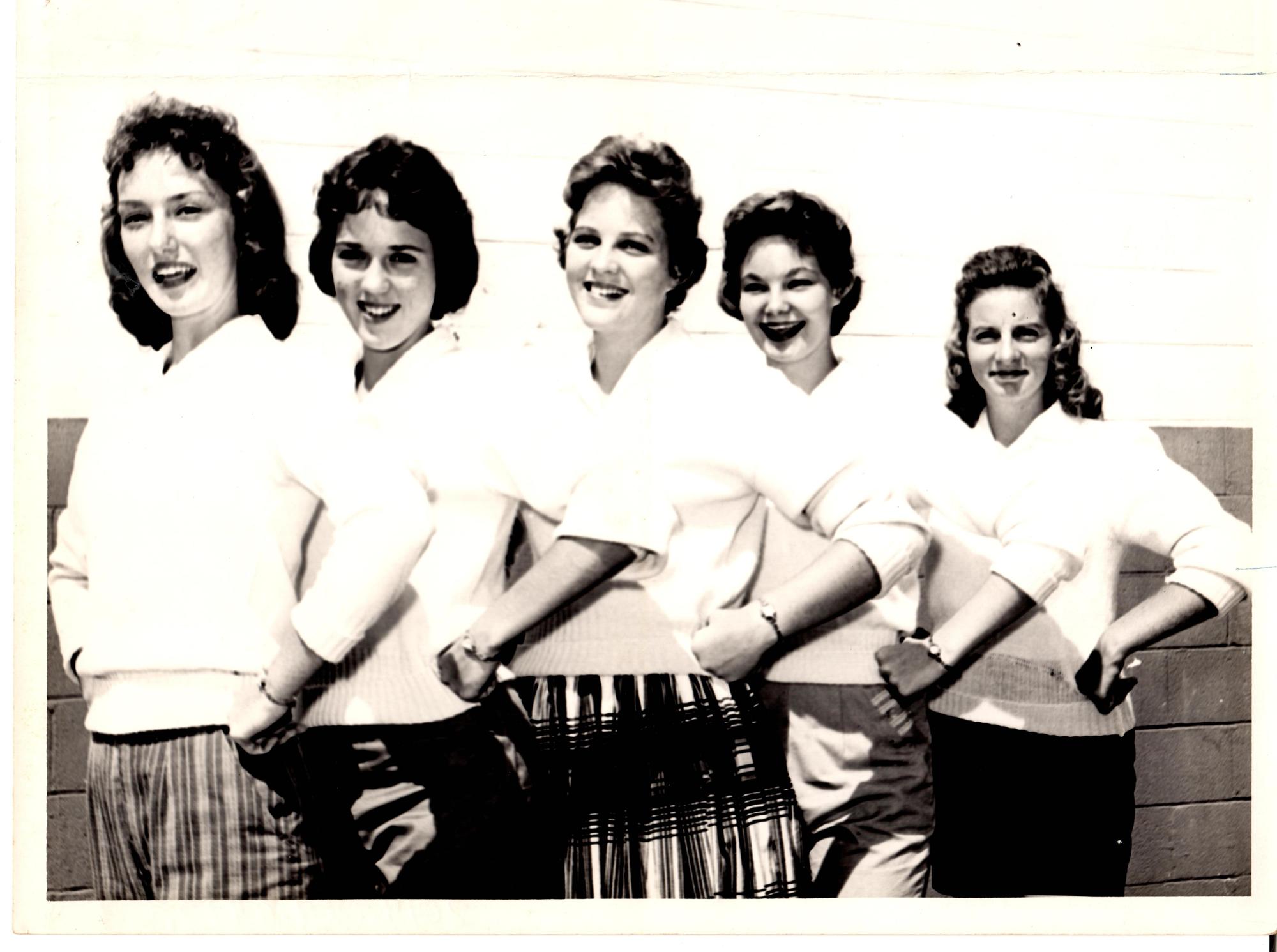 Five Lakeview High School cheerleaders pose for photographer B.P. Hannon in this photograph from the early 1960s: Kathy Burgess, left, Class of 1961; Nancy Stout and Margaret Phillips, Class of 1962; Peggy Watford, Class of 1963; and Sharon Thompson, Class of 1962. The Winter Garden Heritage Foundation preserves hundreds of photographs by Hannon, who operated a camera shop in Winter Garden and chronicled West Orange County's social life for decades.