It isn't easy saying goodbye — especially when your family has called the same town "home" for a century.
Dozens of family members and friends gathered at Windermere Town Hall Saturday, Feb. 15, for a surprise party to bid farewell to longtime Windermere residents John Palmer Luff Jr. and Elizabeth "Bette" Luff, who are moving next month to a pine tree farm in Madison County in northern Florida.
The Palmer/Luff family helped establish Windermere as a town around 100 years ago. A member of the family always has lived within the town limits — until now.
"It's sad, but it's kind of one of those things that we've inevitably seen coming," said daughter Sara Luff, who lives in Oakland. "Windermere has changed a lot, as has all of Central Florida, and we always knew that they probably wouldn't stay here in retirement. … It's really sad, because I kind of feel like it's the end of an era of us being in Windermere."
John Palmer Luff Jr. said that he and his wife chose to move elsewhere to pursue the rural feel that Windermere once had, when the waters of Lake Down were crystal clear and the town still felt untouched by the rest of Central Florida. 
"When I was growing up, this was paradise," he said. "The friends and I all had boats at a real young age, and that's how we got around. I couldn't ask for any place better to grow up."
The suburban sprawl outside of the town limits now feeds heavy traffic through the roads. 
The town has changed — and will inevitably continue to change.
"It was almost like looking for the old Windermere — that's kind of what Madison reminds me of," John Palmer Luff Jr. said. "This is so crowded now — I love Windermere the town, but what's going on around us … it's sending so much traffic. It's a different place."
A FAMILY LEGACY
The Palmer/Luff family history goes back to the town's early beginnings, starting with Sara Luff's great-great-grandfather and John Palmer Luff Jr.'s great-grandfather, John Calvin Palmer.
A carpenter and builder, John Calvin Palmer, and two friends, Dr. J. Howard Johnson and Howard Lyon, came to Florida in 1910 from Wauseon, Ohio. They soon discovered the Butler Chain of Lakes and fell in love with the area's orange groves, tall trees and great fishing.
The trio decided the area could become a winter retreat for their families. For $10,000, John Calvin Palmer purchased 2,000 acres that included the entire area of the modern-day town of Windermere.
"Back then, nobody was buying swamp land in Florida in 1910 — nobody was doing that," Sara Luff said. "It shows how he had a vision. He was very creative and innovative for his time, and then he came down here and saw a need. He said, 'There's no business here.'"
As Windermere began to flourish, John Calvin Palmer wore many hats in the community he helped establish. He had served as its mayor, postmaster and Town Council member. He was a trustee of the Gotha-Windermere Special School Tax Sub-district, chairman of the Orange County School Board Budget Committee and helped found the Windermere Citrus Growers Association and the Windermere Club Company.
John Calvin Palmer's daughter, Letha Kate Palmer, married civil engineer and land surveyor Harry Chandler Luff, thus creating the Palmer/Luff bloodline.
"I'm proud to have come from them — those people got a lot done with their lives back then, they really did," John Palmer Luff Jr. said. "I think their whole work ethic about everything was much bigger than what we have today."
"I like to tell my kids — I tell them all the time — 'You come from Luffs,'" Sara Luff said. "Not that we're better than anybody, but they're creators and they're innovators and they're forward thinkers. 'You need to look for opportunities and take them. … That's how you leave a legacy.'"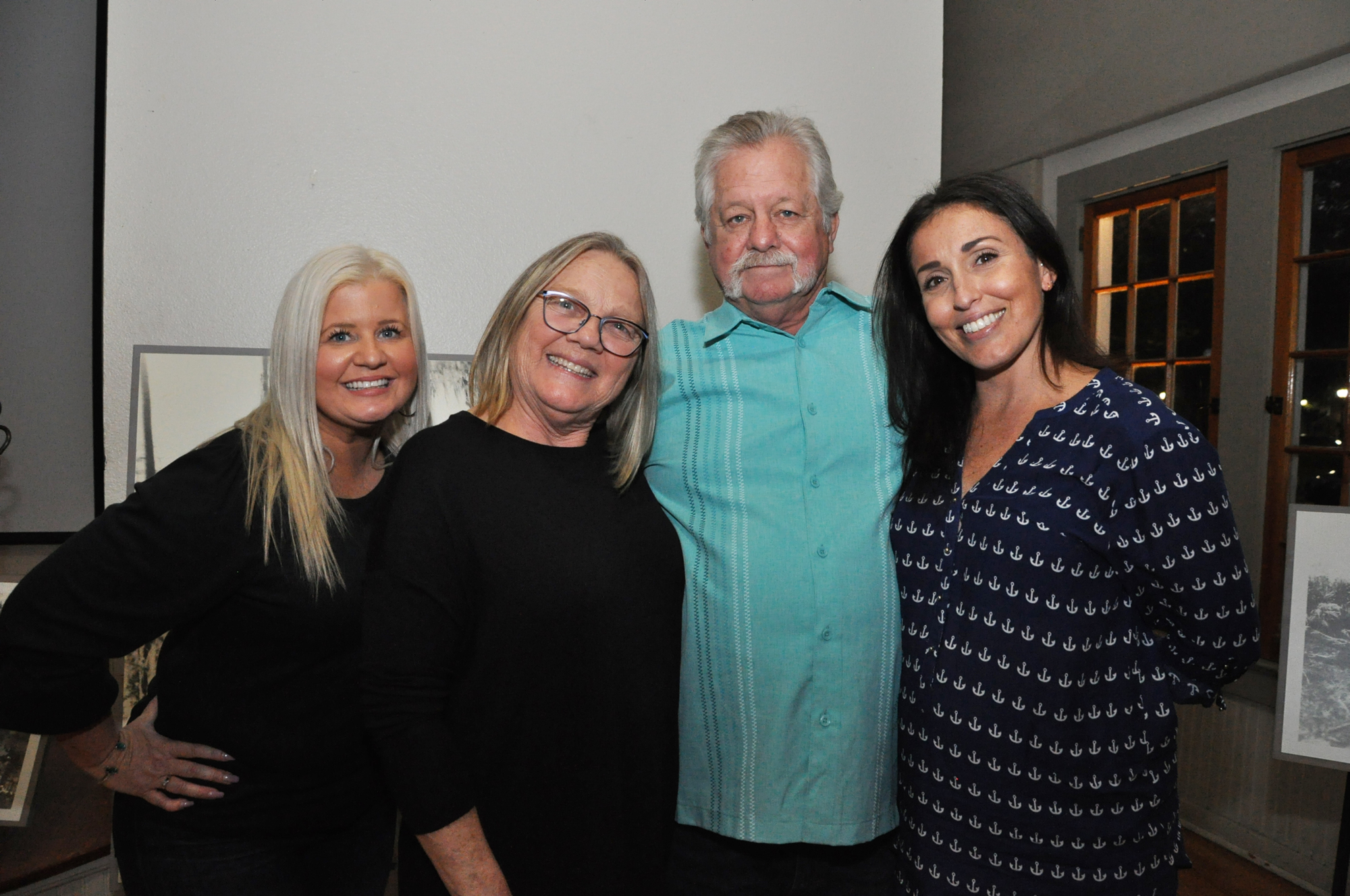 A NEW CHAPTER
John Palmer Luff Jr. said he and his wife were grateful that everyone came together to wish them well in their move to Madison County.
"It was a total surprise — it's great to see these people; I haven't seen some of them in a long time, which is sad, and some of them came from way out of town," John Palmer Luff Jr. said.
John Palmer Luff Jr. and Elizabeth "Bette" Luff's other daughter, Sayler Luff, said she was overwhelmed with the turnout at the party.
"I think it's unbelievable that that many people are touched by my parents and are compelled to say goodbye to them and it shows how important they have been to this community," Sayler Luff said.
"It's surreal and it's sad, but I'm happy that they'll be happy that this is a new chapter for them," she said.
Saturday's event was an evening of reminiscing and reflection. Historical photos of the town's old residents and way of life were propped up on easels in a retrospective display. A slideshow of more recent family photos over the years also played on loop from a projector.
It even was a time of gifts — John Palmer Luff Jr. and Elizabeth "Bette" Luff were given a slice of wood that came from an old magnolia tree planted by John Calvin Palmer back in 1919 that fell late last year. On a wooden display base holding up the tree segment, an inscription read "Magnolia Grandiflora 1919-2019 Planted by Cal Palmer. Gifted to Bette and Palmer Luff by your Windermere Friends."
It was a reminder that Windermere isn't just a down-home feeling, a chain of lakes or a network of quaint dirt roads — it's the people that live there and the many lifelong friendships they make.
"It truly feels like it's a community made of friends — I hope that always stays here," Sara Luff said.
Elizabeth "Bette" Luff said it's hard to say goodbye. But just like how John Calvin Palmer ventured to the Butler Chain of Lakes all those years ago, it's time for a new beginning — a new chapter in John Palmer Luff Jr. and Elizabeth "Bette" Luff's own history book.
"Where does the legacy go from here?" Elizabeth "Bette" Luff said. "I'm sure our family would hope that legacy would continue — the caring of the town, the caring of the community. We'll take that with us, we'll take that community with us and hopefully expand it.
"We've got pictures and memorabilia that we've left with the historical society here," she said. "We hope that we've left a good mark here and that the person buying our home will feel that community and it will keep going on and on and on."