Sitting back in her chair under the shade of a gazebo, Rebecca Berry watches children taking horseback riding lessons at Sunnybrook Farm.
Throughout the week you'll find Berry — the farm's owner and head trainer — out and about as she trains youngsters, but on this Sunday, she's enjoying watching assistant trainer Debbie Phillips work with a few girls.
Berry isn't one to sit idly by, though — every now and then she voices instructions to the riders. In equestrian it takes two to have a successful ride, Berry said.
"The biggest thing that you're looking for is good communication and leadership, where you're watching the kid actually steer the pony — decide where they want to go and make the horse listen to them, but not demand it out of them," Berry said. "I want to see that the horse understands what they are doing — a horse is taught, 'When your leg is on this way, this is what this means.' It's a matter of working with the students to understand that this is the proper way to ask them and this is the proper way that the horse should interact."
A few hundred feet from the sandy practice area sits one of the farm's stables, where Orlando resident Kate Johnstone is applying polish to the hooves of Leon — one of Berry's 16 horses.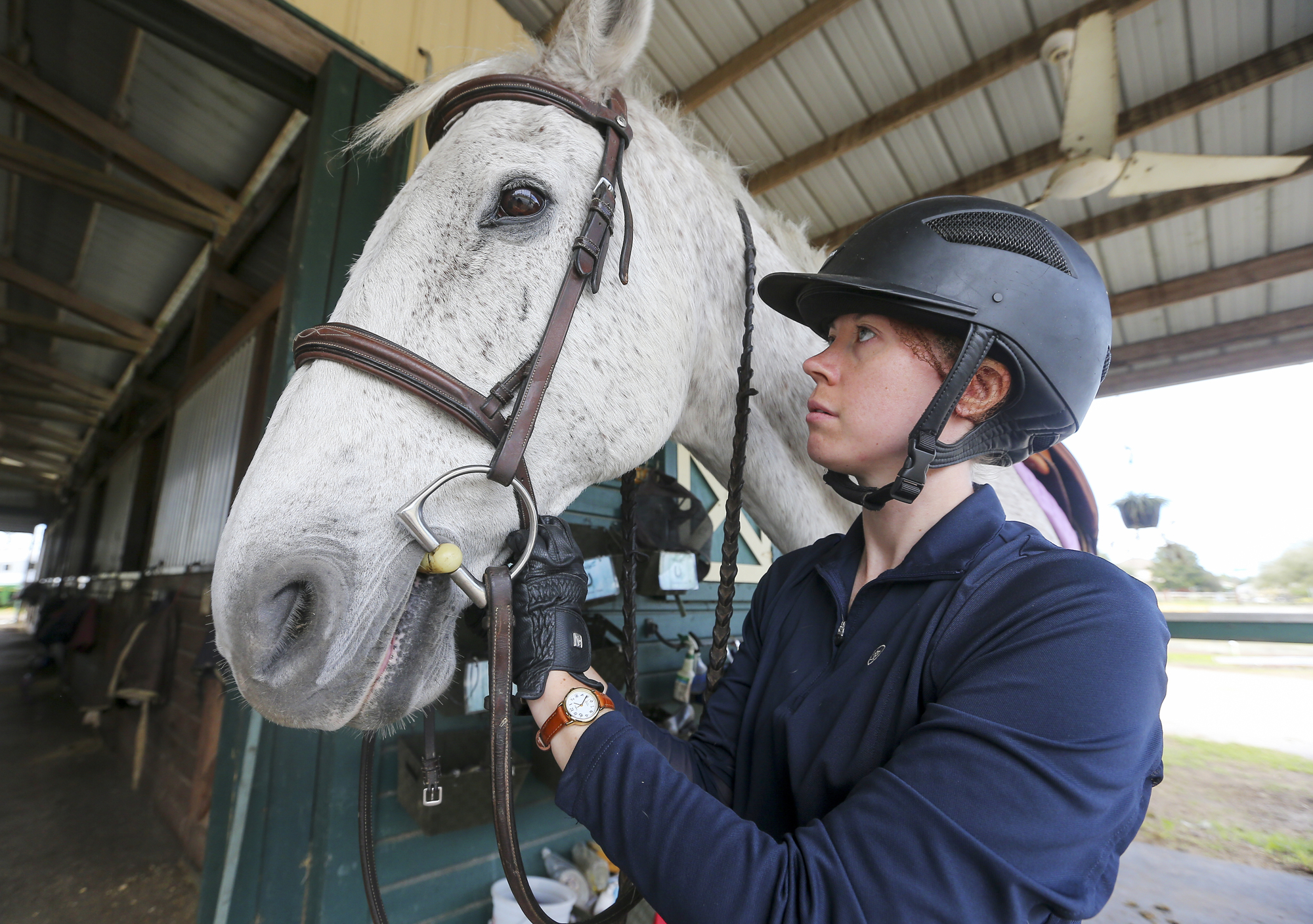 Many who aren't familiar with the sport think that you just jump up onto the saddle and ride, but that's not the case, Johnstone said. 
Before a rider even thinks about that, they have to spend some time with the animal by doing a little grooming and pampering. It helps the horse get the blood flowing, but it also develops a bond between rider and horse.
"You want to establish that relationship with them, because ultimately once you get on the saddle with them you have this bond," Johnstone said. "Every equestrian will agree; it's impossible to be able to ride a horse without having that communication and that trust.
"This is really for their benefit — they deserve to be pampered," she said. "Every horse deserves their 20 minutes of attention with being pampered and groomed."
Johnstone, who is originally from Connecticut, understands the importance of the bond between rider and horse, as she has been a part of the equestrian world for most of her life — just like Berry and Phillips.
They all know the last part of the puzzle to correctly working with a horse is acknowledging that each horse has its own personality. Your ride — whether it be during competition or during a lazy Sunday stroll — can be made better by understanding that simple fact, and it can help you identify how your horse is feeling.
"It's just like talking to other humans — it's a language and you have to adapt until the communication becomes correct," Phillips said. "They'll lick their lips or blink an eye or relax the leg or breathe out — you'll know from their body language if they are relaxing or not, and you'll know from the performance."
FROM PRACTICE COURSE TO COMPETITION 
While some students are content with  riding on the practice course, others have a fire to compete.
The step up from joy ride to serious competition is steep, and it requires a rider to hunker down and really learn the ins and outs of the sport.
Though Sunnybrook teaches a few different styles of equestrian, Berry works primarily in the hunter-jumper style of riding, which emphasizes proper technique and form. It sounds simple enough, but when you really dive into riding, there's so much technique — both big and small — that it can be overwhelming, Berry said.
"With this next group of kids that I have, they will tell you they rode better two years ago, because they knew less," Berry said. "Everything was the basic five to 10 things to remember, but now that they know more and how to ride properly — up a couple of levels — they're remembering the first 10 things that they needed to, but then some of those get left to the side, which are your basics."
At competitions, overthinking can throw riders off, and it's something that Johnstone knows well.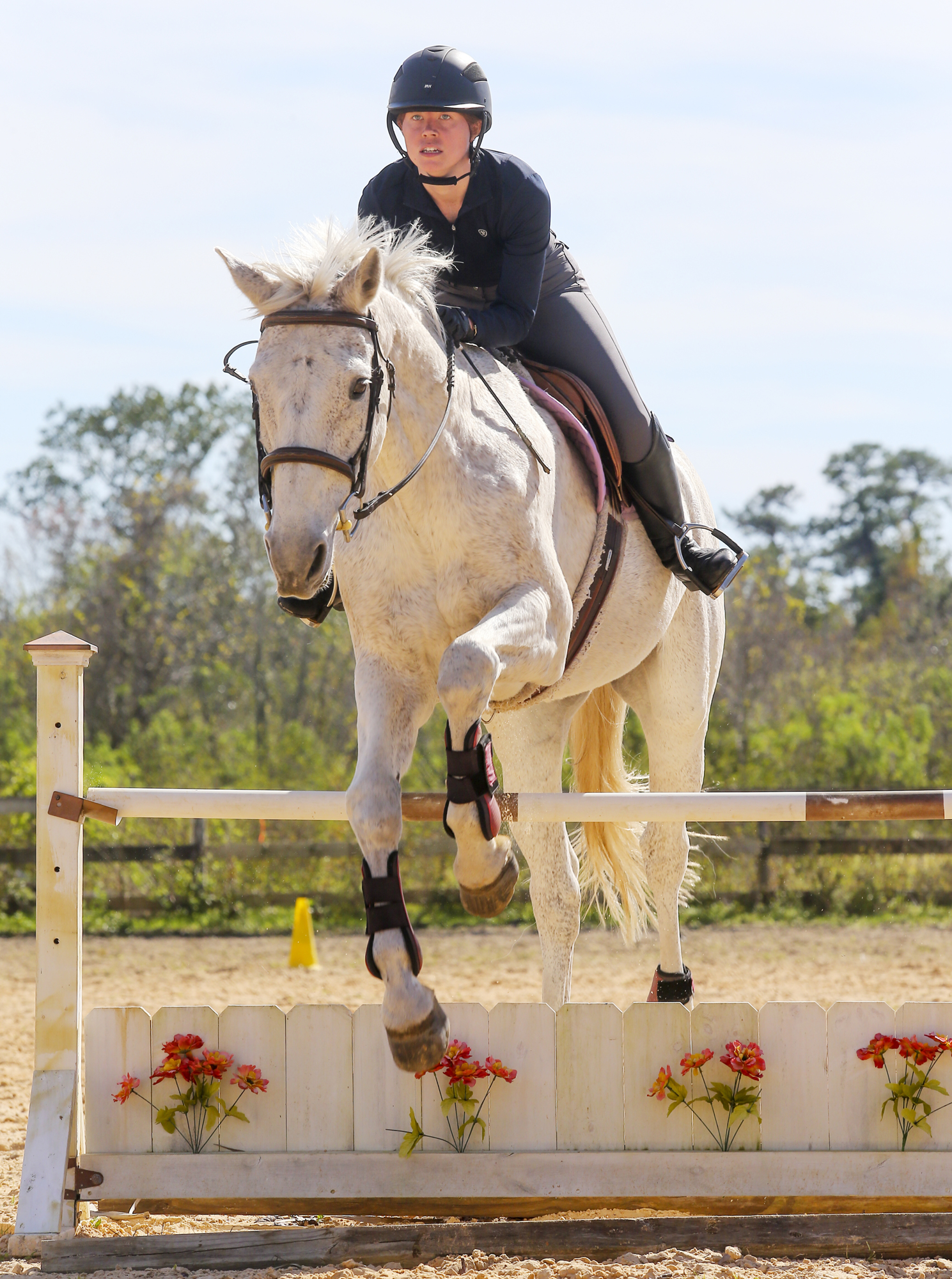 "That was my biggest thing — remember to breathe," Johnstone said. "You forget because you're focusing on, 'Alright, I have to maintain my leg pressure (and so on),' and then you're like, 'Oh, OK, I have to breathe.'"
If  you can take your time, breathe and remember your training, you have a chance, she said. 
Riders also have to remember that scoring in a competition is subjective and ranges from judge to judge. So even if you have an off day, it doesn't mean it's the end of the world, Berry said.
"Everything — at the end of the day — you just have to take it lightheartedly," Berry said. "When the kids don't have the best ride, 99% of the time my kids are the type of kids that are riding themselves harder than I am. It's like, 'The next ride has got to be better than this ride,' and normally it is."
Like any sport, those types of challenges arise — it's a part of the learning process. It also leads to one of Berry's favorite parts of the job.
"There's nothing in the world better than when you have a kid who has been struggling with something and they finally get it — it clicks," Berry said. "I feel like that is when I have purpose."