At the end of cancer treatment, there is one moment that every survivor looks forward to: The ringing of the bell.
It's an action that signals the hopeful end of a grueling, hard-fought victory over a disease that affects so many.
It's an emotional moment witnessed by friends and family. But for The First Academy lacrosse head coach David Oliver, it was a moment of reflection. It was a moment to look at the renewed life he had been given, and with a deep breath and weary hand, he rang the bell to signal a new beginning.
"My attitude was kind of like being a coach, being a husband and being a father — you set your course and you go," Oliver said. "With cancer, you set your course, you keep your mind on the goal, and you go, and you keep going and going. When it's over you end up like, 'What just happened?' I didn't even have a chance to think about it, because I was so locked into it.
"It's kind of like a new launching point," he said. "It's not the end of anything, but it's just the beginning of a life that God has made me a better person and I need to live that out."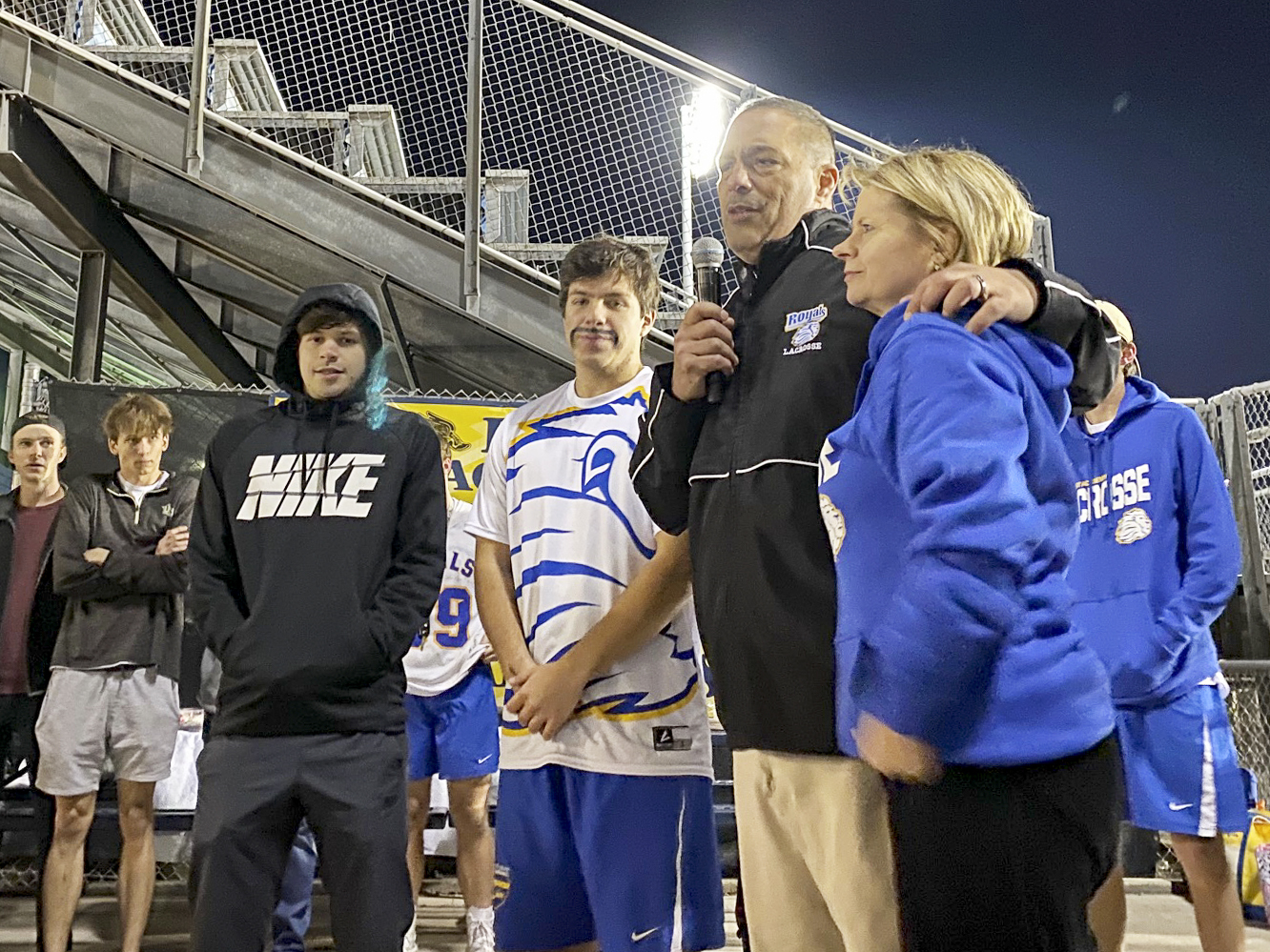 Oliver rang the bell for Thursday, Feb. 27 — the day after he had finished his 18th and final radiation treatment of his stage 4 non-Hodgkin's lymphoma.
Doctors detected Oliver's cancer in 2019, when he began experiencing pain in his legs. Tests later in April and May showed the lymph nodes in his pelvis and around his kidneys and heart were enlarged. A few months later, in July, he learned the cancer had spread to the bones in his legs.
The news of stage 4 cancer was a lot, but he never was alone during his fight. Multiple players on the boys lacrosse team shaved their heads in solidarity and began wearing shirts that read "Coach Oliver Support Team."
"What God did, I never will forget," Oliver said. "I would miss four days every three to four weeks of work, and I felt like I had to come to work because it gave me strength — the kids were just feeding me in the classroom and giving me strength. So many kids who were walking through not a great season in their life would draw strength off of, 'Wow, coach is still teaching and he is still doing what he is supposed to be doing in life and is not quitting.'
"That's what I would say to people who get a diagnosis of stage 4 cancer — just never quit and just always have hope," he said.
What followed the diagnosis was four months of radiation treatment that led to the usual side effects of chemotherapy — he lost his hair and began to slow physically. It was the latter part that really affected Oliver — a man who was always on the move — the most.
Going from his usual 100% to a crawl, Oliver battled before good news arrived in December, when scans came back following his second-to-last chemo treatment. Everything was looking better, which then was solidified by a clean PET scan in January.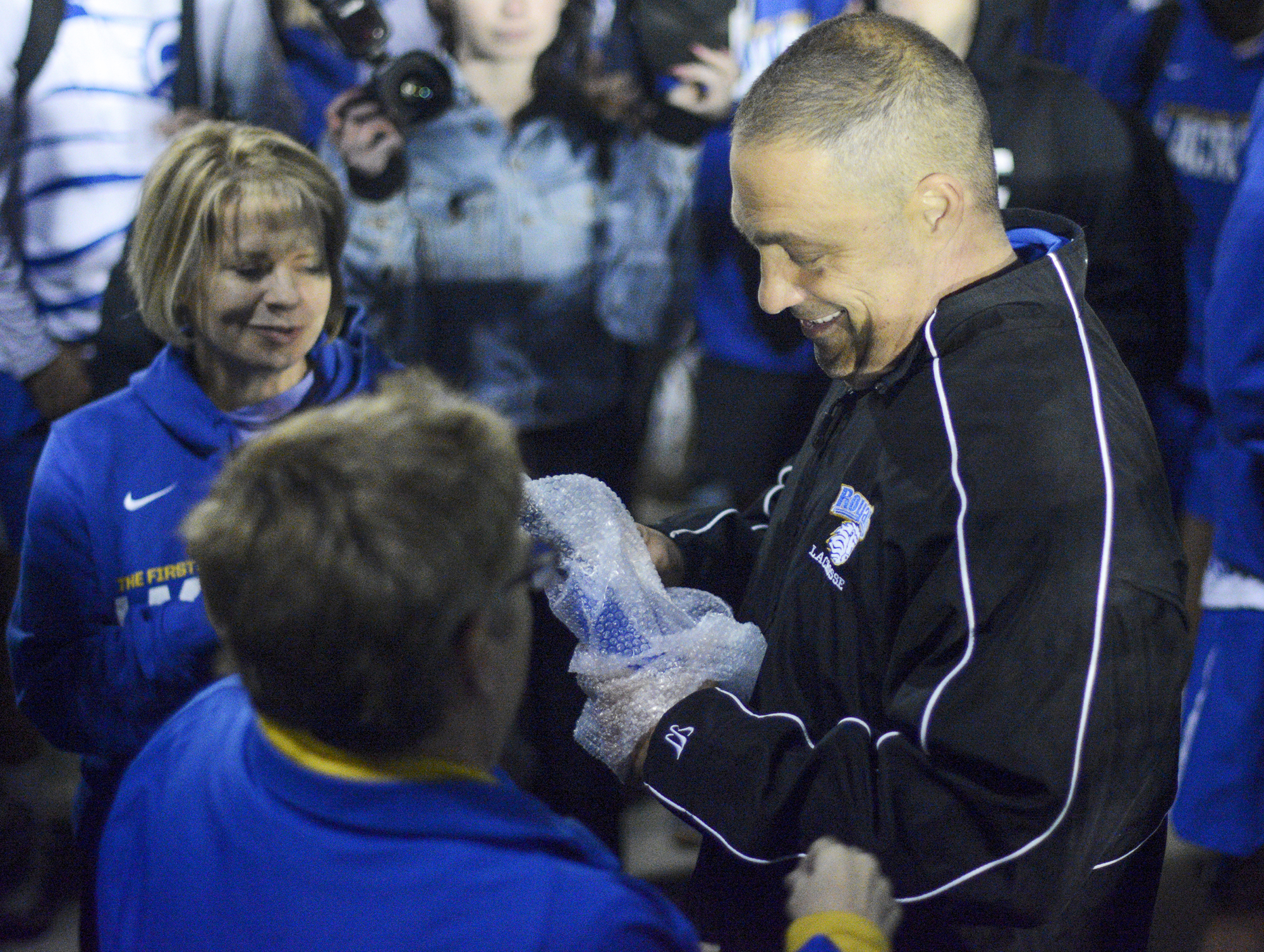 Before he even finished his treatments, Oliver was out on the sideline with his team, and for that first game against Lake Minneola Monday, Feb. 17, a sense of gratitude overwhelmed him.
"That for me was emotional … especially with my son being a senior," Oliver said. "It might have been more emotional than ringing the bell, because it was like, 'Thank you, Lord. Just thank you that I'm standing here.'"
Oliver had gone from not knowing if he would be able to lead his team  to finding his place once more on the Royals' sideline, and he was welcomed back with open arms.
He's a coach who has meant a lot to his players, and they showed him appreciation when they surprised him by throwing a big ring-the-bell celebration following the Royals' 13-6 win over Trinity Prep Thursday, Feb. 27. 
"We had 15 to 20 kids and families come back … they're still like my sons," Oliver said. "And at 55 years old, you get to see some of the impact that you have been able to have. That, to me, is the greatest blessing of it all."