OLD TIMES
80 years ago
The shortage of coffee at last struck Winter Garden. Wednesday morning found the whole town coffeeless, or, at least, there was none to be bought. R.P. Howard made a store-to-store search but had to compromise by drinking a cup of cocoa.
Winter Garden boy scouts were thriving under the guiding hand of Valentine E. Bourland. They were busy getting their room fixed up in the basement of City Hall. They had a heavy enrollment and a waiting list.
75 years ago
The Veterans of Foreign Wars and American Post planned a grand program for Armistice Day, Nov. 11, in Winter Garden. Activities started with a turkey shoot at Walker Field. Prizes for ladies and fun for all were featured in the celebration, including a dance at the city auditorium 9:30 till ?
Ester Ellen Corbett was selected as Miss Winter Garden to compete in the "Miss Merry Christmas" Beauty Contest in Orlando.
55 years ago
At Lakeview High School's Homecoming, Barbara Foote was crowned queen. Her court consisted of Kay Quigley, Debbie House, Marietta Monson and Terri Ogilvie. The Red Devils defeated New Smyrna Beach 38-21.
Protection against arsonists was necessary to guard about 60 hours of work by Lakeview's FFA chapter. Each year, the boys gather and construct the materials for the Homecoming bonfire. A couple of years ago, it was burned to the ground prematurely by pranksters and the boys worked all night building a new one.
45 years ago
The West Orange Memorial Hospital Auxiliary held a reception to honor Harry Dudley, the new hospital administrator, and his family.
40 years ago
Dillard School kindergarten teacher Falling Star (Linda Rees) watched over her Indian children as they sat beside their tepee: Little Rabbit (Tonia Hernandez), Little Red Feather (Candon Sadler), Little White Duck (Courtney Mask) and Flying Eagle (John Tye Youngblood).
The West Orange High School Marching Band had the honor of participating in the grandiose Epcot dedication ceremonies. Members were dressed in costumes of different nations and carrying banners.
Johnie Lee Griffin retired after 36 years as a store owner.
30 years ago
Paramedic Louis Sabat of West Orange Paramedic Service received the Charles C. Hall Award for outstanding field medic.
20 years ago
Patsy Minor was named Support Staff Person of the Year and Robert Hopson was named Teacher of the Year at Dillard Street Elementary School.
THROWBACK THURSDAY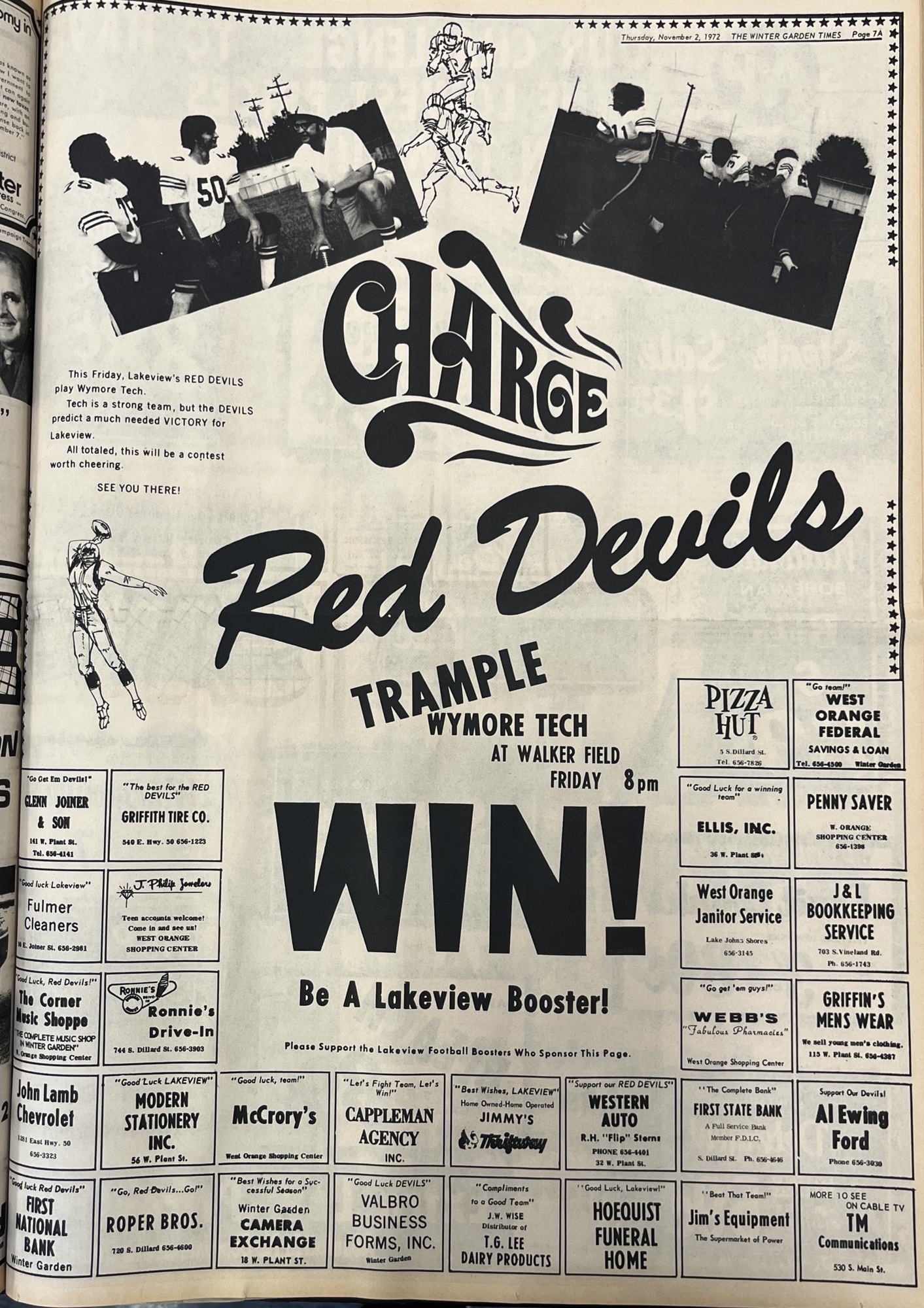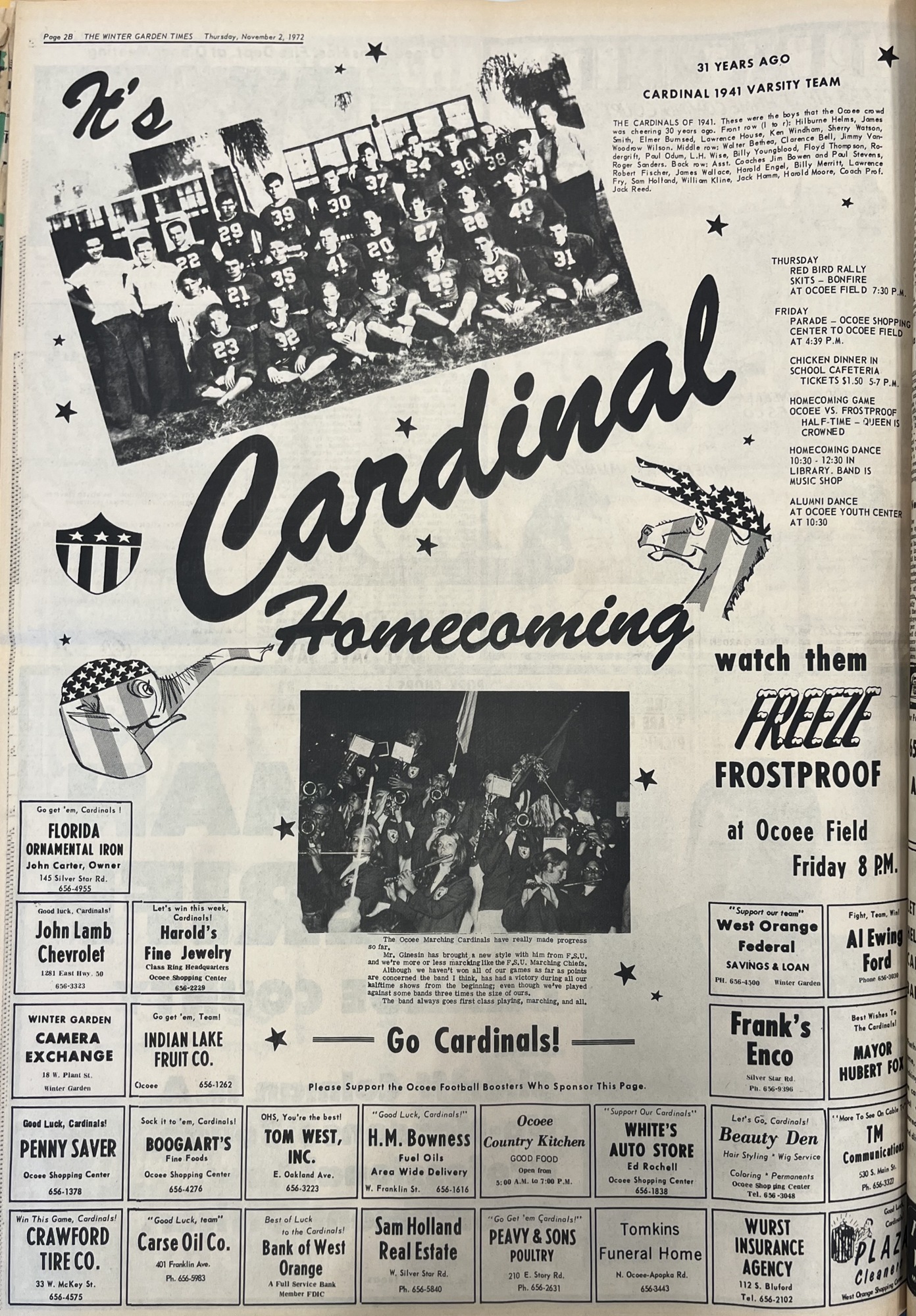 Nov. 2, 1972
The Lakeview Red Devils and the Ocoee Cardinals were the only West Orange County high schools — until they merged to become West Orange High in 1976. The football games were the talk of the town every week in the fall, and both schools ran full-page advertisements in The Winter Garden Times promoting their teams and each week's rivalry game. Local businesses sponsored the page and were able to place their ad on the page to show support for the home teams.
FROM THE WINTER GARDEN HERITAGE FOUNDATION ARCHIVES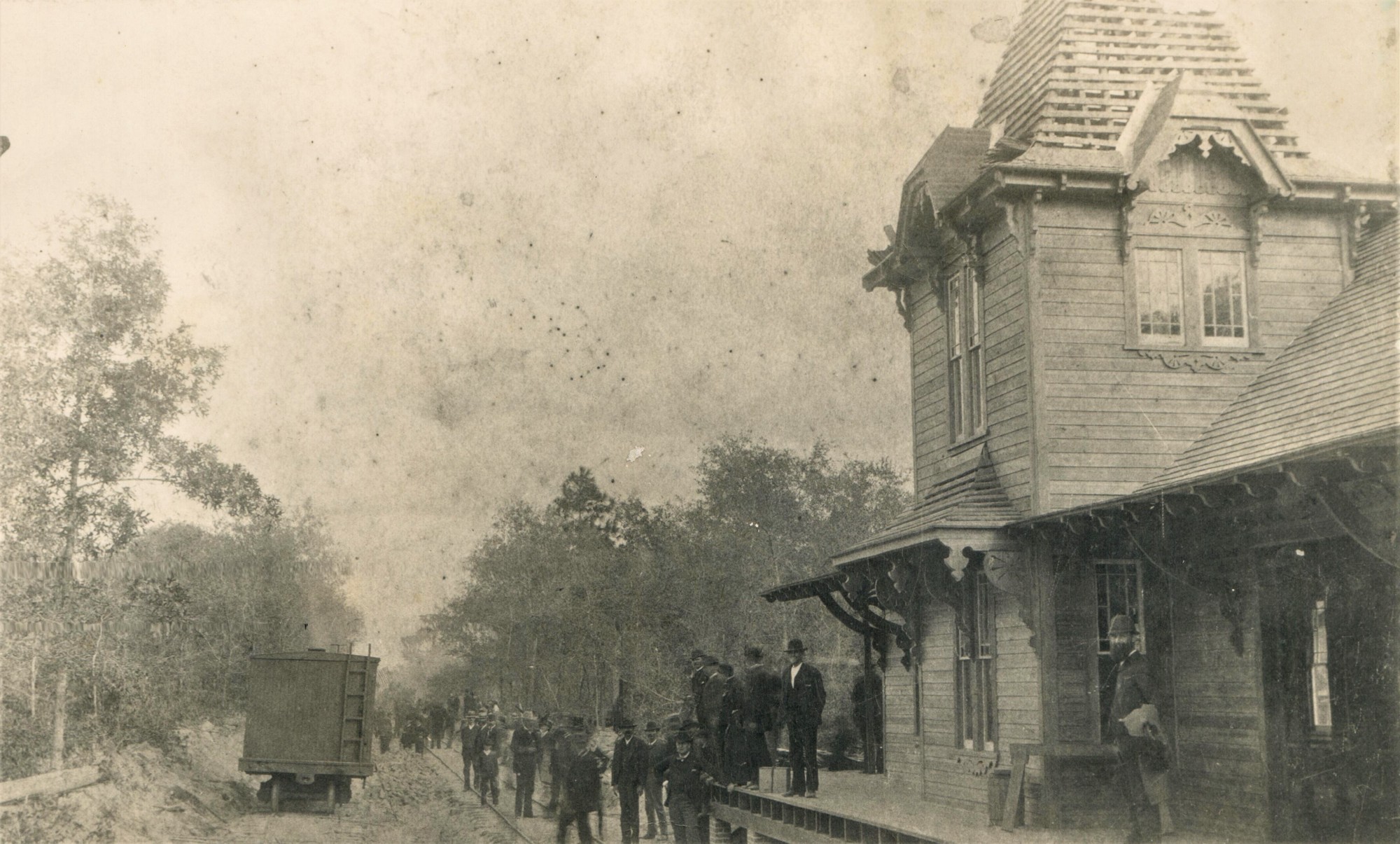 You might have walked along the West Orange Trail to go and buy yourself a cup of coffee today — but did you know that this popular trail began life as the railroad bed for the Orange Belt Railway? On Nov. 15, 1886, the system's first train pulled into Oakland's depot, the focus of a grand celebration. Russian immigrant Peter Demens' dream of a Sanford-to-St. Petersburg railroad was becoming a reality. Oakland's station (still under construction at the time) stood at the southwest corner of Cross Street, where it intersects with today's trail. The company's offices also were located here, as pioneer Judge James Gamble Speer had offered Demens 200 acres of land if he'd set up the Orange Belt's headquarters in the town. As a result, Oakland thrived and grew into one of Orange County's wealthiest, most prominent municipalities — until the devastating Great Freeze of 1894-95 halted progress.
Find out more about Oakland's storied past in the archives of the Winter Garden Heritage Foundation. For information, call (407) 656-3244.