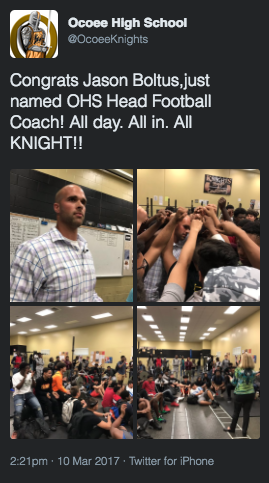 One day after Lake Highland Prep in Orlando sent out a press release announcing it had hired away Ben Bullock from Ocoee High to lead the Highlanders, Ocoee announced via its Twitter account that offensive coordinator Jason Boltus would be the Knights new head coach.
Boltus, who plays professional football as a quarterback for the Tampa Bay Storm in the Arena Football League, has been the program's O.C. under Bullock for the past two years.
Bullock departed for Lake Highland Prep after leading the Knights to consecutive winning seasons (6-4 in 2015 and 7-4 in 2016) for the first time in program history. Ocoee also won its first-ever district title this past fall, which also earned the Knights a berth in their first-ever playoff game.
This is a developing story...
Contact Steven Ryzewski at [email protected].